A day at school – in 2040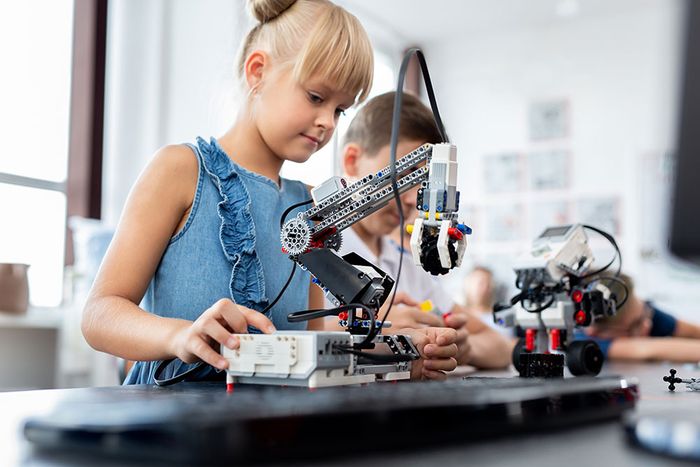 With technology and innovation making waves in the classroom, we imagine what a day in the classroom will look like in 20 years.
8:30 AM:
Although ticking off children in attendance won't be necessary - they digitally registered on entry - Mr Lee still likes to check in on everyone at the start of the day. The tables in the classroom are full -- but not all occupied by humans.
Small interactive AI robots sit on two tables, the avatars of Ben and Samir who can't make it today. Ben's family had a transport problem, so he's connecting from home. Samir has been in hospital for two weeks, but thanks to her robot avatar, she hasn't missed a single day of school.
Everyone can see their faces and hear their voices as if they were physically present, so Ben and Samir can ask questions, suggest answers and ideas - and laugh at the slightly rude cartoon Mikey has been passing around the room, old school style, on a scrap of paper.
The robot interface is more than just a screen. It's an assistant, too, that helps Samir when she struggles with concentration in children's ward. It lets her know when her focus is drifting and repeats what the teacher said if she misses it.
Over by the window, Jasmine is putting on her headphones. They help filter some of the noises from her classmates which can trigger anxiety. She and other neurodivergent students use them. Much more than ear defenders, these smart headphones can alternate between ambient noise and a feed of just the teacher's voice.
Jasmine hasn't needed to escape to the quiet zone ever since she started using them. Knowing she can filter out excessive noise at any time, she's taking part in discussions more and more.
10 AM: History
The teacher launches his lesson plan, created during the free time he had while his AI assistant graded the science homework. It's Ancient Egypt today. Everyone puts on their virtual reality headsets - including Ben and Samir, who have them at home and in hospital.
The whole class takes a journey into the catacombs below a pyramid. They can examine the pharaoh's treasures, discovering more about them by pressing on hieroglyphic buttons, triggered by hand movements.
11:15 AM: Biology
It's time to open up a human heart. Fifty years ago, these students' grandparents might have had to cut open a sheep's heart to understand how this organ works. No dissection is needed now - these are holographic hearts, which keep beating as everyone uses a virtual scalpel to investigate.
12:30 PM: Lunch
Many students make straight for the playground, but others choose to gear up for esports. Since joining the school esports league, Mikey has become more confident and outgoing. Joining part of a team and seeing his own improvement has boosted his self-esteem, and he's considering esports as a career.

For today, he's taking on the girls' team in a school in Brazil. Inter-school tournaments run between schools all around the world. Brazil are really good.
2 PM: Climate Studies
This year, the students are learning about how wind, solar and tides power the world. Students have buddied up with others their age in three different countries and taken guided virtual tours of different power stations. Now they're collaborating online and using tools which help them share notes and drawings for their project.
4:30 PM: Home time
At the end of the day, after Mr Lee waves his students off, he checks in with Ben, at home. Ben's AI learning support assistant has flagged up some concerns about a marked drop-off in attention. Mr Lee chats with him for a while and hears that Ben's grandmother has been ill and he's upset. Ben agrees to a family chat, so Mr Lee and Ben's parents can find ways of helping him through this tough time.
Embracing the rapid wave of innovation, schools are actively incorporating technology in their classrooms, equipping students with vital skills to thrive in an ever-evolving world. From academic excellence to fostering social and emotional growth, educators and policymakers are discovering the incredible potential of technology in transforming education.
Join us at Bett, where we unite partners, innovators, and educators who share a common passion for shaping the future of learning. Together, let's revolutionise education and create a better tomorrow for students everywhere.