What does #CreateTheFuture mean to our Bett speakers?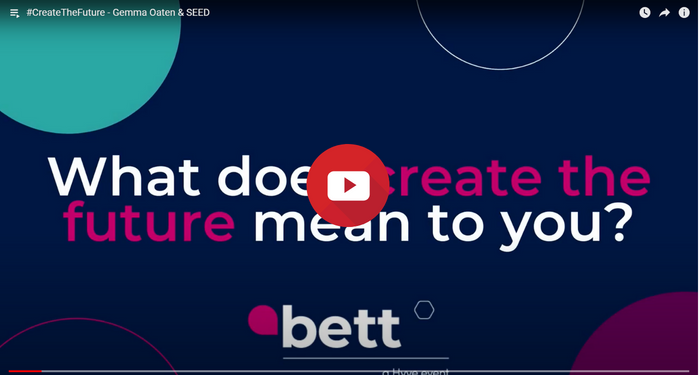 As the education community looks beyond the crisis response, the overarching theme of Bett 2022 is: create the future.
When challenged with exceptional, unprecedented problems and barriers to learning during this time of disruption, it has been vital for educators to think outside the box and solve problems creatively. Armed with more EdTech solutions and resources than ever before, educators have the opportunity to reimagine traditional models of pedagogy so that students can plug into a personalized, future-facing learning experience and become resilient, creative lifelong learners who can harness their knowledge and skills to tackle the challenges of tomorrow.
Leading up to the show, we invited Bett speakers to share what 'create the future' means to them – take a look at what some of them had to say below:

#CreateTheFuture means creating a safe space to enable, empower and allow conversations for change
Actress and Manager and Patron of SEED Eating Disorder Support Services Gemma Oaten is a passionate advocate for Eating Disorders Awareness – an issue that has become more prominent that ever among young people during the pandemic. In order to create the future, Gemma highlights the importance of creating safe spaces for all – regardless of circumstances and especially for mental health and wellbeing.
Join Gemma at Bett alongside a panel of wellbeing experts and education practitioners as they unpack the impact of the pandemic on young people and professionals, across all phases in education and discuss what an inclusive wellbeing approach should look like.
Read more here.

#CreateTheFuture means holding ourselves accountable to the aspirations and futures of all children
Bett Global Education Council (GEC) member and renowned figure in education Professor Dr Ger Graus OBE emphasises that the whole community is responsible for children's education and that the future is driven by empowering children to write their own narrative of the possible.
For his Arena session at Bett, Ger gathers thinkers from across the education ecosystem to discuss the Bett GEC's belief that: 'Global radical transformation in education is possible and it starts with the belief that everyone has the potential to learn.'
Read more here.
#CreateTheFuture means providing opportunities for all through creating safe, inclusive, sustainable environments and organisations
Nic Ponsford is the Co-Founder and CEO of the Global Equality Collective (GEC), a grassroots movement and creator of the award-winning GEC App, the world's first diversity and inclusion app for schools and businesses. From her work within the field of Diversity, Equity, Inclusion, and Justice (DEIJ) in education, Nic envisions that being part of a solution that creates opportunities for all will unlock a productive, aspirational and inspirational future for learners and educators alike.
As part of our series of After Hours events at Bett, the Global Equality Collective will be taking over one of our theatres at Bett 2022 illustrating practical solutions to make DEIJ easy in education – and how real systemic change is already happening.
Read more here.
#CreateTheFuture means recognising the importance of teachers as integral role models in shaping learners' attitudes and mindsets
Director of Siddiqui Education and Gogglebox cast member Baasit Siddiqui believes that creating the future starts in the classroom. Through running his 'Let's Pitch It' entrepreneurial workshops and competitions in schools across the UK, Baasit has experienced first-hand the long-term, positive impacts that educators and mentors have on students, enabling them to develop as citizens of the future.
Join Baasit in the Arena at Bett to explore and celebrate the impact effective partnerships can have an all our young people, regardless of background.
Read more here.
Join the conversation at Bett UK 2022

Register now