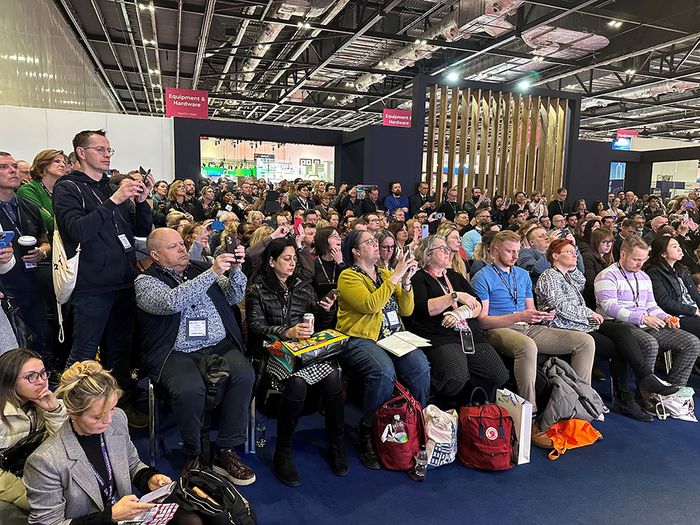 The EdSAFE AI Alliance is a global grouping of education organisations, institutions, research and standards bodies whose mission is to ensure a safer, more equitable and more trusted education ecosystem of AI innovation. Managing Director Beth Havinga explains the importance of the global pledge launched by the alliance, and why educators and policy makers should sign.
"Like everyone, I'm excited by the possibilities of AI – we just need to ensure its safe," Beth told Bett. "We've got some of the best minds in EdTech working on this, but the technology is developing at a dizzying pace. Since November, we've been about 1 ½ weeks ahead of what was happening: identifying threats just before they became real."
The alliance has outlined ten concerns, which signatories pledge to address. These include:
1. System transparency
Solution providers need to explain how their AI systems learn or are trained. That's the only way AI tools can be used safely.
2. Data usage
As well as understanding how AI tools are made, solution providers should also be open about how the tools use data and what that data is used for.
3. Informed consent
Data usage agreements must be in place. Any related consent processes, specifically for minors, must be made accessible and clear.
4. Privacy
Because of the way AI learns, you can't ever erase what you've told it (which makes it impossible to comply with GDPR laws). In this context, privacy is a key concern, as is appropriate measures and processes to ensure a user's right to rectification.
5. Safety and security
Security should be a top consideration, no matter how benign the AI tool might appear. To ensure the confidentiality of personal data, the system need to be able to resist external threats.
6. Bias and learning limitations
To identify, assess and mitigate bias or limitations (unintentional or otherwise) for any specific user types or groups, solution providers and users need to be vigilant. Processes are needed that focus on inclusiveness by design, non-discriminatory practices, fairness and equity to avoid abuses.
7. Accountability
Clear lines of responsibility and accountability are needed so that when breaches occur, there is a clear path to remediation.
8. Human-in-the-loop
We can't leave the machines in charge. Human oversight of key decisions and actions is essential when AI is used within education and learning environments to ensure ethical and human-centred use.
9. Verifiability
Human oversight is also needed to review the interactions between the AI system and users (particularly minors), including internal AI metrics.
10. Stakeholder support
To have a deeper understanding of the opportunities and challenges of AI in learning environments, educators, learners, and the broader education community needs to be involved in the identification of education problems and the formulation of the solutions.
That may sound like a lot of things to be worried about – and it is. But there's no getting around it if we're to reap the vast benefits AI offers safely. Beth says in some places there might be an argument for hitting the pause button to allow regulators to catch up, but not to ban the technology as some jurisdictions have chosen to.
EdSAFE AI Alliance is urging all stakeholders including policy makers, educators, providers of learning tools and systems and researchers to sign the pledge, which can be accessed here. The considerations will help national, regional and international authorities set general guidelines, but they will also help individual institutions and teachers be aware of what they need to think about in order to take responsibility for their own environments.
For more insights on the world of EdTech, and to keep up to date with all things Bett, subscribe to our newsletter here.