Bett's Global Education Council: A Manifesto for the Future of Education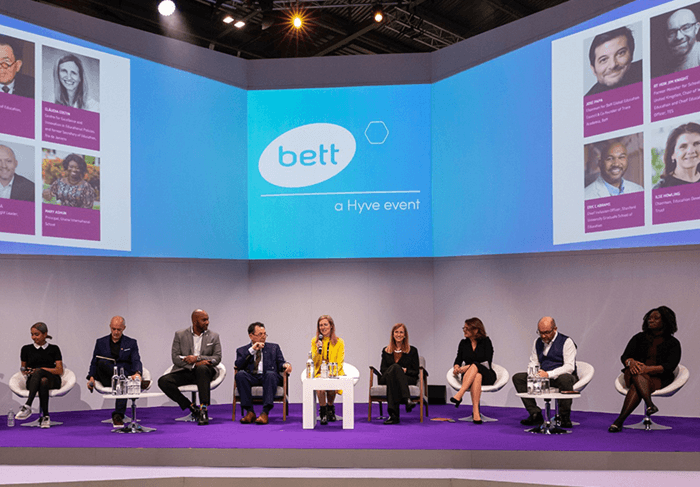 At Bett in January 2020 the Global Education Council came together on stage for the first time, sharing their vision and manifesto for the future of education. In this article we highlight their key messages.
The serial entrepreneur and founder of Awecademy Raya Bidshari began with her view that we need to design a whole new system of education fit for our post-industrial era where young minds are equipped with the skills, competencies and values they need to have a positive impact on society. Her belief is that we should teach subjects in an interdisciplinary manner because reality is interdisciplinary – the focus should be on mental models, skills, values, competencies, values and dispositions that actually contribute to positive change in our civilization.
Microsoft's Education Thought Leader, Mark Sparvell referenced the McKinsey Class of 2030 research that evidences the critical role the educator will continue to play in the learning experience. Technology is an augmentation – not a replacement and 69 million teachers will be needed by 2030 globally. He reminded us that the aim is to create first class humans not second-class robots. 30-40% of growth jobs in the next 10 years will place a premium on social and emotional skills – the qualities that automation and AI cannot accurately represent. We need to look closer at the role technology can plan in providing immersive learning experiences that allow young people to be fully focused in the learning process and in doing that develop the new future-ready skills.
Chief Inclusion Officer from Stanford University's Graduate school of Education Eric Abrams referenced his colleague Professor Tom Ehrlich who says "an education should equip you to entertain three things: an idea, a friend and yourself". Eric believes we have much to learn from a liberal arts education that fosters creativity where students are taught about the arts, fine arts and history, how to separate fact from fiction and understand science. Students must be taught how to think rather than what to think or do and it's the human skills that we learn through the liberal arts will become increasingly important.
Dr Ger Graus, Global Director of Education for KidZania took us back to Early Years and asked if we really know our children. He suggested we need to help our children to understand the value of education to encourage their aspirations so they can write their own narrative of the possible. Dr Graus referenced a research study by KidZania into the first job that children choose to do when they visit. Conclusions are currently that almost all stereotypes are set by the age of four when almost all girls choose activities below their age and almost all boys choose activities above their age. Children can only aspire to what they know exists - we need to broaden children's horizons and connect that with what is being taught in schools so that we can put our children in charge of their own destinies. They must be aware of the options available to them in order to be able to understand what is possible.
Professor Claudia Costin, Former Secretary of Education for Rio de Janiero, brought in the perspective of the developing world pointing out that access to technology is not equal and so learning is not equal. She identified that inequality exists within countries as well as between them. The acceleration of technology provides a huge opportunity but also a huge risk and we need to act now at system level to ensure that the inequality gap does not widen. Dr Costin believes that the key to keeping up is a strong curriculum that connects teaching the basic skills with those we need to prosper in the 4th industrial revolution. The job market is changing so fast that if we don't act now some countries like Brazil may be left behind forever.
Ilse Howling, Chairman of the Education Development Trust recognised and echoed the challenge of inequality highlighted by Dr Costin. She also shared some findings from Education Development Trust's global research. EDT have identified three key factors for success: attract and retain brilliant teachers; challenge and support school leaders in a culture where they feel valued; set the bar extremely high, building aspiration and pushing ambition. No matter what the technology, she believes that teachers are at the heart and the key for all schools and school systems is to mentor, support, attract and retain great teachers.
Rt Hon Jim Knight, Chief Education Officer for TES and Former Minister for Schools for the UK challenged the status quo for higher education, suggesting that alternative further education models will become more common as the world of work continues to change at pace and more and more employers want to "grow their own" talent. In the US, Starbucks offer degree education in Arizona and AT&T are working with university providers. Lord Knight predicts that in the UK some universities will go out of business by 2030 and he urged universities to start collaborating more closely with employers and review funding and teaching models to alleviate debt and allow students to "earn whilst they learn".
Dr Mary Ashun, Principal of Ghana International School brought the conversation back to the teacher, reminding us of the huge influence that teachers have in the lives of young people and that the person in the classroom is pivotal. Everyone has a favourite teacher and all the technology in the world cannot replace the human being in the classroom who is meant to create a safe environment for you to learn. She urged us to keep in mind the wellbeing of students but in particular emphasized the responsibility of leaders to think about their duty of care to teachers, to safeguard them keep them happy and look after their wellbeing.
Finally Vikas Potas, formerly of the Varkey Foundation, brought the conversation back to system leadership and stated that we need better political leadership to ensure that educators can make the biggest possible impact. He reminded us that the average tenure of an Education Minster around the world is 22 months and considered a mid-level position in any government. We want the best and brightest to be our Education Ministers and our Governments need to raise the status of this vital position to lead us through this time of unprecedented change.
The Global Education Council is a driving force of visionaries from some of the world's biggest global brands and education institutions who are setting the tone of education globally. Together with Bett's Chairman, Jose Papa, the council meets regularly to share their ideas and collaborate to transform education. Click here to see their interview at the show. https://www.bettshow.com/global-education-council
Written by Sarah Marshall, Global Head of Content, Bett Show