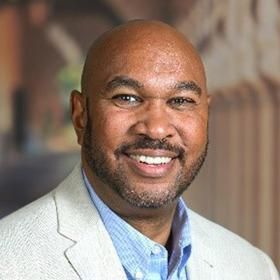 Eric C Abrams
Chief Inclusion Officer
Stanford University Graduate School of Education
Born in Berkeley, raised in Oakland and Chicago, Eric Abrams' career in higher education has included roles in undergraduate admission at USC, Stanford, and Pitzer College, as well as working in the admissions offices of the Stanford MBA program and BerkeleyLaw.

As the first Director of Diversity Initiatives at UC Berkeley's Haas School of Business, Eric was charged with developing an overarching vision for diversity and inclusion at Haas. Building on his years of experience in admission, he raised awareness of diversity issues, as well as helping the School enroll the most ethnically diverse student body in its history in three consecutive years.

In his current post as Chief Inclusion Officer at the Stanford Graduate School of Education, Eric serves as an internal consultant for faculty, students, and staff colleagues about a number of diversity related issues, including faculty and student recruitment, as well as helping to insure that the School promotes a truly inclusive culture where all can be their full and best selves.

Eric believes that diversity is more than how one looks; it is also about how one thinks. Everyone has the potential to contribute to the intellectual diversity of the enterprise, and some level of cultural dexterity is important for everyone. Recently, he has been called upon to discuss diversity—and the lack thereof—in the tech industry. He has spoken at firms as varied as LinkedIn and Dropbox, Tilt, and Visa, and he has also spoken about the subject during a number of radio and television appearances.

A believer that real men cook, Abrams is an avid barbecue pitmaster, and he is at his best in the kitchen. He is also an avid sports fan (Fear the Tree!), an old-school hip-hop head, and not half as witty as he thinks he is. Eric and his wife Donna live in Oakland. Their son Nick is an EMT in the east bay, and their son Gabe ins a senior at UCSB.