01 Sep 2020
Turbocharging your school's IT Asset Management and Safeguarding toolkit – v4.85 out now!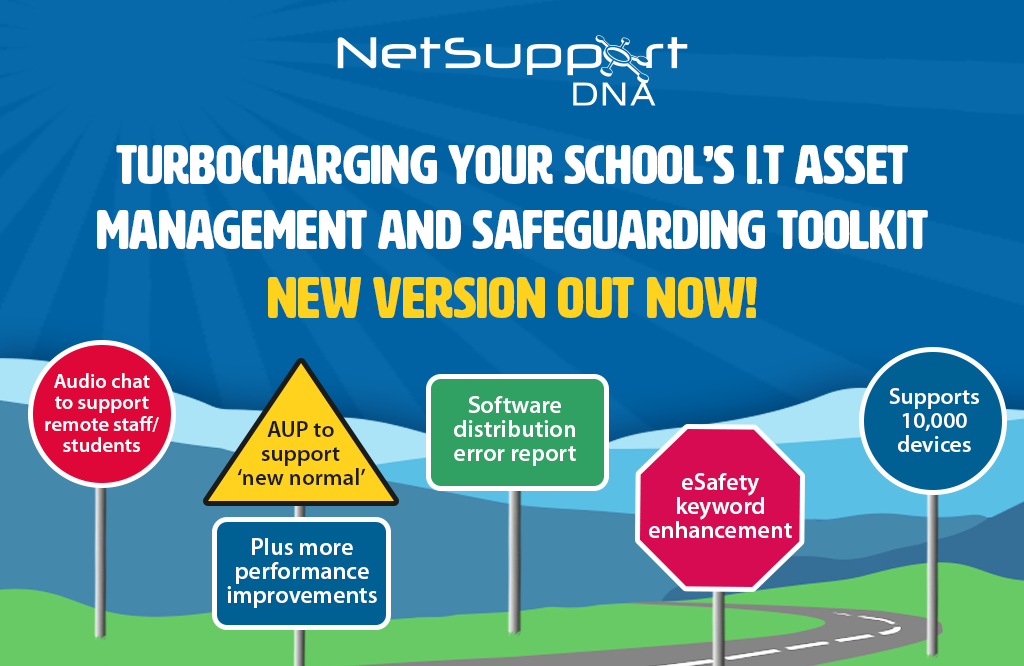 In addition to supporting up to 10,000 devices, NetSupport DNA v4.85 also includes a new audio feature allowing IT teams to conduct a two-way audio chat session between any number of selected staff and students in full audio mode. A useful tool for providing further support to users working and learning remotely – all without the need to use a phone or 3rd party chat tools.
A handy software distribution error report is also now available to highlight if there were any errors during an install or if the applications were installed successfully. Plus, a new health and safety AUP (Health and Social Distancing), is available to help schools promote any new guidance and safety information (ie wipe your keyboard, keep your distance, etc) across the school - perfect for supporting any risk assessments.
To help safeguarding leads and members of staff keep track of which eSafety triggered keywords need reviewing (or to let supporting staff know where to pick up if others are on holiday), all new triggers are highlighted as being 'new', and when staff are reviewing them, they can be marked as 'in progress' or 'complete'. Each status has a different colour code and users can filter the main view to only show certain statuses (i.e. only show new triggers).
Additionally, IT teams can now choose how NetSupport DNA gets updated across their school (e.g. smart update or GPO/SSCM).
Several additional optimisations have also been included in this latest release, making NetSupport DNA even easier to use. For example, there are new approval requests for USB devices not encrypted with BitLocker, improved Active Directory user profile evaluation – and much more.
To learn more and to book a demo or free trial, click here.