Turning packaging waste into educational wonder with Lenovo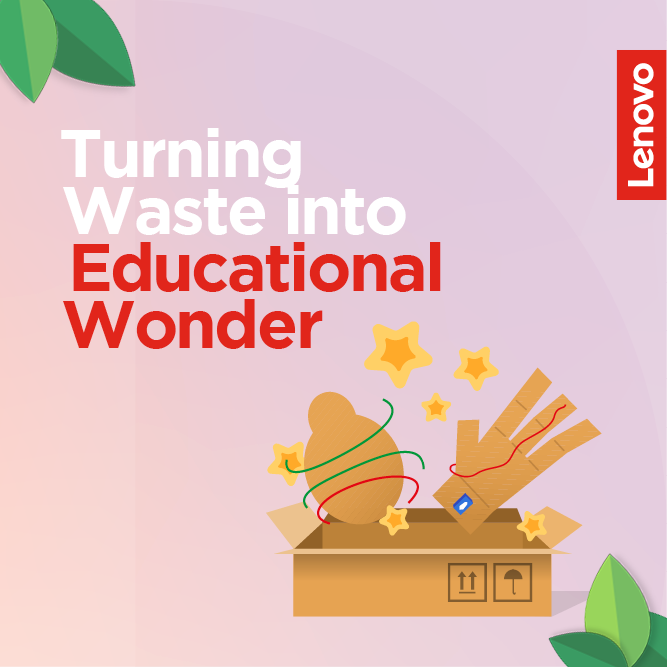 Lenovo's ESG commitments aim to fuse education, environmental responsibility, and innovation with a mission to redefine what it means to be a tech company in today's world. To do this, Lenovo is taking waste management to a whole new level by transforming their product packaging into a powerful educational resource. They're also on a mission to build interest in STEM careers while nurturing the innovative and creative spirit of students. Teachers and educators can attend a webinar introducing this educational tool, and how to apply the activities into the classroom.
Learn more about Lenovo's waste into educational wonder initiative here.
#Waste2Wonder: A Journey of Discovery
With the #Waste2Wonder customer experience program, unpacking a Lenovo product becomes a journey of discovery. Imagine a student opening a Lenovo device and finding more than just hardware, but an opportunity to learn the fundamentals of how electronic devices are made. A quick scan of a QR code sets them on a path of exploration, where they are directed to cut along the lines on the internal packaging to create an educational tool which teaches students about electric circuits and forces – both of which are integral within the STEM (science, technology, engineering and mathematics) curriculum.
The aim of the project is to uncover a unique, seamless blend of sustainability and STEM development. The packaging is designed with educational requirements in mind, ensuring it doesn't end up in landfill but becomes a valuable resource for educational adventures. It will be available on all Windows and Chromebook Education devices from October.
The initiative is custom-tailored for teachers, schools and parents with kids up to the age of 16. Introducing STEM concepts at a young age can instil a love for learning and curiosity about the world.

The EMEA School Competition: Where action meets commitment
The Lenovo EMEA School Competition, in collaboration with STEM Alliance, will run from September 18th to November 30th, 2023. The winning groups will walk away with impressive prizes for the school, including Lenovo Education Windows devices, Intel Skill for Innovation modules, LanSchool Software, Arduino kits and the prestige of inclusion in the 2024-2025 Lenovo Digital Booklet. Plus, they'll be recognised at the renowned Bett 2024 event.
Watch the webinar to know more here!
Teacher endorsement: Backed by educators
The "Turning Waste into Educational Wonder" project has garnered overwhelming support from teachers. They see it as an outstanding way to impart STEM concepts and principles that are essential for students to thrive in today's world.
Marine Rabeyrin, Lenovo's EMEA Education Director, explains the power of discussion in innovating when it comes to ESG. "It all began with a roundtable discussion involving education resellers a year ago. We brought together experts in STEM pedagogy, the environment, packaging, design, and more to make it a reality. We hope teachers and students will appreciate what we have prepared for them, and we eagerly anticipate the next innovation."
The STEM Alliance, who have co-organised the competition with Lenovo outlined why initiatives like this are important for the education system. A spokesperson from the company said: "The STEM Alliance is glad to co-organise the Turning Waste into Educational Wonder competition with Lenovo. We aim to promote STEM education through sustainability-driven projects and inspire young students to pursue STEM careers by engaging them with hands-on and pedagogical activities, such as the creative projects proposed in Lenovo Activity Booklet."
Looking ahead to further innovation
"At Lenovo, we're not just delivering technology; we're shaping the future by merging education, environmental stewardship, and innovation. Our commitment to ESG principles drives us to turn waste into educational wonders, empowering young minds to explore STEM concepts," says the fantastic Lenovo team behind this initiative.
The team at Lenovo are ready for you. "We invite you to embark on this exciting journey with us through our EMEA School Competition, where impressive prizes await those who embrace this transformative initiative. Backed by enthusiastic educators, we are confident that our vision of combining sustainability and STEM education will light up the path for the next generation."
Find out more here!