The ultimate guide to creating a school marketing plan: 10 key considerations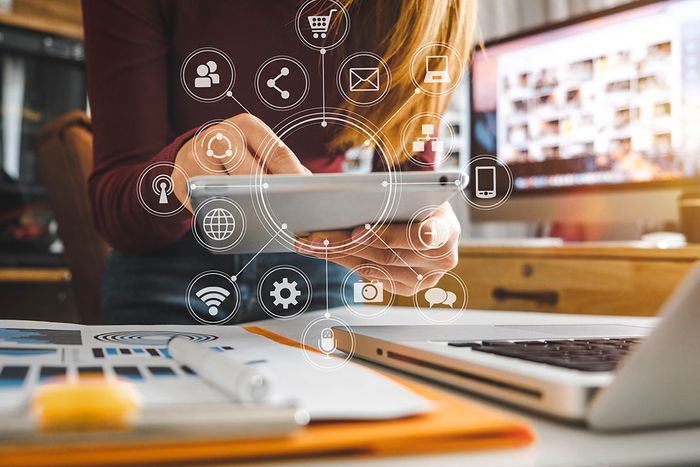 "A good deal of planning is like a ritual rain dance. It has no effect on the weather that follows." - James Brian Quinn
"Fail to plan, plan to fail." - Anonymous
Where to start?
With platform proliferation, and the need for a multi-channel, multi-pronged approach, an explicit marketing plan is more important than ever. In-person and online events, school communications, direct mail, web content, video and social media all need to be taken into consideration. And let's not forget trying to get the best bang for your buck with paid advertising, online and in print.
So, where to start? Well, we'd suggest working through this 10-point checklist when creating a school marketing plan.
#1 Your parents
Marketing begins with listening, and that could start with existing parents.
You could do this through parent surveys. They're easy enough to set up online, using services such as SurveyMonkey and Zoho.
You could also listen to parents on social media. How do they respond to the school's posts? Take note of what they enjoy, as well as their pain points, and possible solutions.
#2 Personas
Surveys show you care, and you can use them to inform parent personas or profiles, which are a useful means of clarifying your marketing plan to focus on your target market.
For instance, what sporting and cultural activities matter most to your typical parent? "Cultural capital", though not new as a concept, is increasingly used by parents and educators as shorthand for an individual's connection with and appreciation of high-status culture available in society. Ofsted now assesses schools on how they provide "the knowledge and cultural capital [pupils] need to succeed in life". In short, it's not just grades, but music, drama, theatre trips, Duke of Edinburgh, Combined Cadet Force (or CCF), and other cultural offerings that attract parents, both in the public and private sector.
#3 USP, ESP and positioning
Consider precisely what your school offers, where it excels, what sets you apart. Be clear about this in order to foreground these things in future communications.
How can you better position yourself to meet the needs of present and prospective parents? What is your school's USP (unique selling point)? This includes cultural capital, but it may also be how you approach mental and physical wellbeing, or diversity and inclusivity, all increasingly important issues for parents and pupils alike. How does your school create rounded individuals rather than forcing square pegs into round holes?
All this moves into the terrain of a school's ESP (emotional selling proposition). Pupils and parents often have a great loyalty to a school, and all it represents to them. Get to the heart of this.
#4 The competition
Looking at competitor schools concentrates the mind and helps generate ideas you may not have thought of. Ask difficult questions? Why are they popular? What are they doing better than you? What can you learn and seek to emulate?
Time, now, to break it down to the key elements for any marketing plan.
#5 Events
List flagship events, such as plays, concerts and sports fixtures, along with in-person and online tours and open days. Are you making the most of promoting each one? What more can you do to spread the word?
All this will flow into content.
#6 Content
Newsletters, brochures or prospectuses, websites, parent portals – all school communications, in print and online, play a role, offering a window on school life. Reviewing each separate strand is an essential element of any marketing plan.
COVID-19 restrictions have increased the need for better home-school communication and better learning resources online. Increasingly, schools are publishing teaching and revision resources, past papers, and model answers online. All this builds advocacy and brand loyalty.
#7 Video
Content increasingly means video.
"87% of online marketers use video content," and many schools have now set up YouTube channels, and there's an emerging trend of YouTube links in email newsletters. The pandemic has reduced in-person home-school interaction, but a good video goes some way to establish rapport and build those all-important bonds.
Once again, look at the competition. If prospective parents hop onto YouTube, what are you up against? What other school's channels offer that you don't? You may find they're showing, among other things, virtual tours, teacher interviews, lesson footage, time-lapse science experiments, and highlights of sporting and cultural events.
Videos don't have to be too long, in the education sphere, it's often 4 – 5 minute clips which enjoy the most success. More generally, "2 minutes is the sweet spot. After that, the drop-off in engagement is significant," reports wistia.com. Aiming to hook the viewers in those early moments, and making videos findable and alluring with the right titles and attractive thumbnails, go some way to ensure success.
In summary, shooting, editing, and promoting footage is an important element of any marketing plan.
#8 Social media
Social media is the best place to promote video, and YouTube, Facebook, Instagram, Twitter, and LinkedIn all have a role to play, albeit in different ways and to varying degrees.
The demands of social media mean a collaborative, "all hands on deck" approach is essential. Everyone has something to contribute, and schools and social media are a perfect match. Schools are busy, communal, vibrant places. Over the course of any one week, there are so many wonderful stories to relate and share. So, work through the school calendar in order to promote and then later post about those newsworthy events.
Edurank, which rates and ranks how schools perform on social media, could be another source of inspiration. You'll see how schools like Royal Grammar School, Norwich School, and Millfield School, the top three independent schools for the most recent academic year (2019-2020), made the most of their YouTube channels and Instagram Stories.
With social media, consistency – in other words, regular posting, updating, and commenting – is key, which once again outlines the importance of a proactive, thought-through, joined-up marketing plan.
#9 Budget
Once you've outlined the key elements or ingredients of your marketing plan, you'll need to prioritise and then look at who does what and when and how much it will cost. Work out your budget.
Outline how much money you have for print and online advertising.
Carefully consider time/workflow constraints with calendar commitments. Note down when best to send out information for current and prospective parents regarding key events.
Divide up duties and responsibilities among your marketing department, especially for those pinch points or busy times in the year.
Quieter moments are a great time to work through and refresh or discard marketing materials such as photos, videos, and brochures or prospectuses.
Consider the talents of your marketing department. Are there any gaps? Is this something to address with future training and recruitment? Is outsourcing a possible solution?
#10 Metrics
Without key performance indicators (or KPIs), you won't know if you've received a fair return on investment (ROI)?
You may consider measuring:
Website traffic
Views of social media content
Sign up and attendance at tours and open events
Remember, however, the key numbers relate to bums on school benches, or applications and student enrolment.
Final thoughts
The education marketing landscape is changing all the time, so it pays to review one's aims and approaches on a continual, ongoing basis.
Yearly, or even six-monthly, audits are advisable, but be sure to keep glancing over your shoulder on a monthly or quarterly basis. Digital behaviours change with the wind. (Schools didn't consider Instagram worth bothering with last year. Next year, TikTok might be the place to be.) As ever, marketing means going where your customers are. Fortunately, it's never been easier to use data to see what's hot and what leaves others cold.
About the Author: Sally Alexander
Sally has worked within the education marketing industry since 2007, all of which with Ambleglow. She has risen through the ranks, starting as an Account Executive and now serving as the Managing Director, this has given her an insight into all aspects of the business.
With in-depth knowledge of all things school marketing and recruitment, Sally is able to offer excellent knowledge and advice to all of her clients, as well as those who pop her the odd question on LinkedIn. On top of that, Sally's also a Co-Opted Governor for a local primary school, giving her a unique understanding of the challenges faced within education.