The Power of Thanks and Gratitude in Education
The education sector is one of the most challenging and the past 20 months has had further negative impact on levels of poor teacher mental health. In 2021, 82% of teachers described themselves as stressed, with 46% citing that pressures on their mental health have led to them considering leaving the profession. (Education Support Partnership, 2021).
As a Head teacher, my own school is an example of the challenges faced in the education profession. The school is located in an area of the lowest 5% national deprivation. There are above average levels of children with special education needs including children exhibiting very challenging behaviour. We are seeing increasing levels of children experiencing adverse childhood experiences and trauma and the recent pandemic has only added to these challenges. More recently, changes to learning and education due to the COVID pandemic, has further added to the stresses and this was in an already under-pressure system, suffering from recruitment and retention issues and risk of burnout.
As a school we have worked hard since 2017 to improve staff wellbeing, introducing a range of initiatives to support our staff. Some of our staff mental health training programmes have seen us gain national recognition through the prestigious Princess Royal Training Awards in 2018 and again this year in 2021.
We know that feeling when someone in the workplace recognises your efforts and says 'thank you' or 'you did a great job', but in busy working environments the time and good intentions to say thanks can easily slip. Yet the power of thanks and gratitude is intrinsic to our sense of personal wellbeing. Gratitude itself is associated with higher levels of life satisfaction. It is also linked to lowering levels of depression and anxiety, supporting our perceptions of positive relationships (Wood et al, 2010) and fostering a sense of social connectedness. Also, those who show higher levels of gratefulness are more likely to "be empathic, forgiving, helpful and supportive, than those who are less grateful." (Craig, 2021)
Since the COVID pandemic, school life dramatically changed. Teachers and staff worked remotely, contact in school was significantly reduced and social connectedness shifted overnight from in person to computer screens. It was at this point, we needed new ways to reach out to our staff and to let them know they were important and were doing a great job and find new ways to support their wellbeing and maintain connectedness in a digital world.
Just the act of writing a positive message can make a difference to the sender. Research shows that writing out positive words and feeling positive emotions can improve mental wellbeing (Brown and Wong 2017), shifting our attention away from negative emotions and thoughts, to positive ones. Studies also show there can be a longer-term benefit to someone's mental wellbeing after writing positive messages for more than four weeks, which shows the importance of saying thanks and showing gratitude as part of our everyday routine and habits.
For me, whether it's been a brilliant day or a stressful one, I take a few minutes at the end of each day to send a few TAP messages to staff. On the good days it boosts that sense of accomplishment and gratitude for the team, but more importantly on the difficult days, it allows me to remind myself that good things are still happening, the staff team is doing an amazing job and I am really proud of the team and want to pass that thanks on. That's when it's even more important to 'TAP' - on the days where those little messages of thanks not only make a difference to the person reading them, but can also reframe my own mindset to end on a positive.
In just a few months since introducing TAP, the free-to-use social thanking platform, in 2020, we have had over 500 messages of thanks shared between school colleagues. TAP has become not only a way to share gratitude and thanks, but it now helps us build connections and relationships. Imagine if you are that early career teacher who starts in a new school, not knowing anyone and the power of them receiving the little random act of kindness through a TAP message from a colleague. The premises officer that came in early to fix a problem, the teaching assistant that helped set up a stunning learning environment or the school leader diligently working away, putting their staff first. Imagine the difference that message of thanks and the recognition of your efforts can make! In return, that person might come and make a physical connection with you, to thank you for valuing them enough to send that message of gratitude.
Now we are on a mission to spread the message of TAP to our wider school community – our parents and families, our governors and other schools across the country. So if you are reading this and want to thank someone in a school, no matter how big or small the reason and the difference it made – just TAP!
TAP a little message of gratitude, to provide a moment of happiness to the person who receives it because it really does make a difference - both to you and them!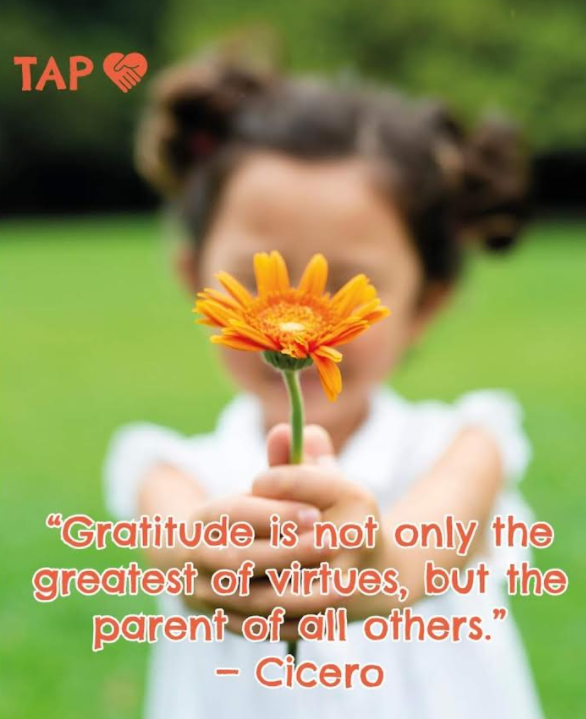 Kerry Hill FCCT MA – TAP Education Advisor
Kerry is the Education Advisor to TAP, Thank and Praise. TAP (Thank And Praise) is a free-to-use social thanking platform which enables the public to show their appreciation to the unsung heroes working in education, healthcare and social care, while raising funds for good causes. Kerry is a TES 2019 Head teacher of the year finalist, a fellow of the Chartered College of Teaching and a passionate advocate of mental wellbeing in education. Kerry is also a School Improvement Advisor and National SMSC Award verifier and has worked with BBC Teach on mental health.
For more information, please contact or follow us on:
Contact: James McLoughlin, Director, Thank And Praise, james@thankandpraise.com, 07903 420 180