The Makings Of A Virtual Classroom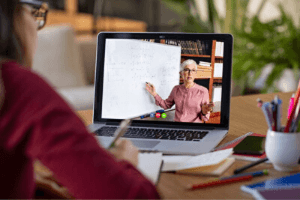 Life is crazy right now. Everyone's daily professional routine, including yours, has been completely disrupted. You need a virtual classroom solution that preserves as much of the traditional classroom atmosphere as possible. This solution should be as easy to integrate as possible, and also minimize interruption of workflows and schedules. For that to happen, your new solution needs to have a small-as-possible learning curve — especially for those faculty members who may be reluctant to embrace new technologies.
However, it's not enough for it to be easy. Making the move to a virtual classroom must have the student's progress in mind. Their routines have been disrupted too, and they stand to lose the most from the sudden break from their old lifestyles. From parents of elementary schoolers to adult students paying tuition out of their own pockets, they've made investments in education. In order for them to not feel burned, there needs to be a way to assure them that classrooms will continue to function smoothly.
A lot of academics, academic-decision makers, and professionals need help solidifying their virtual classroom solution. As experts in collaborative writing, we can see the big picture in fields such as knowledge management, content marketing and, yes, education. We have surveyed some of the most common virtual classroom tools — not to compare, but rather to illustrate how they fit together like puzzle pieces. As you'll see, a virtual classroom needs several different components.
Video Conferencing
There is a high likelihood that you're already using Zoom, the video conference software that has exploded in popularity. It works well as a quick fix for getting the class together, taking about as much effort as it does to master Skype. Video conferencing tools also provide a way to learn when not in the classroom, as primary school students and homeschoolers alike take to Skype, Google Hangouts, and even WhatsApp to do homework and share class materials in a group setting. But video is not enough by itself as a virtual classroom solution.
Learning Management Systems
LMS software, such as Blackboard, Moodle, and Sakai, is the beating heart of virtual classrooms and distance learning projects. It can help organize class enrolments and other school-based activities, as well as gathering homework assignments, facilitating group discussions surrounding assigned reading material, to grade-assigning and -tracking services. These platforms help distribute entire semesters of coursework into organizational systems as instructors see fit. They also provide interactive materials that foster close communication between teachers and students.
Essential Virtual Classroom Features
With all of that said, a piecemeal approach of video conferencing for classes and learning management systems for assignments all deliver an incomplete classroom experience. Even though platforms like the ones mentioned above may already be familiar and trusted, it may not be enough for students. New software can include features that do a world of good in the virtual classroom. Whiteboards come with many features like annotation tools, subject-specific functions, and even collaborative editors for code, making sure that a vital aspect of the classroom environment is not lost. Virtual classroom solutions also give teachers the ability to divide the entire class into breakout rooms (or small groups for in-class, task-based assignments). The need for students to learn to work as a team, and present their collective ideas, plays a pivotal role in education. And even though the completion of class goals is paramount, education is about fun as well! Breakout rooms are perfect for in-class games and quizzes to keep students engaged.
But Is It All Enough?
In these uncertain times, schools, universities, and other educational institutions need to preserve as many functions as possible for the student's sake. The transition from physical to virtual classrooms for the foreseeable future is hard enough, and taking these online learning tools into account we assert that they are missing a crucial component. Whether you're a school administrator in search of a solution, or a software developer in the educational realm, head on over to the CKEditor Blog to read about the benefits of real-time collaborative writing with rich-text editing for virtual classrooms!