Supporting high quality realtime hybrid learning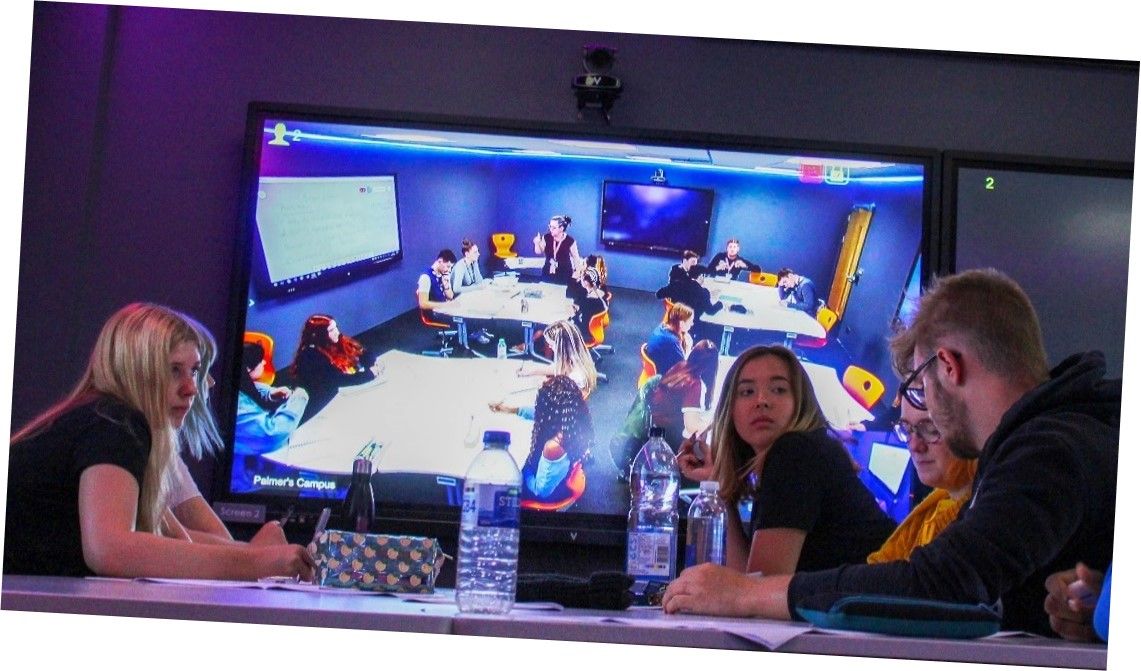 The challenge
When USP College in Essex merged two colleges in 2017 they became a community of 4000 students studying a huge variety of subjects from A-levels to BTECs to apprenticeships. The two colleges were similar in many ways but at different stages on their improvement journey so there were diverse pedagogies in use and a lack of parity in student experience.
The vision
The college had a clear vision: high impact hybrid learning that enhances and extends the curriculum with a roadmap from the vision to quality-assured teaching. Students should have access to the most diverse range of qualifications possible and seamlessly experience the same standard of teaching whichever campus they attend. Pedagogy should work in the classroom or over video with a system that supports and enables educators to focus on teaching rather than technology.
The solution
Enter the immersive classroom, a multiple-screen environment that encourages interaction between students and teachers. Utilising Ajenta's V-Room hardware and their Vscene platform (previously owned and operated by Jisc), classrooms can be seamlessly linked through digital technology. This allows students in one classroom to connect with their peers on the other campus and also home learners, allowing them to collaborate and learn effectively despite distance. The simplicity of the set up allows the teacher to focus on the lesson and their students and ensures access to a broader curriculum for a greater cohort. The solution has been so successful that USP College have now invested in two more immersive classroom set-ups to increase the number of subjects they can teach in this manner.
The outcome
Already used to engaging through multiple media, students are energised and have responded very well to the immersive experience. They are building a strong set of transferable digital skills that will serve them well in future and are also strengthening their communication and presentation skills. The system has also allowed USP College to expand its offering to deliver one of the widest ranges of A level, BTEC, Apprenticeship and HE courses in the area.
Next steps
USP College's ambition doesn't stop here. They plan to engage with other colleges and build a strategic network of teachers to plug gaps where there are teacher shortages and enable more colleges to offer a more diverse curriculum.
Ajenta are continuing to evolve their offering with enhancements in their technology in order to exceed the needs of the education community. If you are interested in learning more about their products and services, please contact Lyndsay McInnes at hello@ajenta.net.
About Vscene
Vscene, is the only video collaboration tool designed for education. The easy to use platform aids the delivery of real-time learning over video, helping create immersive and humanised learning experiences.
Originally launched as Janet Video Conferencing Service (JVCS), Vscene has evolved over the past 20 years. Previously provided by Jisc, the platform is now fully owned and operated by Ajenta.