Revisiting BettFest: Bruce Daisley on resilience and productivity at work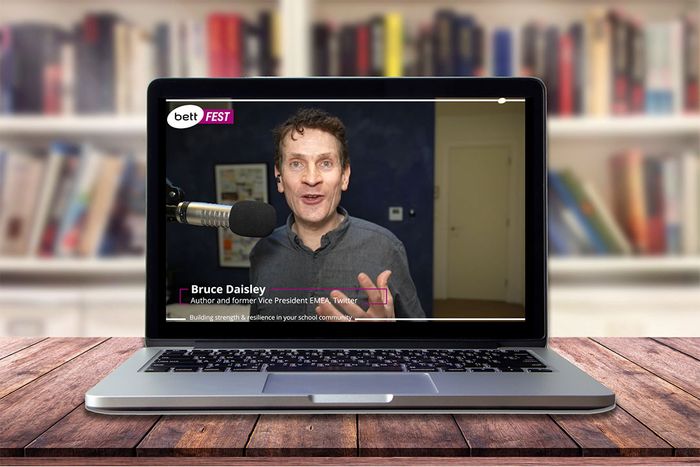 With ongoing lockdowns in place around the world, we came together online at BettFest to discuss new technology trends, empowering teaching and learning, developing lasting digital strategies and ensuring good wellbeing for staff and students. We were excited to celebrate the achievements of educators from around the world, particularly at a time when there has been more pressure on the education community than ever before.
Concerns around mental health and wellbeing on behalf of both students and staff have increased during 2020, with home learning leading to many students becoming disengaged. In his keynote address at BettFest, Bruce Daisley, author and former vice president of EMEA Twitter, gave an inspiring and informed presentation on how we can all improve our approaches to wellbeing so that we can work more productively during these strange times, giving us a set of transferable tips for the workplace and the classroom.
The science of good workplace culture
Bruce's keynote address at BettFest focused on how understanding the science behind productivity can propel greater results within the workforce. Building this science into the fabric of your overall shared culture can help students, staff and employees develop greater resilience, become more engaged and achieve higher academic outcomes. Whilst we all know that positive attitudes and environments are conducive to better work, it's not always as easy to help individuals get into this frame of mind. And, of course, this question is further complicated by the current requirement to work from home.
Bruce's presentation examined the blurred boundaries which have become commonplace since the start of 2020. In a time where we are less able to congregate in physical classrooms and workplaces, we've observed work becoming too pervasive and beginning to permeate into our home lives. It's also important to note the ways technology has impacted our attitude towards work – as Bruce explains, over the last 10 years the average working day has increased by 2 hours on average due to the increased use of mobile phones. Mobile devices and affordable data packages mean we are constantly online and available. However, in 2020 alone the average working day seems to have increased another 45 minutes per day. Bruce shared some tips and tricks on how we can better manage these boundaries in order to create a more positive working environment in 2021.
The virtual commute – Understanding the importance of boundaries can help send a signal to your brain that determines whether you are 'at work' or 'at home', even when these spaces become merged. Bruce highlighted the traditional pre-COVID commute as an opportunity to transition both mentally and physically from the home environment to the working environment. In 2021 it could be that we're required to undergo this transition at home, but we can still put a virtual commute in place when a physical one is not available. Whilst we may not be able to leave the house, we can create a morning routine based on exercise, playing a morning playlist, preparing a specific breakfast or getting dressed for work. As Bruce suggested, it is helpful to signal to our brains that we are about to move from a state of play to a state of work.

Reframing your perspective of breaks – Boundaries exist in other areas of our working day too – most noticeably in breaks. Our society tends to embrace a 'hustle mentality', whereby we see ourselves as machines or devices which are always on and ready to work. In fact, Bruce pointed out that it's better to see ourselves in perpetual cycles of work and rest, much like using up the battery of a mobile phone over the course of a day. He refers to the theory of ego depletion, discussed in greater detail in Daniel Levitin's book 'The Organised Mind', in which he says "Our brains are configured to make a certain number of decisions per day and once we reach that limit, we can't make any more, regardless of how important they are." Or, as Bruce put it, during each day you should be asking what you should spend your decisions on. When we see our brains as finite rather than infinite, we recognise that it's important to allocate a set amount of energy to specific tasks throughout the day in order to be more efficient and subsequently more productive. We should be working in cycles of work and rest rather than staring at a blank document late into the night and trying to shake more results out of an empty purse.

Understanding where your best ideas come from – Bruce argued that in order to enhance true creativity, we must step away from the culture of 'work hard play hard' and instead understand how our brains work. The most basic neuroscience breaks cognition down into 3 methodologies, two of which are involved in working directly or indirectly on a specific task. However, the third refers to the phenomenon of how people report having their best ideas in a 'default' mode. In other words, they are not applying themselves to a specific task. Instead, they are engaged in a relatively mundane activities such as staring out of a window, sitting on a train or walking the dog. As Bruce explained, creativity and inspiration often strike during moments when we are not actively looking for them.
The final lesson
All of the above tactics endeavour to show us how we can get the most out of ourselves by working in ways which suit our brains rather than pushing ourselves to extremes. As Bruce noted, we've observed a burnout epidemic in recent years whereby individuals are optimising for getting more done rather than practicing healthy approaches to working.
"Some of the best work that our brain does is not when we're putting more information in, but when we give it space to breathe." – Bruce Daisley
In his conclusion, Bruce argued that the best thing we can do to enhance our productivity is to recognise the value of boundaries and breaks in our day-to-day lives. In order to do this, we must call out the 'illusion of productivity' – or, in other words, the belief that working overtime equals greater outcomes. According to Bruce, the best way to work – both in and out of lockdown – is to understand the importance of the work/life balance and its impact on our mental health.
Missed Bruce's keynote address?
We were delighted to welcome Bruce to the virtual stage at BettFest to share his ideas on productivity and wellbeing, and we're looking forward to continuing the conversation around student engagement on the Bett Community Hub. If you didn't manage to catch Bruce's presentation – or if you missed our other sessions, or simply want to watch it again – don't panic. You can still watch all the content from BettFest on-demand on our website, including the main stage keynotes and panel discussions, the Bett Academy CPD sessions and the daily solution showcases. BettFest on-demand is available here.