Press Release: Dobot Launches Magician E6, Six-Axis Collaborative Robot for Education and Research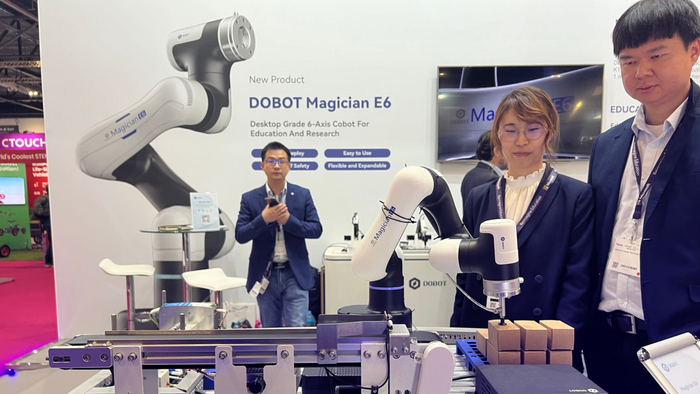 Dobot has announced the global launch of the DOBOT Magician E6, a desktop 6-axis collaborative robot specifically designed for education and research at the Bett Show in London.
London, United Kingdom – March 29, 2023 - Dobot, a leading manufacturer of collaborative robots, has announced the global launch of the DOBOT Magician E6, a desktop 6-axis collaborative robot specifically designed for education and research at the Bett Show in London. The Magician E6 combines the performance and features of industrial robots with the needs of teaching and research. Equipped with Dobot's independently developed algorithms, it can realistically replicate various automation scenarios in intelligent manufacturing. The robot also supports secondary development, providing an ideal platform for scientific research and technical training in fields such as artificial intelligence and intelligent manufacturing.
Desktop Installation and Easy to Use
Traditional industrial robots are bulky, difficult to deploy and debug, lack safety features, and are expensive, making it difficult for schools to introduce them and for students to operate them. The Magician E6 is a new type of desktop collaborative robot that continues the innovation of the Magician series. With a footprint of only 162 mm by 120 mm, less than half the size of a A4 paper, it can be easily installed and demonstrated on a teacher's podium or quickly set up in a dedicated laboratory. To offer an ideal learning experience, the Magician E6 has the following features:
Easy Installation: The compact and lightweight robot body has integrated controller design to eliminate wiring problems. It is ready for plug-and-play use.
Quick Start: With Dobot's self-developed AI trajectory replay technology, the robot supports drag-to-teach and graphical programming, making it easy for anyone to operate.
High Safety: With a streamlined body design and a ring-shaped indicator light, users can easily monitor the robot's operating status.
Outstanding Precision for Flexible Secondary Development
The Magician E6 adopts the widely-used 6-axis design of industrial collaborative robots, with a repeatability of ±0.1mm, a 450 mm working radius and an industrial grade PLC unit and TCP/IP and Modbus communication interface, making it ideal for teaching in robotics programming, industrial application simulation and training, as well as advanced robotics research.
The Magician E6 supports multiple platforms such as ROS, Matlab and LabVIEW, and is compatible with programming languages such as Python and C++. It works with industrial-grade accessories to create new application scenarios.
Dobot, with its extensive experience in the industrial field, will work with educational institutions and experts to jointly develop supporting teaching resources such as course manuals and teaching videos, helping to cultivate a new generation of innovative and technical talents.
At the Bett Show, Dobot also showcased robotic solutions and demos covering K12 education, vocational education, and higher education, including smart neighborhoods, intelligent sorting production lines, SIM card sorting, and MG400 training systems. These solutions attracted great interests among the attending teachers and students, prompting many enquiries.
About Dobot
Dobot is a world leader in collaborative robots and the creator of desktop grade robotic arms. Our core technologies are developed in-house, including AI, system integration, intelligent sensing and more.
Dobot cobots and solutions are widely used in the manufacturing, healthcare, service and retail sectors, enabling automation, intelligent transformation and flexible production for clients to achieve maximum output with minimal labor. Dobot collaborate closely with academics through the integration between industry and education, raising the next generation of talents to advance the industry forward.
DOBOT Website
PR Contact