Plan your visit: a local session guide to Bett UK 2020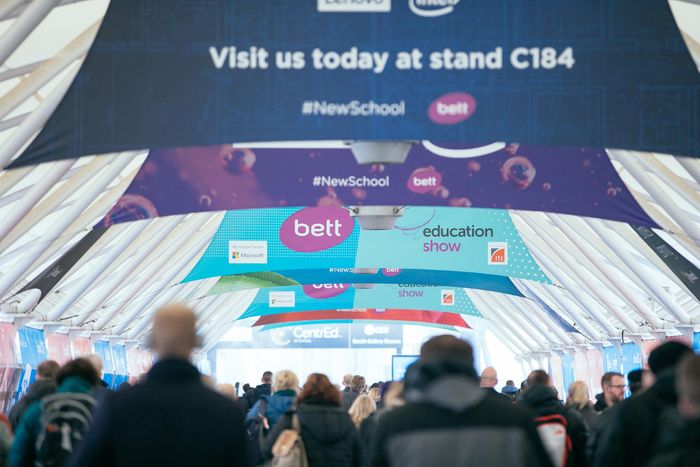 There is no denying the stellar line up planned for Bett UK 2020. So that you can make the most out of your visit, we've put together the ultimate guide to get the most out of the event as a local attendee. If you're visiting us at Bett from overseas, head to our guide for international attendees here
Wednesday 22 January
Kick off your time at Bett UK by exploring how technology can challenge the identity of your students then discover how existing EdTech is helping innovate teaching.
The Challenge of Identity, Authentication and Distance Learning, Higher and Further Education Theatre at 12.40pm
Technology requires appropriate process to ensure someone is who they say they are. Join David Creighton-Offord, Senior Information Security Consultant at the University of Edinburgh, as he explores the challenges of ensuring your students are what they seem when undertaking distance learning or submitting Subject Access requests.
Speaker: David Creighton-Offord, Senior Information Security Consultant, The University of Edinburgh.

Unchained Technology: Designing rounded classroom strategies (with no cheap seats), Schools Theatre at 12.40pm
In this session, two teaching professionals at the front line of bringing innovative techniques into the classroom will show you how existing EdTech can help unchain you as a teacher.
Speakers: Stephen Holden, Tottington Primary School, Headteacher, Simon Hunt, Tottington Primary School, Teacher.
Thursday 23 January
Spend Thursday looking to the future with sessions on preparing the workforce for what's ahead in education, the role of STEAM learning, as well as the digital tools that give children the opportunity to have their voices heard.
Educating the workforce of the future – Made by Dyslexia, Arena at 10.15am
Did you know that the EY's Value of Dyslexia report found that those with dyslexia have exactly the skills needed for the new world of work ahead of us? In this session a mixture of professionals will discuss how the education sector can work to embrace dyslexic thinking in the same way as Intelligence Agencies and other business globally.
Speakers: Maggie Aderin-Pocock MBE, Space Scientist and Communicator, Kate Griggs, Founder and CEO, Made by Dyslexia, Gavin Horgan, Headmaster, Millfield School, Laura Powell, Global Head of Human Resources Retail Banking and Wealth Management, HSBC, and a Senior Leader from British Intelligence Agency GCHQ.

Ready for the AI revolution? Why confidence in STEAM learning is key to career opportunities in the age of automation, Arena at 11.35am
This session will focus on the role of STEAM education in providing students with the skills to enter and succeed in the current and future job market. The discussion will explore the future of education in a world shaped by robotics, automation and computer sciences.
Speakers: Esben Staerk, President, LEGO Education, Ft. Lord James Philip Knight, Baron Knight of Weymouht, PC, FRSA.
Requires Improvement to Ofsted Outstanding in 4 Terms – 6 easy (but hard work) steps, Higher and Further Education Theatre at 1.15pm
Do you need all the bells and whistles that come along with technology? What about 1-1? This session will cover the six key things you need to focus on to improve learning and teaching for young people in a short period of time.
Speaker: Cherry Tingle, Principal and CEO, Energy Coast UTC/MAT
Digital tools to give children a voice, Arena at 2.00pm
This session will explore the power of the digital journal in giving children the opportunity to speak up. We will explore how to empower children and teach them to communicate their experiences.
Moderator: Sharon Doughty, Founder, Dot Com Digital
Speakers: Matthew Ellis, Staffordshire Commissioner – Police, Fire and Rescue, Crime, BJ Harrington, Chief Constable, Essex Police, Stephen Kavanagh, Former Chief Constable, Essex Police, Mike Riordan, Head of Policing, Amazon, Commander Sue Williams, Head of Safeguarding, Metropolitan Police.
Friday 24 January
End the work week channelling your creative side with sessions on encouraging creativity in your students, using digital platforms to make your life easier, as well as taking an immersive journey with the latest in augmented and virtual realities.
Why and how to embed creativity in teaching and learning, Schools Theatre at 10.15am
How important is it to develop a student's creativity in order to help them succeed in their future workplace? This session will explore how school leaders can help teachers to embed creativity into their practice at its very core, discussing the innovative approaches that will help foster creative skills.
Chair: Robert West, Director of Partnerships and Delivery, Creative & Cultural Skills
Speakers: Stuart Worden, Principal, The BRIT School, Anne Dellar, CEO, Oxford Diocesan Schools Trust, Colin Hopkins, Executive Director, RSA Academies, Bill Lucas, Director, Centre for Real-World Learning, University of Winchester.
Establishing a digital learning platform that works for all, Higher and Further Education Theatre at 11.35am
Are you taking advantage of the digital platforms that can make your job, and communicating with students, much easier and simpler? This presentation will give you the tips and tricks you need to help prepare your students for the working world, as well as an insight into the platforms that can help you deliver your curriculum more easily.
Speaker: Simon Kay, Head of Digital and Professional Development, SGC College
The Learning Amplifier: An Immersive Journey with Mixed Reality Technology, Arena at 1.25pm
It's the year 2133 and you're on Mars. This unforgettable experience will give you the opportunity to join the Delta Colony in an immersive session as we look at how augmented and virtual reality can transform learning for pupils in the future. If there was ever a session to earmark in your calendar – it's this one!
Speakers: Andrew Hammond, Senior Director of Learning & Community, Discovery Education, Phil Birchinall, Senior Director of Immersive Content, Discovery Education.
This is just the tip of the iceberg when it comes to the content sessions on offer over the course of the four-day Bett UK event. Be sure to keep an eye on our Bett blog to find out more, and register today so you can be part of the unmissable event.
---
About Bett
Bett is the first industry show of the year in the education technology landscape, bringing together 800+ leading companies, 103 exciting new EdTech start ups and over 34,000 attendees from the global education community.
Location & Opening times:
ExCeL London, Royal Victoria Dock, 1 Western Gateway, London E16 1XL, United Kingdom.
Wed 22nd January, 10:00 - 18:00
Thu 23rd January, 10:00 - 18:00
Fri 24th January, 10:00 - 18:00
Sat 25th January, 10:00 - 15:00