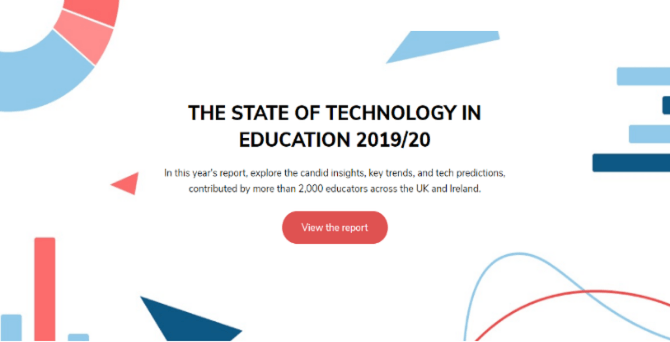 Teachers are unleashing the potential of technology in education like never before and gaining more mileage on their EdTech solutions. Technology is now being used to help improve behaviour, engagement and performance in the classroom. Budgetary concerns and teacher workload remain prominent in educators' minds, but new findings on the use of EdTech show promising signs for the educational landscape.
Now in its fourth year, Promethean's State of Technology in Education Report 2019/20 reached more educators than ever. Having received responses from over 2,000 teachers, school leaders and IT managers, the report continues to charter long-term trends in the education sector.
Positivity prevails
Despite concerns around financial pressures and teacher workloads, educators remain optimistic on the use of EdTech – in some cases more than ever before.
Educators are increasingly using EdTech to enhance teaching and learning outcomes. Up from just 32 percent in 2017/18, 90 percent of educators agree technology is a great way to engage students in the classroom, and a further 43 percent say technology helps improve pupil behaviour.
These findings are more than just plaudits for EdTech itself. They are emblematic of teachers' commitment to innovating with EdTech. Up and down the country, teachers are recognising the benefits that technology can bring to the classroom and are implementing them effectively.
Of course, schools' budgets and teacher workloads are hitting the headlines for good reason. Over half of school leaders indicate that budgets will make it difficult to achieve objectives. In fact, 72 percent of school leaders believe that budgets will have the biggest impact on student education in the year ahead.
These financial pressures mean that technology spend, which has risen to fourth place in budget priorities, must be used wisely. EdTech investments must be made for the long term, with respect given to the ongoing support available and future-proofing infrastructure.
Over 80 percent of teachers say that workload is contributing to high levels of stress in schools, and 71 percent believe it is harming learning. While these findings are concerning, it is reassuring that EdTech helps to offset the difficulties posed by rising workloads, as 83 percent of teachers say technology helps them do their job better.
Rachel Ashmore, Head of Promethean Academy, said: "Despite the many challenges schools are facing which have been identified in the State of Technology in Education Report 2019/20, it is refreshing to see figures representing what we experience on a day to day basis - educators who are passionate about using technology to innovate in the classroom and reinforce learning. When technology is used as an enabler, we see teachers achieving fantastic results."
Steve Moss, Chair of educational technology association Naace, said: "The findings of the State of Technology in Education Report 2019/20 highlight how educators around the UK and Ireland are doing some incredible things with technology. Technology has the potential to help overcome so many challenges in education and will increasingly support schools where workloads are increasing and processes becoming more complex, at both classroom and operational levels."
As a global initiative pioneered by Promethean, The State of Technology in Education Report has been taking the temperature of EdTech beyond the UK, as far as the US and Australia. Promethean will be bringing the report to New Zealand, Italy, France and Spain very soon, all as part of a wider commitment to better understanding educator needs. In many ways, educators are united across borders – in the US, two-thirds of surveyed administrators felt that budgets will have the largest impact on students' education, as did 75 percent in Australia. Not everything is so similar, though. In Australia, 66 percent of respondents indicated that technology is a priority in their 2019/20 school strategy, compared to 18 percent in the UK. To get involved in the next State of Technology in Education Report in your region, register your interest at Promethean's on-stand reception desk.
The EdTech landscape is full of potential, and teachers across the country are striving to innovate using technology every day. The State of Technology in Education Report 2019/20 can be used as a reference point for schools to open dialogues about the issues that really matter in the classroom and support the implementation of solutions that will help both teachers and learners.
To learn more about The State of Technology in Education Report 2019/20 or to register your interest in participating in the next survey, visit Promethean on Stand SN41 at Bett.