Keep an eye on the future: Bett Futures!
As a Headteacher, what I really want to see at Bett are resources that will have a sustained impact for my pupils back at school. This is where Bett Futures comes in. It showcases the 'best in class' in terms of EdTech start-ups from the UK and around the world. What you will find in Bett Futures is a real hub of energy and excitement, which cannot fail to leave you feeling enthused and inspired. It is such a vibrant, lively area of the Bett Show. As well as so many exciting new startup pods, there is a seminar theatre which is great to pop into to listen to a variety of speakers, watch demo sessions and generally spend some time networking and speaking to like-minded educators. Personally though, I love the 'plug and play' aspect of many of the pods within Bett Futures, where you can get hands-on with the technology and see first-hand what the products are all about.
That practical experience is what drew me towards the Now Press Play pod when visiting Bett a few years ago, which led to bringing the product into the school I was working in at the time. Fast forward a few years, and Now Press Play became the first product that I made sure my current school purchased when I started as Deputy Headteacher in January 2020. Now Headteacher at the same school, Now Press Play is still one of our real 'high impact' resources and is a product I will always renew our subscription with each year, such is the continuing impact it has on our pupils.
Now Press Play is, for me, the most impactful EdTech resource I have used. However, it is perhaps a resource I wouldn't have come across had I not visited the Bett Futures Zone. If you are lucky enough to visit Bett this year, make sure you do carve out a bit of time in Bett Futures. Even if it doesn't necessarily lead to a purchase, you will at least come away from that area feeling enthused and inspired by the buzz that is generated from such a melting pot of ideas and innovation. Enjoy the experience!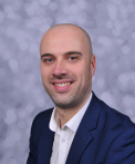 David Mordue, Headteacher, Bishop Ian Ramsey C of E Primary School
My name is David Mordue and I am currently Headteacher of Bishop Ian Ramsey C of E Primary School in Medomsley, County Durham, part of the Durham and Newcastle Diocesan Learning Trust. Throughout my teaching career, I have always been a huge believer in the power of EdTech as a way to create more engaging, inclusive and individualised learning experiences for our pupils. I have had the pleasure of visiting the Bett Show on several occasions over the years and have always travelled back up to the North East feeling inspired, with fresh ideas and resources to take back into school.