Introducing the EdTech Buyers Guide for 2022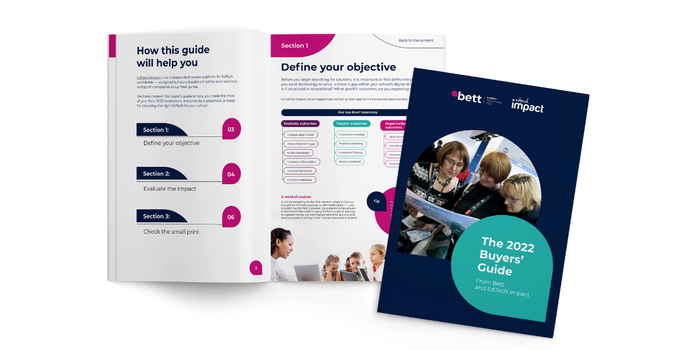 EdTech Impact is an independent review platform for EdTech worldwide. It's also the driving force behind the EdTech Buyers Guide, which is an essential tool to have in your back pocket when you're visiting the Bett show. This report, written by Michael Forshaw, highlights useful tips for how educators visiting the show can adopt an evidence-informed approach to EdTech procurement in order to make sure they are finding the best solutions for their setting.
"Whether you're new to Bett, or you're an EdTech geek like me, it can be challenging not to get caught up in some of the hype and hysteria that surrounds new technology. This first-of-a-kind buyers' guide combines data-driven insights, cautionary tales and an EdTech Impact taxonomy to help you cut through the noise and stay focused on what matters most to you and your school's context."
— Michael Forshaw, CEO, EdTech Impact
The Bett show is home to over 400 solution providers, so it's important to make sure you have a game plan in place before you arrive at the ExCeL Centre. The EdTech Buyers Guide breaks down your preparations into three easy sections which help you to prioritise your time onsite and understand which questions to ask to get the right information.
Define your objective: It may seem like an obvious place to start but, as Michael notes in the guide, poor planning has proven to be the biggest cause of failed projects or low confidence in solutions. The EdTech Buyers guide offers you a clear top-level taxonomy to map solutions against and understand what gaps you are looking to fill within your existing digital strategy.
Evaluate the impact: Michael suggests focusing on independent research in order to truly understand how effective different solutions are. Breaking down evidence into clear categories, the EdTech Buyers guide can help you to get a true sense of how the solutions you are considering work, what other school leaders have said about them, and whether they are the right fit for you.
Check the small print: While discovering new technology can be exciting, it's always important to check the fine print. The EdTech Buyers guide lists the key points you should be checking before signing up for a new solution, and highlights some common traps to be aware of. With a detailed list of questions you should be asking potential suppliers, this is a particularly useful tool for onsite.
As we make our final preparations for this year's show, we caught up with Michael on his top tips for first-time visitors.
How would you suggest educators visiting the show for the first time prepare?
Do your homework. Read the Bett preview guide, look at the Bett App, scour the Bett website and triangulate with EdTech Impact's reviews to narrow down the solutions you really want to spend time with. Time runs away from you at Bett, and if you're not careful you can get lost in the aisles wandering aimlessly from one shiny thing to the next. Eventually you realise what's going on but by then it's too late. Time to catch the train.
What are you keeping an eye out for at this year's show?
Seeing old friends. I've been going to Bett for 16 years, but this one is going to be special as there have been very few opportunities to see anyone face to face. In terms of EdTech, I always love Bett Futures as you get to chat directly to the founders and hear, first hand, the motivations behind why they created their product and their plans to scale to a wider audience. Maybe I can help.
What can visitors expect from your After Hours session on the EdTech Buyers guide?
Data-driven insights, cautionary tales and an EdTech Impact taxonomy to help you cut through the noise and stay focused on what matters most to you and your school's context.
#CreateTheFuture - Michael Forshaw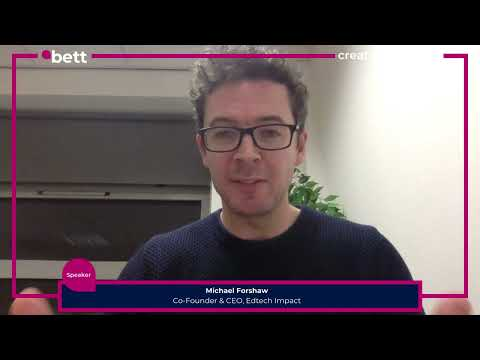 Download the EdTech Buyers Guide here and start your journey at this year's Bett show!
Want to find out more tricks of the trade? You can hear directly from Michael at the Leaders @ Bett Theatre on Thursday 24th March. As part of our After Hours programme, Michael will be giving an accompanying talk to the Buyers Guide at 18:00.
The Bett Show is taking place from Wednesday 23rd – Friday 25th March at the ExCeL Centre, London. You can register to attend here.