Inspiring young people through free tech innovation courses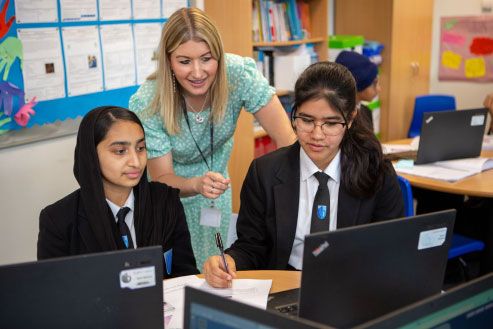 At Apps for Good, we believe that all young people should have the opportunity to shape their future with technology. Not only do we teach young people to code, we empower them to take action on the issues they care about most.
We work with schools to provide free tech innovation courses to students, giving teachers ready-made education content, so young people from all backgrounds can develop computing and essential skills to change their world for the better.
We're an education charity and we're proud to partner with leading brands including Ovo Foundation, Spotify and Google, to keep our course content 100% free of charge to schools, as well as giving students the opportunity to directly benefit from their industry expertise.
Our purpose is to ensure all young people - especially those experiencing disadvantage - have the tech innovation skills to thrive in an ever-changing world.
Our work is powered by:
1: Tech for Good
We believe that young people can shape their future through technology. We don't just teach them to code - we teach the entrepreneurial skills they'll need to become the tech innovators of tomorrow.
2: The need for essential skills
Our content develops the essential skills needed for future work, improving young people's confidence, problem solving, collaboration and communication skills. We are accredited by Skillsbuilder and use their framework to aid student success.
3: What matters to students
Young people are empowered by solving problems they care about. We teach how technology can have a positive impact and support them to design relevant tech products that will change their world for the better.
4: Industry engagement
Our students build their products using processes that are aligned with industry. We connect them to real-world professionals to support their product ideas by providing feedback and career insights.
Courses
At Apps for Good, we offer a range of innovative courses, all of which see students develop a problem-solving technology product, with opportunities to bring in feedback from industry experts and enter our annual Showcase.
Each summer, we celebrate the amazing achievements of Apps for Good students across the UK. We showcase their innovative tech solutions to the problems that matter to them most and enable them to pitch to inspiring industry experts.
We currently offer four stimulating courses and two-day-long courses, aimed at students from Year 6 /P7 to Year 10/S4.
Our most popular courses are:
Innovate for Climate Change - 12 sessions aimed at Y8/S2 students with a basic to advanced level of coding.
App Development - 10-12 sessions which can be delivered to students in Y6-Y10 / P7-S4 with a basic level of coding involved.
App Development in a Day which allows students to create an app in a day, aimed at Y6-Y10 students with no programming required.
We are currently developing a new course, App for Social Action, that will be launching in 2023 aimed at students in Y7/S1.
Innovate for Climate Change - our latest course
There's no bigger challenge young people will inherit than climate change - a challenge which schools currently feel ill-equipped to teach on their own. While many young people lack the skills they need to succeed in life, at Apps for Good we bring together industry and educators to engage young people, from all backgrounds, in solving real world challenges. That's why we have developed a new technology course - 'Innovate for Climate Change', which combines knowledge building with tech innovation skills, focused on the climate challenges young people care about.
This skills builder accredited course is mapped to the U.K computing curriculums, and has been developed with Computational thinking, Digital Literacy and essential skills in mind. Over the course of 12 sessions, students learn about concepts such as Systems Thinking, CO2e and the Circular Economy to apply this knowledge and understanding when designing and building their prototype app. During the course, students can benefit from feedback from industry experts who volunteer their time to challenge students' thinking and refine their app idea.
Watch our Innovate for Climate Change video and see the impact for yourselves: https://youtu.be/L1vMATkwncE
Last academic year, we had some fantastic entries from students who had taken part in the Innovate for Climate Change course. You find out more about the apps that the three finalists developed here.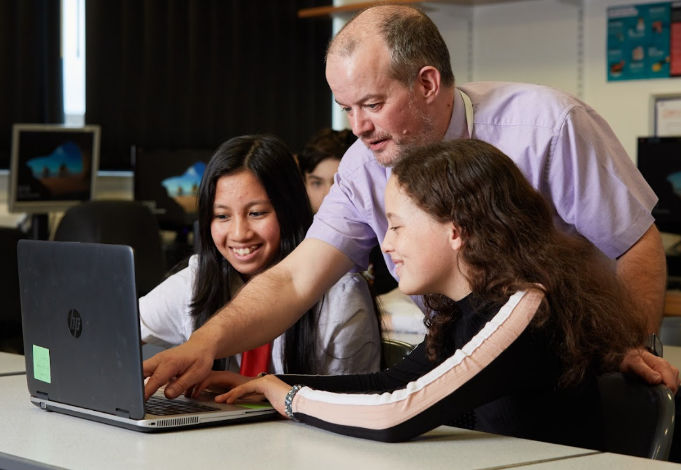 Our Impact
As a charity, we make it our business to have a positive impact on young people. We're particularly interested in enabling students to develop the essential skills that equip them for future work. In addition to developing computing skills, 82% of our students thought their teamwork improved, 75% said their confidence had increased and 75% thought their communication skills improved.
Daniel Conner, Head Teacher at Challney High School for Boys told us, "I think one of the great benefits of the Apps for Good programme is the way it blends together learning about the technology, which is developing all the time and is going to be required in most work settings in the future, and blends that with the notion of growing up to be a citizen."
We inspire students about the potential of tech and tech careers through engaging our industry partners in their app ideation, as Hannah Percival, Assistant Principal at West Bromwich Collegiate Academy observed, "It's opened up their eyes, (a lot of them), to what Computer Science is, how they could use that, whether they might then think about that as a future career."
Perhaps most important of all - we see how young people are empowered by solving problems they care about - evident in our annual Showcase celebrating student tech innovation, which saw entries from 270 teams this year.
The value of a student driven learning experience is summarised by Paul Gallanagh, Principal Teacher of Computer Science at Dunoon Grammar School, "Our young people simply won't allow us to go back to our former more passive pedagogy. They love being able to fully immerse themselves into deep and meaningful learning experiences where they can lead and make a real difference to their communities."
Biography - Ross Dempster-Johnson, Head of Programmes, Apps for Good

Ross Dempster-Johnson is the Head of Programmes at Apps for Good. He is a former Deputy Headteacher and has experience in curriculum design and development, educational research, and school leadership. You can tweet us at @AppsForGood. For personalised school support or questions about any of our courses or delivery, please email education@appsforgood.org.