Inspiring the next generation of technologists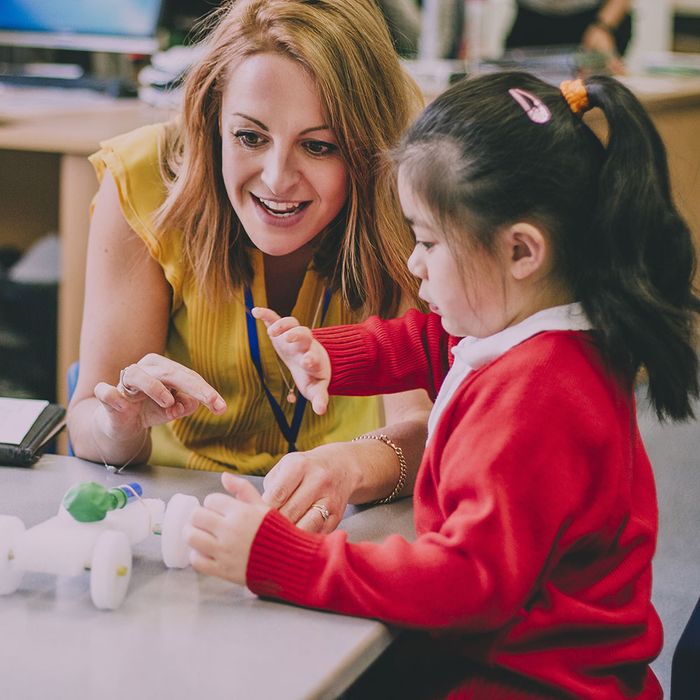 Technology is prevalent across every aspect of our lives today and will continue to play an even more significant role in the careers and personal lives of future generations. A large majority of children in school today will work in jobs that don't yet even exist!
Everything we do for the children in our lives aims to prepare them for a happy and successful future ahead. And to ensure that all children are able to participate in the jobs of the future, we need to educate and excite them about technology, and the people who develop it, from an early age. It's also critical that we have diversity in the workforce that designs, creates and implements our technology to make sure that it works for everyone.

In 2018, the Tech She Can Charter was founded, with 18 organisations agreeing to collaborate and work together to change the ratio of women working in technology roles. Three years later, Tech She Can became an independent charity in order to extend its reach and impact. We now bring together the collective experience and expertise of over 240 member organisations, providing initiatives and pathways into technology careers across the key moments in girls' and women's lives. This includes an early education programme, career insights days, apprenticeships and a relatable role model campaign. You can read more about the impact we've achieved in our first year as a charity in our 2022 Impact Report.
Tech We Can Educational Resources
Educating and inspiring the next generation of technologists is a core objective for Tech She Can. We do this through our Tech We Can programme of free learning materials, which can be used by teachers or parents.
As a teacher, with over 10 years experience at both primary and secondary level, I'm passionate about ensuring children understand how their interests and passions can help guide them on their future career paths. Our Tech We Can resources focus on their hobbies and interests and demonstrate to children how these could lead them into a potential future career in technology. We deliver these resources to children as young as five years old in order to challenge gender stereotypes as soon as possible.
The Tech We Can resources include:
Animations
These short animations, featuring characters Katie and Tex, are designed to encourage young children to be inquisitive about the technology they encounter and use on a daily basis - giving them a simplified understanding of how it works and that people design and create this technology.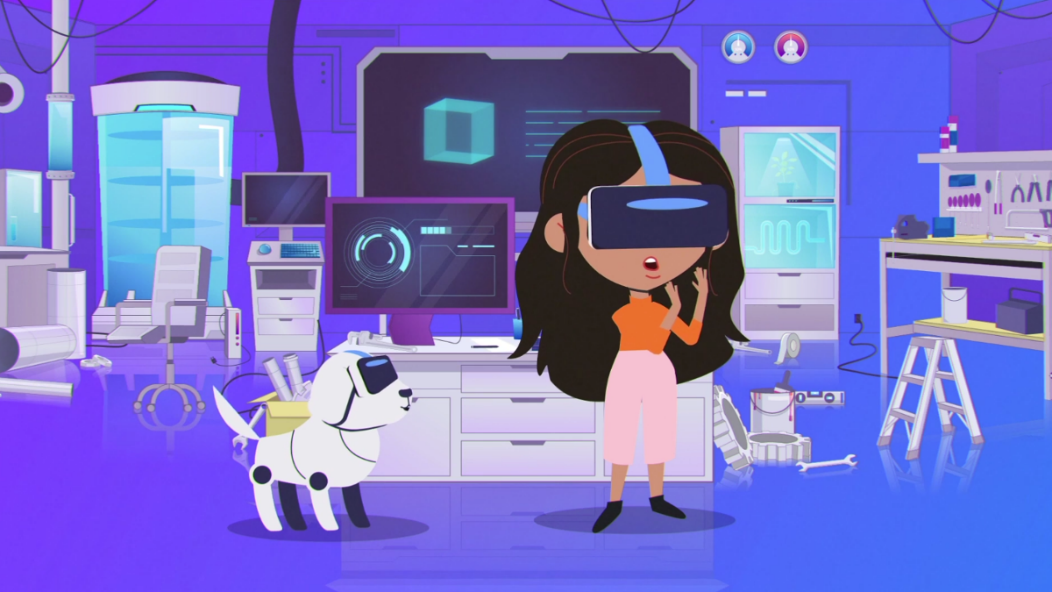 Each animation focuses on a different area of technology and is accompanied by supporting information to help teachers and parents explain it in more detail to children. There's also an optional challenge for children to complete at home or in school.
On-demand lessons
These fun and informative online lessons, delivered by myself and Katie King, are aimed at children aged 8-14. In each pre-recorded online lesson, we explore the role of technology in different areas – from sport, to food, outer space and the environment. Role models working in each area are featured in the lessons, which also include a creative challenge for children to complete. These lessons can be used in the classroom or at home, and are available on demand giving teachers, parents or students the flexibility to watch them when it suits them.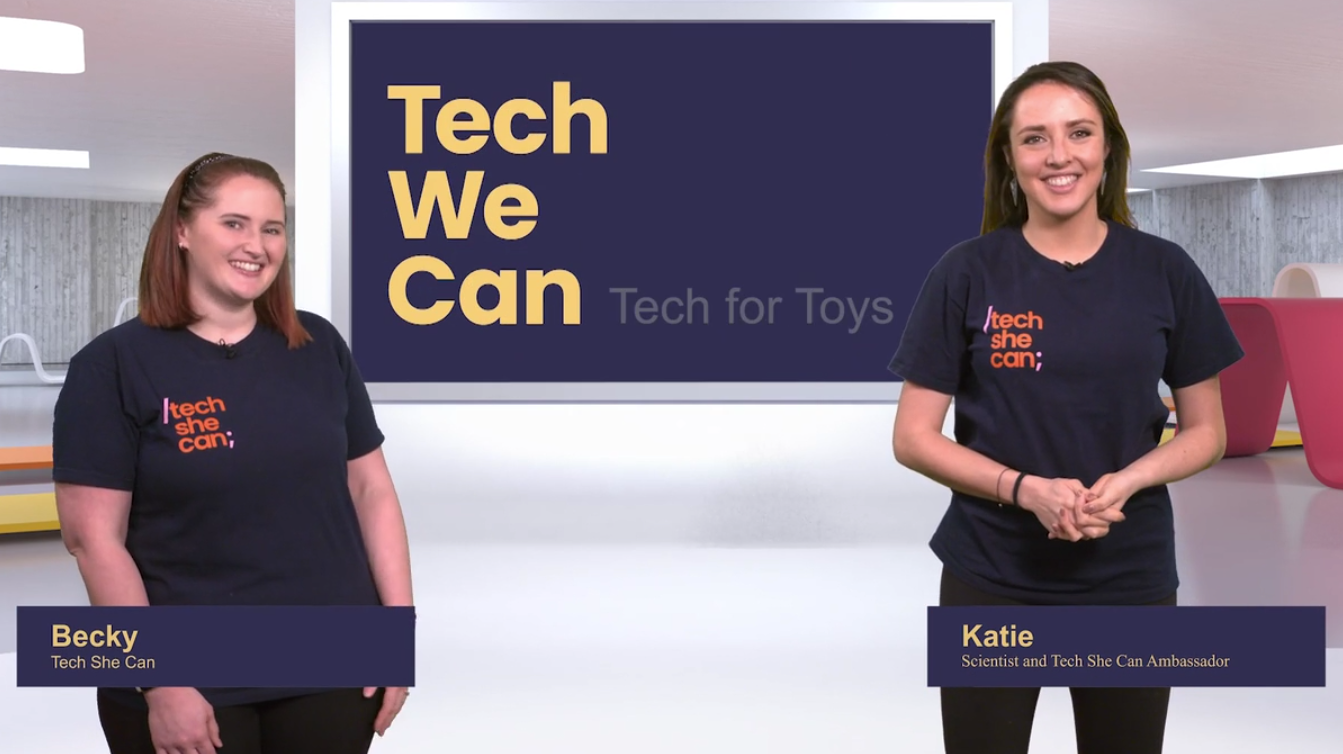 Lesson packs
These downloadable packs include everything a teacher or parent would need to deliver a lesson themselves, with no specialist knowledge needed. Covering 14 topics, each pack includes a presentation, detailed plan with curriculum links and any further printable resources you may need.
We're conscious that the technology available in schools and in homes varies greatly, so we've created different versions of the lesson packs to suit the technology available.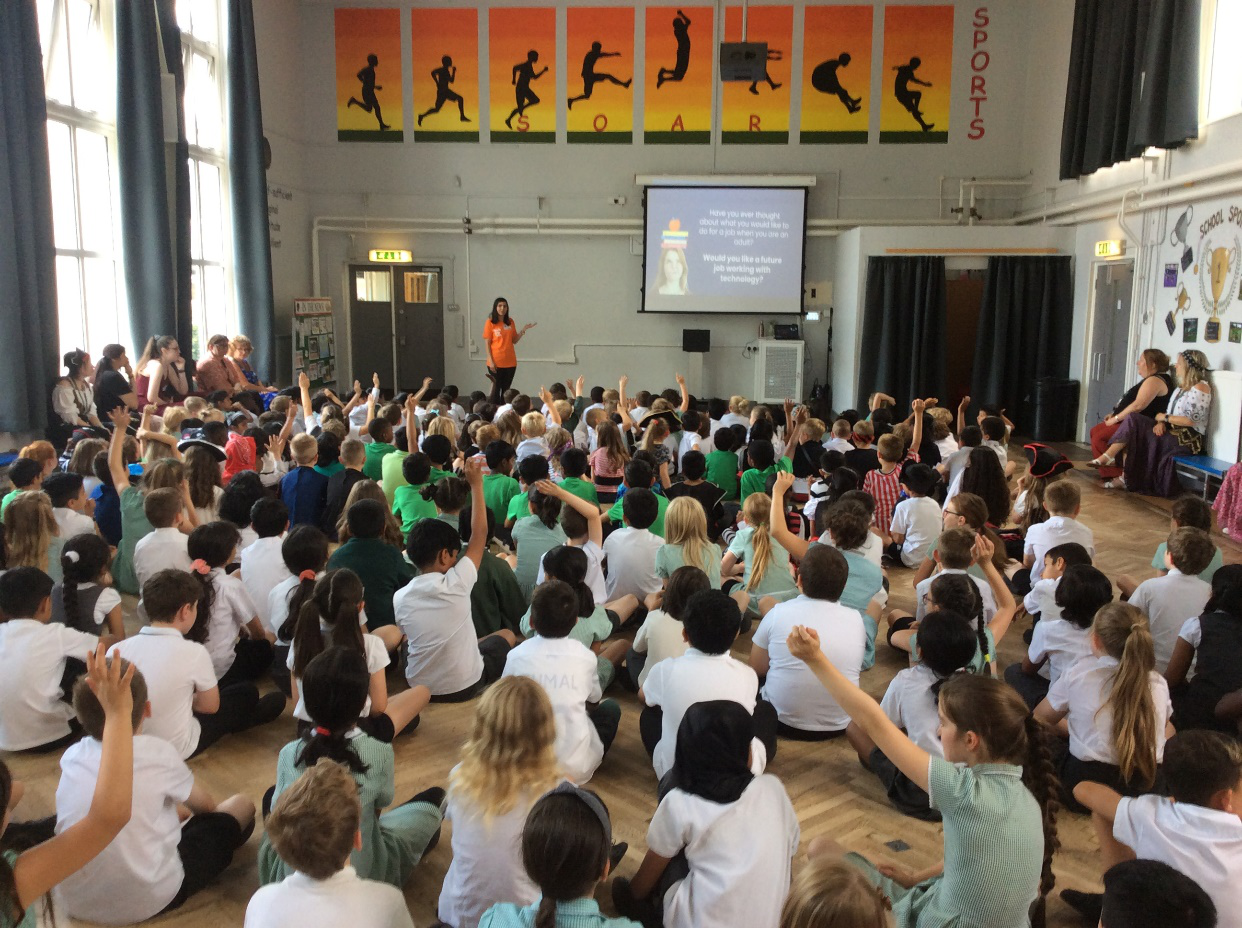 Tech We Can Champions
We recently launched a volunteer programme to help us reach more children across the UK - challenging their perceptions of tech subjects and what a future tech career might look like. Through a partnership with STEM Learning and its STEM Ambassador programme, we train individuals to deliver our lesson materials in classrooms, as well as bringing their real life experience from their own jobs. Since January 2022, we've trained almost 300 champions. If you're based in the UK, you can request a visit from one of them at www.techshecan.org/champions.
Our impact
Tech We Can is not only about broadening children's knowledge of technology careers - it's also about changing their perceptions of what it means to work in technology. The images below, created by a 12 year old student, demonstrate the impact we're having. Before and after a series of Tech We Can lessons, I asked a class of students to draw what a tech worker looked like and to describe them. Before the lessons, one of these students drew a white male in a suit and described him as an anti-social hacker who lived in his mum's basement. After the lessons, she redrew the image, with the following important changes:
She described a role which she never knew existed before the lessons - and said this person was a 'Social Media Manager' for Facebook.
She said this person was great at English. English and literacy were her key strengths and she could now see how these could relate to a career in technology.
She drew herself - this was now an aspiration and an achievable career for her.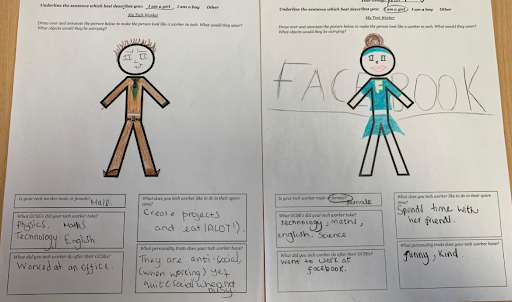 If you'd like to get involved in helping to inspire the next generation about a future career in tech, please take a look at our Tech We Can resources. They're all free and easy to access at techshecan.org. And please do get in touch if you have any questions or feedback you'd like to share.
Becky Patel, Head of Early Education, Tech She Can Biography
I have over 10 years teaching experience at both a primary and secondary school level. I've had the pleasure of working with the Tech She Can team since 2019 and I lead on the creation and delivery of our Tech We Can educational resources.
I'm extremely proud of how far the Tech We Can resources we offer to teachers, parents and students has grown over the past few years. I'm passionate about ensuring all children and young people broaden their knowledge of the opportunities available to them in technology careers. Children can't aspire to be what they don't know exists, and this is where Tech We Can plays such an important role.
@BeckyPatel86
https://www.linkedin.com/in/rebecca-patel-0b5097176/