HP | Intel launches 'Innovation Garage' as part of mission to increase education standards globally.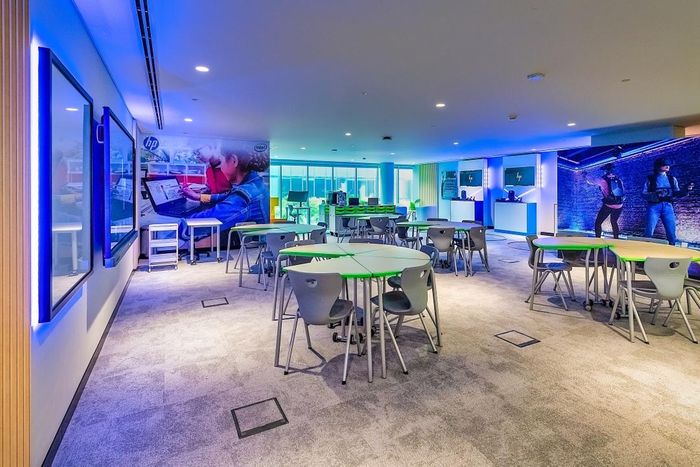 Sponsored by

In a world that is becoming ever more technological, the need to equip younger generations with the skills to drive innovation in technology has never been greater. HP Inc. in collaboration with Intel, two companies that truly understand this need, recently announced the launch of the first 'HP Innovation Garage' which will help students develop transferable skills in technology, design and prototyping.
The lab, which is based at the Dubai Technology Entrepreneur Campus (DTEC), will serve to support young people in finding their future career paths through three different learning zones: an Entrepreneur zone; a Virtual Reality (VR) zone; and a STEAM and Robotics zone. With the sudden shift to at-home learning, technology and digital tools are no longer just one component of learning but have become crucial to students' ongoing development. The HP Innovation Garage will play an essential role in equipping students with technological skills and enthusing them with a passion for technology.
The HP Innovation Garage will utilise the resources available on its HP LIFE platform; a part of the philanthropic side of the company which offers online business and IT training free of charge. The Entrepreneur zone will focus on core business competencies and will help students apply their learnings to create a business plan, whilst the VR zone will give students access to immersive education content and provide training sessions along with certification upon completion of the program. Edutech Middle East will provide STEAM Education programs including Robotics and Artificial Intelligence workshops in the STEAM and Robotics zone.
HP combined its efforts with educational learning partners Aweacademy and Munfarid to launch its first Innovation Garage, which forms a part of HP's commitment to enable better learning outcomes for 100 million people by 2025. More broadly, HP is driving access to quality education globally, using technology to shape learning environments.
On the launch of the HP Innovation Garage, Mathew Thomas, Middle East Vice President and Managing Director of HP Inc. said, "At HP, we understand that starting a career is an important decision, but we also know what exciting opportunities the technology sector offers the many young talented students here in the UAE.
"Through projects like the HP Innovation Garage, in collaboration with our EdTech partners and DTEC, we want to bring our knowledge and our excitement to the students, thus helping them develop transferrable skills required for the future workforce. We are very enthusiastic about this latest education partnership, which is only one of many we have launched in recent past."
The launch of the HP Innovation Garage was also warmly welcomed by the Dubai Technology Entrepreneur Campus, with its vice president, Hans Henrik Christensen, commenting "by launching HP's Innovation Garage, we ensure young students are able to equip themselves with the right skill sets and the proper tools to move into a tech related career. We are thrilled to have partnered with HP, as well as our educational partners, and are looking forward to a fruitful partnership."
Looking ahead, making education more accessible and effective will help people all over the world to get better jobs, launch small businesses, and create opportunities for their families and communities. The first HP Innovation Garage will enrich the lives of those who visit it and will play a role in HP's mission of increasing educational standards across the globe.
Click here to learn more about the HP Innovation Garage workshop schedule.