How can digital communities support the development of whole school positive mental health?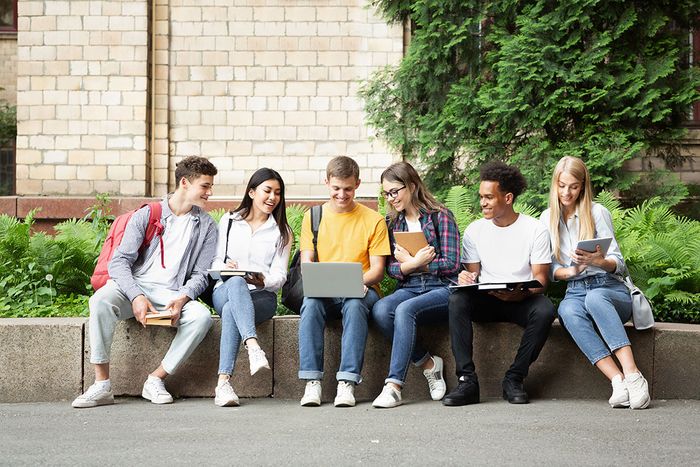 A whole school approach to mental health and wellbeing has been demonstrated with evidence and championed by the government to be the most effective way of supporting pupil mental health and wellbeing. This is especially critical now as the COVID-19 pandemic has increased the prevalence of mental health problems in children and young people at a rapid rate. The impact of this alarming increase is being felt in classrooms across the nation. Not only affecting pupil's ability to learn and achieve but also increasing staff workload, stress and reducing wellbeing levels.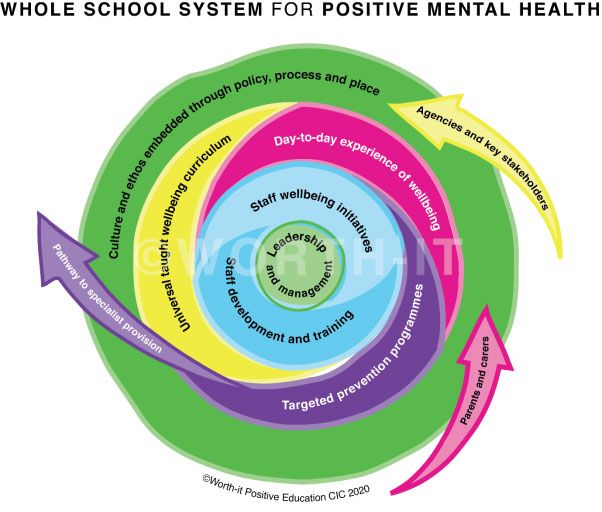 Although seen as important and helpful developing a whole school approach can be perceived to be a complicated and ambiguous task. Objectives can seam hard to define and outcomes of the whole school approach can be intangible and difficult to measure. This can provide barriers to schools' ability to implement school wide positive mental health and wellbeing at this crucial time.
A step by step system for school mental health
Supporting schools solve this problem motivated us to explain how to develop whole school mental health and wellbeing. We worked on finding a tangible and practical way based on extensive research and know how, to develop our 'Whole school System for Positive Mental Health'.
The system comprises of ten interrelated and connected elements all essential for developing whole school positive mental health and wellbeing. Each part of the system relates to another, providing a way to audit effective proactive and plan priorities. The elements consist of
Culture and Ethos Embedded Through Policy, Process and Place
A school environment that promotes and supports the development of positive mental health and wellbeing.
A school approach to mental health and wellbeing that is shared, understood and visible within a school.
School policies and procedures support the development of positive mental health and wellbeing for all.
Leadership and Management
School leaders champion and support school wide positive mental health and wellbeing.
These are integral to school strategy and planning.
Staff Development and Training
Staff participate in training in how to look after their own wellbeing and develop wellbeing as a team.
Staff are provided trained to support to pupils with poor mental health and in ways that develop wellbeing.
Staff Wellbeing Initiatives
The positive relationships underpin all staff wellbeing initiatives.
Staff lead initiatives that they identify as important for their wellbeing.
Universal Taught Wellbeing Curriculum
The teaching of strategies for wellbeing exist for all pupils in the curriculum.
Pupils lead positive mental health and wellbeing approaches amongst their peers.
Day-to-Day Experience of Wellbeing
An ethos of wellbeing creates a positive environment for learning.
Wellbeing is experienced through our day-to-day interactions at school.
Targeted Prevention Programmes
A range of targeted prevention programmes are provided.
These are reviewed and assessed and used as the basis for planning interventions.
Parents and Carers
Parents understand and make a contribution towards school wellbeing.
Parents are provided with information on ways to promote the wellbeing their children.
Agencies and Key Stakeholders
Work with external agencies are an integral part of support for pupil and staff wellbeing.
Agencies worked with are reviewed to ensure quality and suitability.
Pathways to Support
A clear pathway to support for targeted pupils.
Staff and pupils are aware of the referral pathway and to access this pathway.
This framework has become integral to our offer in providing support for school mental health in a practical and efficient step by step way and is underpinned with key principles.
One key underpinning principle for the development of positive mental health is building and fostering positive relationships, belonging and connection for both staff and pupils.
Community and connection are essential to whole school wellbeing
Wellbeing and positive mental health are developed through the relationships and connections of all the stakeholders within the school environment. Developing positive relationships, communities and connection are essential for any whole school approach to wellbeing.
Integral to developing positive relationships is the use of participatory and voice led approaches to developing school wellbeing. Evidence demonstrates participation of both staff and pupils is highly effective for gaining buy in to the development of any whole school approach. Participatory approaches develop wellbeing by increasing positive relationships, autonomy, and competence through the process of utilising these methods.
For example, we encourage participation through supporting schools to deliver pupil led wellbeing initiatives or early prevention programmes. We have developed digital toolkits of materials for schools to deliver their own voice led workshops and pupil led wellbeing initiatives.
We encourage schools to develop staff led wellbeing and peer to peer support initiatives. Supporting schools by providing ideas and training for staff teams to design their own whole school approach to mental health and wellbeing. A great example of a case study school pioneering staff led wellbeing can be found here.
Utilising digital communities to support Designated Mental Health Leads
Although the whole school system for positive mental health offers a step by step process, knowledge is only one aspect to effective implementation. We recognise that community networks and peer support play an essential role for enabling School Mental Health Leads to effectively develop their whole school approach and support pupil mental health.
Through working directly with Mental Health Leads we know that they appreciate and value peer to peer support to share effective practice and network. We have established an online community using social media. This has proven a popular first and simple step in providing support through the establishment of a digital community.
We are building on this to provide ongoing support to the many essential and newly appointed Designated Mental Health Leads through utilising digital learning technology, to share knowledge, develop practice and build peer support communities. We are planning to launch a digital community learning platform for Mental Health Leads in early 2021.
If you are a Designated Mental Health Lead looking for support join our community here.
To find out more about our approach to Whole School Positive Mental Health and Wellbeing read the article here.