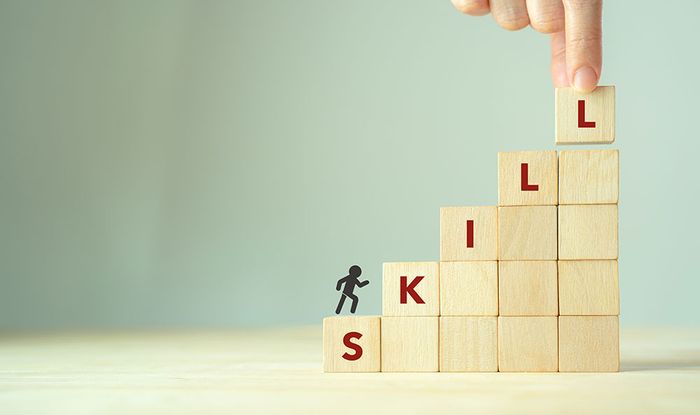 Our sector is loaded with acronyms and abbreviations. From NCT to NQT, ESOL to EdTech.
But here's one that might be new to you … VocTech. A portmanteau of 'vocational' and 'technology', VocTech refers to digital technology that helps people gain and maintain the skills they need for work.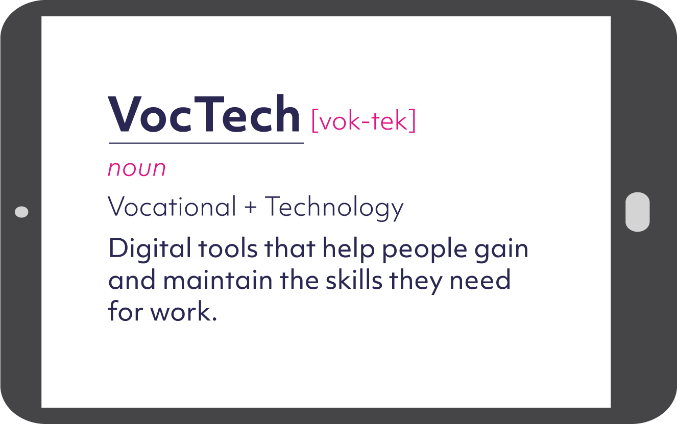 Take Robbie, for instance. He wants to develop skills so he can perform better and progress but doesn't know where to start. Robbie never really got on at school. He wasn't much good at exams and struggled with literacy. He also has three children and not enough hours in the day.
Like Robbie, a learner might be lacking in confidence and time. They might work in a sector that doesn't provide access to opportunities for training and reskilling. They might be unemployed. They might lack access to technology. They might be confused about where to start. Robbie has never heard of VocTech, but it might be just what's needed to help him thrive; raising confidence, motivation and helping him to take the next step forward.
At Ufi VocTech Trust we support the development of digital technologies that help us all obtain the vocational skills we need to get more out of our working lives. We do this by providing grant funding, making direct investments and through advocacy. From prisons to construction, health & beauty to social work, Ufi supports organisations from a broad range of sectors, including colleges and independent training providers, each developing digital tools and approaches to help a diverse range of adult learners. We have a particular focus on supporting sectors, locations, skills levels and individuals that have not been well served by traditional or mainstream provision.
Grant funding
From mobile apps to improve adult literacy to VR for soft skills training, Ufi provide grant funding to projects with the potential for significant impact on the scale of people accessing vocational skills.
When staff at Bolton College applied for Ufi's 'VocTech Impact' grant three years ago, their aim was to improve the teaching, learning and assessment experience of their vocational learners. Today, Bolton College's innovative 'First Pass' programme uses natural language marking to provide real time, accurate feedback to learners and, ultimately, to help them to progress in the workplace. Ufi grant funding also supported the Bolton team to launch an AI-powered chatbot called Ada to help with routine student enquiries and free up time for teachers to focus on high-level tasks.
Bolton College and Ufi VocTech Trust. Catalysing change with vocational technology.
If you have an idea to improve vocational learning through technology or know anyone who does - perhaps a friend, spouse or colleague - you can visit the Ufi website to get a feel for the funding available. You can also explore some of the 250+ projects Ufi has already grant-funded in our online VocTech Directory. Our next grant fund will open in June 2023.
Ufi Ventures
In addition to grant funding, Ufi also make direct investments through Ufi Ventures, providing pre-seed investments from £75k to £1m. Ufi Ventures currently have 13 companies in their investment portfolio, each focused on providing people and businesses the skills needed for work, now and in the future.
Members of the Ufi Ventures team will be speaking at Bett this year, sharing the trends, technologies and approaches they have backed and the companies helping to tackle the skills crisis. You'll find them on the Bett Futures stage at 15:45 on Thursday 30th March.
You'll also hear about the journey from 'idea' to 'market' from David Barlett, founder of Purlos. David's team works with staff and students across the UK to improve the learner experience and reduce drop-out rates.
As in many busy colleges across the UK, staff at NESCOT in Surrey were spending hours responding to routine student enquiries. What's more, they noticed that email response rates to their own correspondence were low and that their learners were no longer reliably engaging with the college by phone. Modern students expect instant communications and staff realised that a new approach was needed. Enter Jenni, Purlos' human-supported digital support assistant.
Today, students interact with Jenni through WhatsApp and receive instant responses. Jenni handles the bulk of day-to-day questions so that staff have more time to focus on the students who really need and benefit from their time. Instead of technology reducing human connection, it is strengthening it.
How can I join the VocTech community?
The easiest way to connect with the active VocTech community is to subscribe to the Ufi Community Newsletter. If you use social media for professional purposes, you might have noticed our hot pink logo on Twitter and LinkedIn, so you can connect with us there too.
You can also join the AmplifyFE network and community space to share news about your work in vocational learning, find others to collaborate with or learn more about specific subject areas.
We look forward to catching up with you at Bett next month.