How harnessing the power of young people can change the world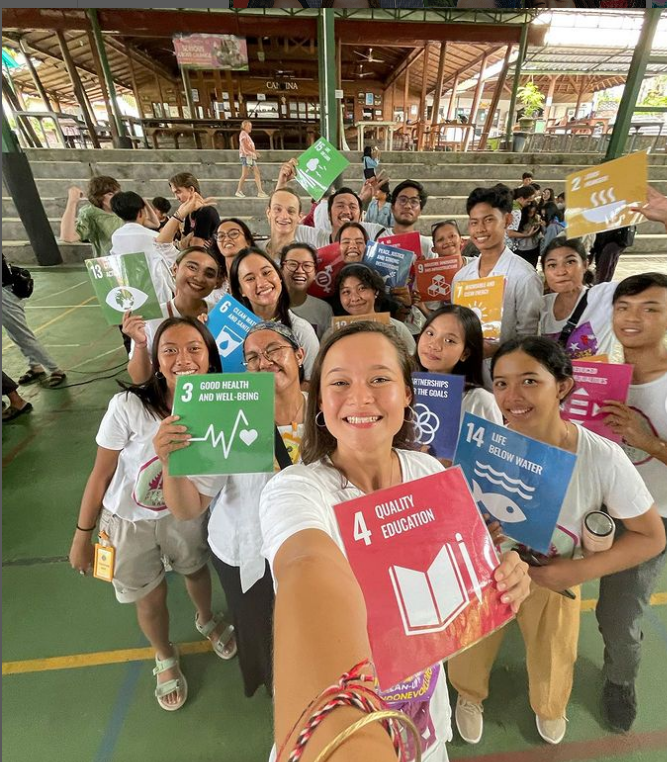 In a world embattled by geopolitical unrest, the migration crisis and climate change, we need changemakers more than ever. Youthtopia founder Melati Wijsen explores how we empower our young people for a sustainable, happy future.
Growing up in Bali, Indonesia, it wasn't rocket science to notice the plastic pollution everywhere and to understand what a problem it was. This is when my sister and I became changemakers. My sister, Isabel, was 12 and I was 10 and we wanted to change things. It started from that place of pure intention; seeing something wrong and thinking "What are we going to do about it?".

So in 2013 we founded Bye Bye Plastic Bags together and managed to get plastic bags and straws banned on the island.
There's that beauty of being at that age, where not even the sky is the limit. You think in constant solution. That's the power our young generation has now, and we need to harness it.
So how can education prepare our children and teenagers to be changemakers, guiding our world into a more inclusive, sustainable and prosperous future?
Educators are among the most important changemakers, but a lot of changemaking learning is happening outside classrooms.
I think the role of educators is to bring what's happening in the real world into the classroom. It's high time our classrooms began to reflect what's happening outside: the climate crisis, the refugee crisis, all these issues that are catching the attention of our generation. We need to make it a fundamental part of learning – studying the problem and attaching solutions to it.
Making the change
Changemaking isn't a single subject or an expertise, it's about harnessing a collection of attributes, qualities and skills that work for the benefit of all. There are many different ways to be a changemaker. Whether you're a photographer, good behind the lens of a camera, or a storyteller and better in front of the camera, or you're a researcher and a scientist and innovator, whatever it is, the narrative change that we need to create is that everyone can be a changemaker because it requires all of our unique skillsets.
It's all about creating role models. When students see somebody their age taking action, suddenly it's a totally different ballgame. Suddenly, it's a narrative of "if they can do it, I can do it".
Curiosity + Focus = Change
The ability to be curious needs to be fostered in the classroom, because at this point students are so receptive. Sixth graders are so enthusiastic. They're engaged, they're active, they're curious. To be a changemaker, you have to have that strong ability to be curious about the world, but also to be curious enough to say: "How can I be better? What is not working? How can we improve it?"
It's one of the reasons Youthtopia was created; because I spent so much time speaking to students, who asked me: "Lati, how do I create change? Where do I start?" There was no school textbook I could share on this.
Curiosity opens the box of wonders and possibilities, but we also need the ability to focus and prioritise. With so much that needs to be done, it can be overwhelming. How do we create a skillset for students today that helps them to stay focused? To say, "OK, we don't have to do everything, but how do we find what we're good at? What does the world around us need? How do we implement that?"
Reconnecting with the local
It's easy to fall into the trap of believing the world's problems are too many and too big for us to have any impact on, but with focus we can achieve real impact by targeting the local, through our immediate community.
To foster true teamwork and collaboration we need a shift from competition to community – because changemaking is not about being the best or getting to the top.
We've been shaping our education system in a very linear way, from grade 1 to grade 12, then graduation, then university, to try to get to the best of your industry, to make it to a boss position. This fosters so much competition we're unable to understand what true collaboration and true teamwork looks like.
Changemaking is about making lives better for the people around you.
This also means reconnecting with your environment and the natural world, to remind yourself of why you're doing it. It's so important to make sure that students are able to learn from nature.
If we forget that, we're losing out fundamentally on seeing the bigger picture of the world that we live in; of understanding why it's important to do the work that we do.
See the big picture. Start small. Changemaking can change the world.
You can hear more from Melati at Bett Asia in Bangkok on October 4-5 where she is a guest speaker.
Melati Wijsen is a 22-year-old full-time Changemaker. She recently launched her new company, YOUTHTOPIA, which focuses on youth empowerment through short and meaningful peer-to-peer programs and providing the tools needed to be changemakers. Melati believes that young people can accelerate change and her vision is to make YOUTHTOPIA the go-to platform for young people to learn about frontline skills.