The evidence behind influencing student perceptions of value for money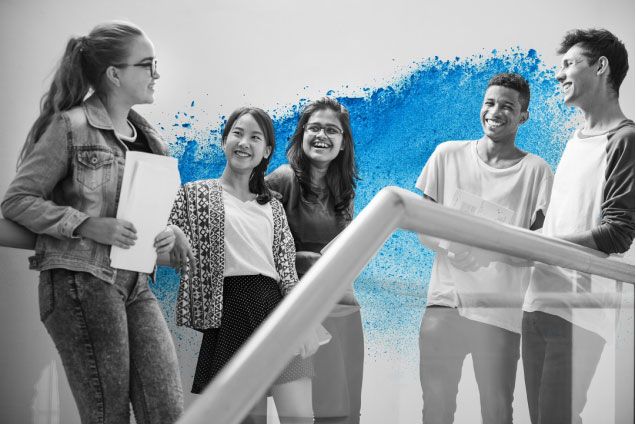 With rising withdrawals attributed to the impact of the cost of living, we take a look at the data behind students' perceptions of value for money.
UCAS data'reveals record numbers of students entering Higher Education, but at the same time, THE reports UK undergraduate withdrawals increasing by 23%, with this steep rise being attributed to the cost of-living impact on student finances. The debate around student funding will undoubtedly roll-on, but in the meantime what can universities do to address students' perceptions of Higher Education representing value for money?
Here we unpick some of the headlines around value-for-money and take an evidence-based look at the main underlying factors contributing to this key student metric.
The data used for this analysis of value for money is drawn from the 2021 International Student Barometer, comprising responses collected from 92,629 international students studying in 15 countries (May to December 2021). The survey draws responses on all aspects of the student experience, including decision-making, perceptions, and intentions of the student population.
The headline analysis for UK and Ireland, taken from Tribal i-graduate's Global Student Experience ' 2022'report, paints a fairly strong picture over the period with 81% agreeing their current programme is good value for money. This figure is mirrored in North America, with Europe trailing somewhat at 79%. Given the timing of the 2021 ISB, we are yet to see how the continued sharp rises in the cost of living impacts these results.

(Full UK & Ireland at-a-glance findings)
Focusing on the value for money aspect then, we ask students 'To what extent do you feel that your current course is good value for money?', to which globally 73% of undergraduate students agreed or strongly agreed with the statement, while 77% of postgraduate taught students agreed or strongly agreed, culminating in a global benchmark of 75%.
Diving down deeper into the data, we find two of the factors with the highest correlation with students' perception of value for money are careers'and living.
1. Careers/employability
The question that had the strongest correlation to course value for money was 'How well has your experience at this institution prepared you for your career goals?'. 'Globally, 96% of international students say their study decision-making is driven by 'Future Career Impact', making it the most important factor for the fourth year in a row, so it is unsurprising that this element is the most influential when it comes to perceptions of value for money.
Further support for this is that the 7th'most important factor when rating value for money is learning that will help me to get a good job.'Particularly for Indian first-year students the'impact of my qualification on my'future career'is the key decision-making factor when it comes to choosing their course, with a high correlation with Value for Money.
Interestingly, despite the importance of employability on value for money (as well as on both recommendation and study decision) the use of institutions' careers advisory services tends to be low. ISB data shows that globally only 19% of international students have used the Careers Service, whereas 23% of students surveyed said 'it may be useful, but I do not know how to access the service'. This would suggest key value-for-money gains could be made by institutions reviewing their careers service provision and how it is communicated to students. (These gains might be more keenly felt amongst institutions' with higher numbers of Chinese students, who find Careers Advice and Opportunities
for Work Experience by far the most important of the top nationalities surveyed.)
Generally speaking, UK & Ireland and North America perform similarly when it comes to careers and employability, and consistently higher than Europe, the most notable variance being students' satisfaction with opportunities for work experience/placements'in Europe that scored 14% below the global benchmark.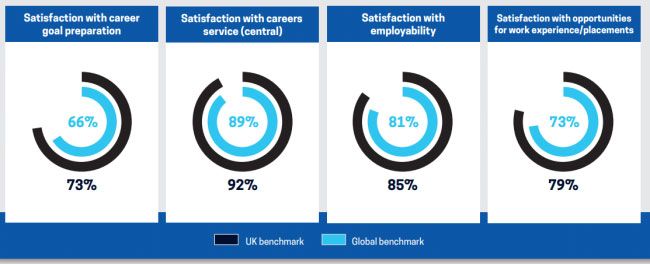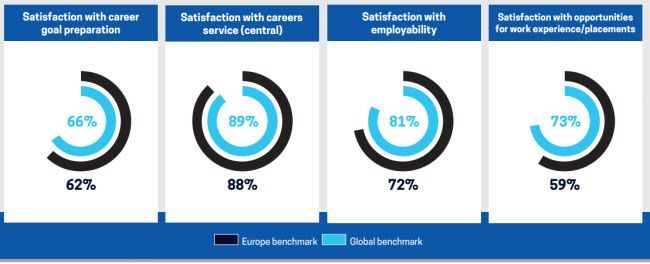 2. Living
Accommodation and cost of living standards are also naturally key to the value students receive during their time at the institution. While 84% of students had access to suitable accommodation globally, 40% of students felt dissatisfied or very dissatisfied with the cost of their accommodation; and 28% of students globally cited 'cost of living' as a reason to leave their country of studying.
Students that scored highly on course value for money, also scored highly on the question, 'Overall, how happy are you with your life at this institution at this stage in the year?' with 89% of all students in the Global ISB Benchmark choosing happy or very happy. (Of the more than one hundred detailed student experience elements measured in the International Student Barometer (ISB), amongst those most likely to be correlated to international students' happiness are elements such as students making good contacts for the future, opportunities to experience the culture of their host country, social facilities and social activities.) Positively, 2021 ISB data shows that 89% of international students globally were happy or very happy with their life at their institution, up from 83% in 2020. While this figure isn't yet at pre-COVID levels, it seems well on its way to being so.
Of course, there are key differences to consider in terms of different groups of students. Looking at the largest nationality groups in the ISB sample, for example, shows that in 2021 Chinese and Nigerian students were most likely to be happy (90%), followed closely by students from India (89%), Germany and Malaysia (88%), with American students less likely (83%).
One relatively new area in the ISB that is showing a clear relationship to international student happiness is students' experience of discriminatory behaviour at their institution. While it's unclear which is the driving factor, perhaps unsurprisingly, students who have never experienced discriminatory behaviour based on factors such as race or ethnicity, gender identity, sexual orientation and religious beliefs are notably more likely to be happy with life at their institution than those who have. Better understanding the nature and prevalence of discrimination experienced by their international students will help institutions reduce it, undoubtedly contributing to a more positive experience.
With happy, well-supported students being more likely to complete their studies and recommend their institution, institutions would do well to maintain the additional focus that COVID appears to have brought to the important topic of international student wellbeing.
Whilst institutions will not solve the cost of living crisis, many are taking bold and innovative steps to help address the associated pressures, which in turn will help balance one side of the value for money challenge. Ensuring students derive value from the resulting experience is the other side of that challenge. Increasing the relevance and accessibility of the employability-related offering, such as the careers service and access to work opportunities, is evidently one way to achieve that; ensuring that the living experience and all that entails ' be it accommodation, organised social activities, or access to counselling services ' meets or exceeds expectations, is another considerable part of that equation.
With finite resources, and increasing pressures, both financially and from students themselves, it seems like a period of even finer balance for Higher Education institutions globally, requiring some deft and informed decision-making. But, having come through Covid with global benchmarks of 94% of students engaged with their studies; 90% feeling happy; and overall satisfaction at 85%, it is clear the global sector has the skills and leadership to navigate another challenging landscape.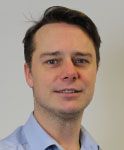 Mat Kirby has been working in Higher Education marketing for nearly 20 years focusing on the area of surveys and benchmarking, and providing meaningful evidence-based insights into the student experience for institutions, networks of universities and government bodies globally. Mat has also worked with Tribal's Quality Assurance business helping disseminate best practice in the provision of education across multiple phases, from early years to further and vocational education.
You can find out more about i-graduate here.
'
'