Esports 101 - An introduction to the industry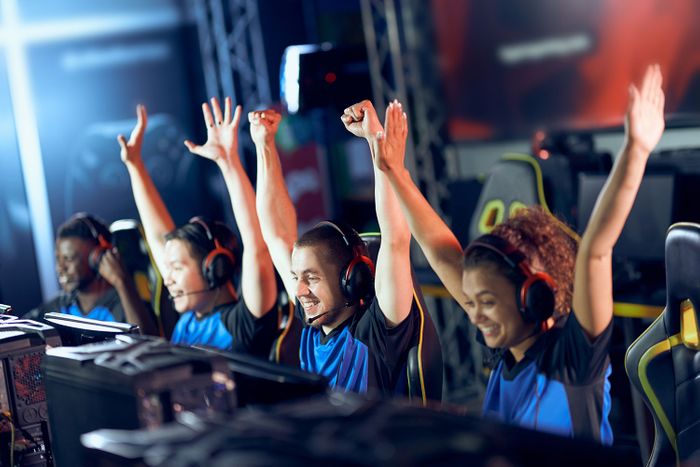 It is different from standard video gaming in that esports is competitive (human-vs-human) and usually involves an interactive audience element, similar to traditional sports.
There are several different sectors within the esports industry - all of which have a variety of roles and career pathways available to pursue.
How big is the esports industry?
According to NewZoo, there are about 222.9m esports enthusiasts across the globe - with the worldwide esports audience reaching 495m people in 2020.
The overall age demographic is very broad within esports, however, more young people are getting involved within the industry to widen it even further.
Whilst the esports industry is still quite new, it is developing very fast across the world to bring competitive gaming into the mainstream.
In 2021, $833.6 million in revenues - over 75% of the total market - will come from media rights and sponsorship.
With millions of people tuning into, or selling out, esports events, this is a huge market for mainstream companies to get involved in.
Tournaments (in-person or broadcast) act as the main point of engagement for audiences and yield a significant proportion of the viewership within esports. This is where a lot of the figures come from to show how big esports is, and just gives a glance into one part of the industry.
Esports in Education
The British Esports Association, in conjunction with Pearson, developed the first ever BTEC qualification in esports - which brings the industry into educational settings.
Examining board Pearson has approved 160 centres to teach the Level 2 and Level 3 qualifications this academic year, which means there could be up to 2000 students across the country studying the BTEC.
The qualifications are approved and fully funded by the Department for Education for schools in the UK.
By bringing esports into education, students can learn more about the industry, and what it takes to participate in various different roles.
On top of this qualification, British Esports also run the 'British Esports Student Champs' - a tournament for school and college students aged 12+.
Over 350 teams, with around 1500 students, have signed up to participate in the Winter split for the 2021/22 season - competing in Overwatch, Rocket League, League of Legends and Valorant.
The number of teams involved with the Student Champs has almost doubled since the 2020/21 season, showing the growth of esports within an educational setting in a short period.
Moreover, incorporating the competitive side of esports into these environments allows for significant positive personal development of those individuals who participate.
Skills such as communication, teamwork, problem solving and strategic thinking can all develop by taking part in esports. Whilst this occurs at different rates for each person, there is an overarching positive impact that esports has on individuals - especially in educational environments.
There are several different games (also referred to as titles) that feature tournaments and span a range of genres.
For example, League of Legends is a MOBA (Multiplayer-Online-Battle-Arena) which pits five players against another five to destroy each other's base. League is one of the biggest and most well-known esports titles, and brought in almost 46 million concurrent viewers at the World Championships in 2020.
Esports is competitive video gaming where skill and professionalism is celebrated - with the pro gamers knowing the games inside out, much like a professional footballer or athlete would in their respective fields.
To give you an example of the scale of esports, some of the biggest tournaments offer millions of pounds in prizes.
The tournaments with the biggest prize pools are the Dota 2 International with $34m and the Fortnite World Cup with $30m, as of 2019. These events are watched by millions of fans, and bring a lot of interest into the esports scene.
Inclusivity in esports
Unlike football, where men's and women's football are split, esports is technically mixed, with male, female and gender non-conforming players taking part.
In recent years, the rise of women players has risen and continues to rise alongside initiatives such as 'Women in Esports'.
According to data from Women in Games, it is estimated that 1 in 20 women are involved in the esports industry- and even though this number is still quite low, it is gradually on the rise. And there are many women holding various non-player positions in esports, such as casting, coaching, production and so on.
As well as this, esports is also open to all, regardless of physical ability. Adaptive equipment is available for individuals with disabilities who need a different setup in order to play.
The inclusion of disabled people in all aspects of the esports industry has grown significantly over the years, and continues to flourish to produce more esports talent!
What other roles are there?
Professional teams usually have coaches, analysts and managers who help to get the most out of the players and organise strategies. Esports also hosts a variety of careers in content creation, journalism, photography, social media, marketing, production and so much more!
Esports professionals can expect to make a decent salary, but this comes with experience and the organisation they are working for.
Most people start off their esports careers volunteering or as a freelancer to build up a portfolio of work and achievements. However, everyone's journey into the industry is different, and various opportunities can arise at different stages.
Each career in esports has a variety of paths to follow, as well as a diverse range of experiences that go alongside it.
Overall, esports is a fast-paced and developing industry that will only continue to grow from here. So watch a live match, read some esports journalism, or even attend an event - get involved yourself to see what esports brings to everyone!