DFRobot Unveils its Innovative Product Display at Bett 2023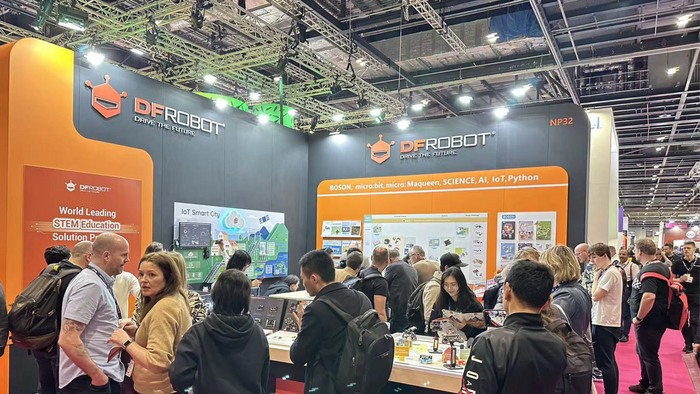 DFRobot, a global leader in STEM education solutions, not only debuted its cutting-edge IoT-enabled 'Smart City' Solution, but also showcased an array of imaginative and innovative product displays at Bett 2023.
These included the BOSON Lego Dog, a micro:bit smart home, a Plant Monitor with SCI DAQ module, the Lark Weather Station, and the Magical Sorting Hat. These captivating exhibits attract considerable attention and engagement from the attendees.
A micro:bit smart home is a simulation of a basic Smart Home system that utilizes a micro:IoT expansion board. In this setup, all devices are interconnected through the Internet of Things, allowing users to conveniently control home appliances such as lighting or door locks remotely. Furthermore, the system gathers environmental data and uploads it to the cloud, enabling enhanced analysis and smarter decision-making for improved home automation and energy efficiency.
The Lark Weather Station is a compact and portable device that provides real-time weather data wherever you are. It's a great tool for students to learn about atmospheric conditions, including wind speed and direction, temperature, humidity, and pressure. At the Bett show, DFRobot showcases the Lark Weather Station connected to a Unihiker, a user-friendly development computer that supports data charts on its LCD color touchscreen. This setup allows for easy tracking and storage of weather data over the long term.
A Plant Monitor equipped with a SCI DAQ module is capable of monitoring the optimal growing conditions for plants, providing real-time data on the module display. With the ability to detect low ambient lighting, the module includes an automatic light function. The SCI DAQ module has the flexibility to support over 20 types of common sensors, making it compatible with most micro-controllers. Sensor identification is automated with the module, providing direct output of physical quantities through built-in algorithms. This allows for efficient and effective optimization of plant growth conditions.
Visit Stand NP31B to speak with any member of the DFRobot team and receive personalized guidance on the most suitable resources for your school. Our team can help you navigate the various options and optimize your selections.