In conversation with Anne-Marie Imafidon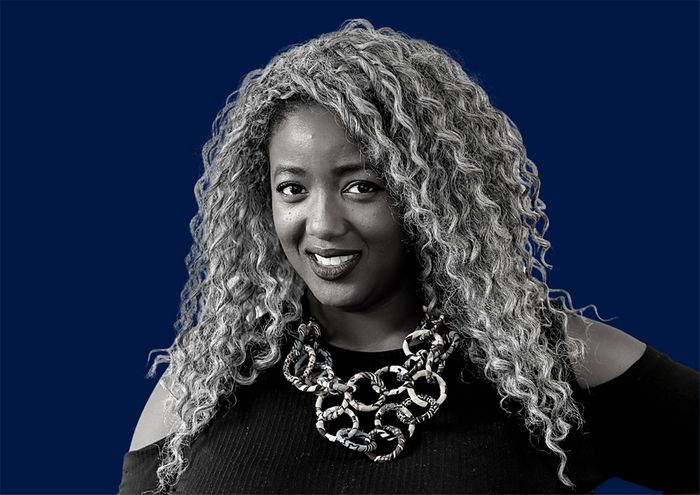 Computer scientist, mathematician and social entrepreneur Anne-Marie Imafidon inspires women to study and pursue careers in science, technology, engineering and maths.
Since becoming one of Oxford University's youngest graduates, she has worked across a range of industries and founded the Stemettes, a social enterprise dedicated to bringing girls and young women to STEM subjects. Her first book She's IN CTRL, looking at how women can take back tech, was published by Penguin in 2022. She also comments on the changing nature of work, and the current challenges to business and society.
Ahead of welcoming her to Bett 2023 as one of our headline speakers, the Bett team sat down with Anne-Marie to find out more about her experiences as a STEM and STEAM advocate, including what she views as being the 'why' and 'how' of a more diverse and inclusive technology industry.
With STEM professionals now more instrumental than ever in all sectors, why is having an inclusive and diverse workforce essential?
It is essential to have an inclusive and diverse workforce so that we can generate inclusive and diverse outputs from the workforce, ensuring that industry supports society and solves problems rather than creating more. However, hiring a diverse workforce doesn't necessarily guarantee that diverse contributions are valued. When developing and allocating funding for technology, we need to listen to these diverse perspectives and ensure that we are asking the right questions so that the technology reflects and addresses diverse - real-life - experiences.
And with women and non-binary people still underrepresented in tech, how can we bring more voices into the conversation around developing new technologies?
There are lots of different things that need to be done. I think the main thing is the STEM field itself needs to work on its own practices and approaches. As I mentioned previously, recruiting and retaining those voices in the workforce is super important. But having the intention to listen to and value different types of people across society is essential. In the field of STEM, we tend to be led by statistics and data sources without realising, recognising or being mindful of the biases that exist in today's society. When bringing those voices into the conversation, you have to sometimes intentionally include, rather than unintentionally exclude, the experiences and voices of certain people.
It is also about proactively recognising that we, as technologists, possess technical knowledge but don't necessarily have the digital knowledge, skills, and literacy. So, who can we collaborate with? Who should we be listening to? Who should we have as input? What unions, organisations, networks, and agencies can feed into our services to ensure that our outputs are contextualised and impactful? I think the bigger picture is that diverse workforce recruitment & retention has to be an intentional move on the part of leadership within these organisations.
In the past, you've described technology and maths as simultaneously creative and logical. How can young people today change their thinking about what makes a good technologist?
I don't know if it's just young people needing to change their thinking - I think the industry needs to change its thinking first. In general, the industry doesn't recognise a breadth of technologists, so I'm not sure I would put this completely on the young people. In fact, I feel that young people are often more open than industry when it comes to considering what counts as a good technologist and what doesn't.
With the work of Stemettes over the last ten years, we have spent a lot of time giving young people the opportunity to see diversity in what technologists look like. Within the Stemettes programme, we measure our impact across perception of STEM and STEAM, awareness of STEM and STEAM, young people's confidence in their own STEM and STEAM abilities, and their overall subject knowledge in STEM and STEAM. For us, those measures of impact have been ways for folks to understand not only what a good technologist looks like but the fact that you can be a good technologist no matter the route that you take, no matter the experiences that you've had, and no matter the kind of 'smarts' you have. Everyone thinks you have to be a 'genius,' and that's not true.
I think the other thing we can do for young people is advocate the importance of STEAM versus just the STEM. If you've got an arts background, there is still a lot of value for you in the technology industry.
Applying arts-based skills and perspectives is key to ensuring the technology you develop is impactful. STEM and STEAM are not just about creating a piece of technology and understanding how technology works, but it's also about how you can apply the technology to solve problems and consider applications of the technology creatively. It has taken so long for us to be able to see that.
Our overarching theme for Bett 2023 is: Reconnect, Reimagine, Renew. Can you talk about what this theme means to you?
This is an interesting one for me because I have a 'word of the year' each year, and I already think my word for next year is going to be 'reconnect'. For me, the term 'reconnect' means that though we want to refresh existing connections, we should also take an opportunity to create new ones to strengthen our broader engagement within the education and technology ecosystem.
I think reconnecting, reimagining, and renewing after this period of collective trauma that we have all been through is an opportunity to stand on the hope that there is in the future of education and technology. We should move forwards with a refreshed view on everything that's about to happen and take whatever ends up happening economically and politically in the next year or so as something to stand on and make the most of. To me, this theme means not just hope but also taking a bit of agency within that hope, especially in times of uncertainty and disruption.
Join Anne-Marie at Bett 2023 as she draws on 10 years of work at her nonprofit Stemettes - working to ensure the science & technology industry is balanced. Bett 2023 takes place from 29-31 March at the ExCeL London. Get your ticket here!