Innovation

Leadership

Skills
Collaboration is the Key: An EdTech Journey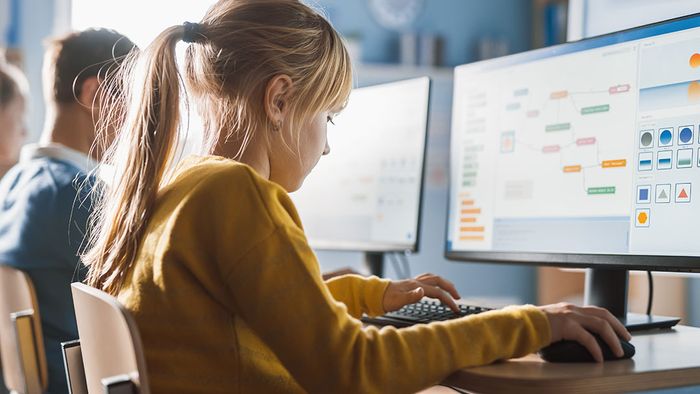 It is crazy to think, that just over a year ago, many schools had never used remote learning platforms such as Google Classroom and Microsoft Teams, whilst others had only dabbled in using them to provide home learning for their students. Our school was one of those who had not yet taken the leap into the quite scary domain of online learning platforms when the COVID-19 pandemic struck last year. This meant that, as a senior leadership team, we needed to be agile to equip our school and staff with the right tools to support our children and meet the new government requirements for remote learning.
Like most schools, we champion the importance of collaboration to our children and try to provide as many opportunities as possible for them to learn through working together. The success of our EdTech journey was also built on collaboration and shows that innovation and change can be achieved in a short space of time when there is sufficient motivation, desire and expert support.
The EdTech Demonstrator Programme
When schools need a significant change in strategy to address external factors such as changes in government policy or, in this case, a global pandemic, the first question often asked is: where on earth do we start? Luckily, the EdTech Demonstrator programme helped us answer this question. As a school, we had received positive feedback from parents regarding our home learning provision during the first lockdown. Following new government guidance however, like most schools, we knew we needed to up our game this academic year and assessed our options. After choosing G-Suite as our preferred remote learning platform, we signed up to the EdTech Demonstrator Programme and were paired with one of 50 expert schools who were available to provide support and guidance through the difficult initial stages of moving to remote learning. Both Rory McGrath, the Headteacher, and Cassey Williams, the Deputy Headteacher, of our partner school, Shacklewell Primary School in Hackney, met with us (virtually of course) to discuss our needs and put in place a support plan to help us reach our goals. Cassey then met with our G-Suite lead periodically to look at the progress we had made in training staff, communicating with parents and then rolling out Google Classroom to our children. Though our partnership has now officially finished, Cassey has always remained available to speak to and has been an incredible support throughout our journey. The external collaboration facilitated by the EdTech Demonstrator Programme is, however, only half of our story.
Joint Practice Development
At Branfil we use a model called Joint Practice Development (JPD) to help teachers collaborate and improve their practice. When we introduced our new remote learning provision, the JPD model was used to overcome the many challenges faced by our teachers in order to deliver high quality lessons to children learning at home.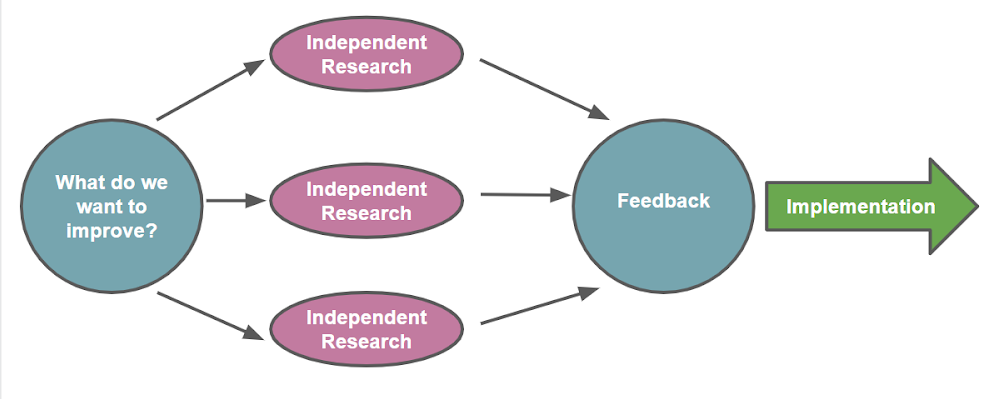 Joint Practice Development Model
In our model for JPD, teachers are asked to research and trial new innovative teaching strategies and resources which can be used to improve a specific area of teaching and learning. When teachers have researched and trialled them, they provide feedback to their colleagues about the pros and cons of each strategy or resource during teacher meetings. Teachers then decide together on the best ones to use moving forward. When we introduced Google Classroom and made the significant move to using Google Slides for our lesson planning, instead of formal written plans, our JPD focused on making our lesson delivery more engaging and interactive, as well as providing high quality feedback, in order to help our children make more progress. Here are some of the apps and extensions we introduced following our joint practice development which both teachers and pupils alike really love. If you haven't already introduced them, we would recommend trying them out and adding your favourites to your own repertoire for learning both inside and outside of the classroom. If you like them, make sure you share them with your colleagues because, if we want to get the best outcomes for our children, collaboration is key!
Loom
Loom for Education is a platform that enables teachers to capture their screen, video camera and microphone to produce recorded content for lessons. Loom for Education is free for all teachers and children to support remote learning; it is simply verified by using a school e-mail address.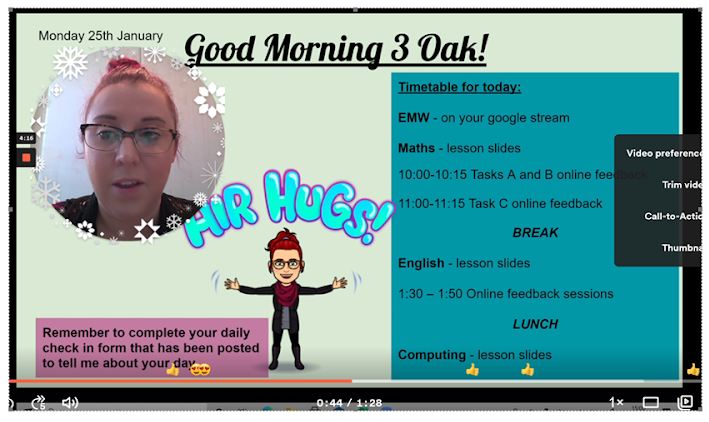 Screencastify
Screencastify​ is a free Chrome extension that "lives" in your browser. Screencastify makes it easy to record, edit and share videos of your computer screen. Screencastify videos save automatically into your Google Drive, which removes the hassle of uploading or transferring files. Equally, recordings can also be easily shared via email, an embedding code or YouTube.
Jamboard
Jamboard is an interactive whiteboard system developed by Google as part of Google Workspace and can be opened within Google Meet/Hangouts. Teachers can upload documents from their Google Drive or online content onto the Jamboard. Teachers have used this during their live feedback sessions to model and to promote collaborative work between the pupils.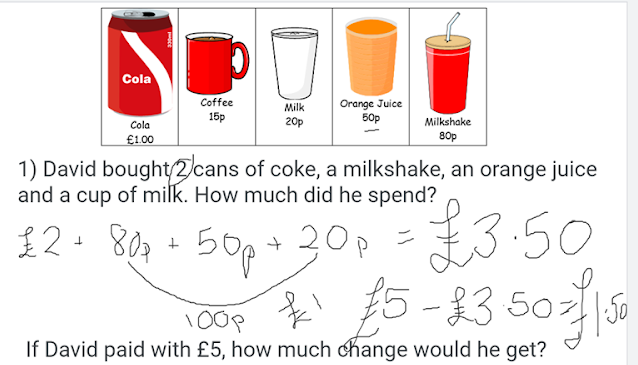 Mote
Mote is a Chrome extension that makes it easy for anyone to add voice notes and feedback to documents and assignments. Many teachers have found this a quicker and more personal way of providing children with feedback. Children who also download mote can respond with voice notes too.