Futures

Innovation

Leadership
Celebrating the COVID-19 Response Champion Awards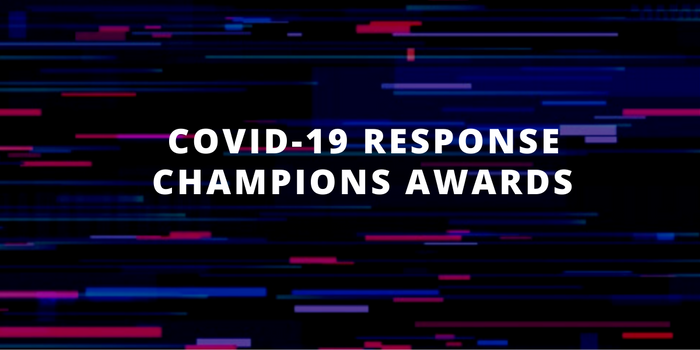 During this pandemic the education sector has proven that, despite global disruption, and with worldwide school closures, continuous education as well as social and emotional support can be provided with imagination and a lot of hard work. To recognise these significant achievements the Bett Awards introduced a one-off category to reflect the COVID-19 responses of technologists, big and small, and the practitioners in our schools and colleges who continued to support our young people in their education, health and wellbeing during lockdown.
COVID-19 Response Champions - International Initiatives
This award recognised companies and organisations who have developed existing products, programmes and services and introduced in record time new functionality to support the education and wellbeing of students and young people. Our varied shortlist included:
Arduino Education for the transformation of their existing approach to STEAM learning to include remote learning resources, video tutorials and weekly live online shows
Carolina Biological Supply Co for the development of their Carolina Kits 3D® FLEX Program, providing a flexible learning experience for science students
ICEP Europe for their new online training to support teachers and students with the psychological aspects of the return to school
Learnetic SA for providing free e-teaching training to educators, sharing over 170 textbooks free of charge, and granting educators access to over 1500 interactive lessons
Light Art Club for improving communication, knowledge and awareness of strategies for preventing the spread of COVID-19 in overcrowded and deprived areas
VISANG EDUCATION Inc. for developing the first domestic, systematic remote classroom for preschoolers in the form of an 'Online Preschool'
The Light Art Club beat stiff competition to win this award. This important project focused on simple graffiti-style messages in Kenya's informal settlements to inform all residents of the reality of COVID-19 and the importance of hand hygiene, face masks and social distancing. Sir Steve Smith, International Education Champion, Department for International Trade in the UK, commented that the Light Art Club "provided a novel and successful communication device which, through low-tech, delivered a creative and potentially life-saving solution to a practical problem".
COVID-19 Response Champions – Schools & Colleges (UK & International)
This category was open to schools and colleges and highlighted those who have responded to the COVID-19 outbreak in a way that has positively impacted the education, health and wellbeing of the student population during the pandemic. Judges worked hard to whittle the shortlist down to:
Barking and Dagenham College for their work with 16-19 year old students, in particular those with English as a Second Language, and looked-after students
Barton Peveril Sixth Form College IT Manager, Peter Horner for his pivotal role, upskilling staff and all learners to enable the move to online teaching and learning
Elm Park Primary School Headteacher Victoria Morris–for her leadership to ensure continued support for all in her school community
Eton College and EtonX for offering the Eton X online Future Skills Programme available free of charge to every UK secondary state school
Hamdan Bin Mohammed Smart University who developed e-learning crash courses to assist teachers in their task to move to remote learning
St Barnabas CE VC Primary School for their response to the pandemic through community engagement and use of google classroom
Surbiton High for their immediate switch to online learning, ensuring students thrived, stayed connected and engaged
The RGS Worcester Family of Schools for its innovative Digital Learning Programme
St Barnabas CE VC Primary School was the worthy winner in this category, proving that even in the most challenged and deprived areas great things can develop when a school and their community come together. Their strategy involved running a foodbank for families in crisis, obtaining laptops through active engagement with business to establish a blended remote school approach, providing weekly learning packs for every child throughout term time and the Easter holidays and providing community care for their most vulnerable children and the children of key workers. We're delighted to commemorate the school team on their commitment to supporting their community through a tremendously difficult time.
COVID-19 Response Champions - UK Companies
This category was open to UK companies who supported the education sector in coping with and combating the pandemic. Caroline Wright, Director General of BESA announced the shortlist and winner for this award. She commented that "if ever anyone doubted our community's commitment to the pupils, students and staff and the benefits of technology in education, then I for one think that 2020 and our community response to the pandemic proves them wrong. Extraordinary things have happened in incredibly short timescales. All entrants should be very proud of their achievements". As such this was perhaps the hardest category to judge. The shortlist included:
Acorn Education and Care for their rollout of the Acorn Digital Learning online live teaching platform to 45 specialist schools
BBC Children's & Education for BBC Bitesize Daily
FlashAcademy® for their digital English language platform teaching from 45 different home languages,across all devices
LGfL (The national Grid for Learning) for a number of initiatives including boosting bandwidth in schools and provision of devices through the Bridging the Divide procurement programme
Mangahigh who gave free access to their materials to all schools impacted by Covid-19
Oxford University Press who provided, high-quality, accessible education and services to support customers across the world
Tute who offered services free of charge and developed Summer School and other facilities to improve student outcomes
White Rose Maths who produced daily Home Learning videos and worksheets to motivate and sustain learning, and to ease the workload and stress for teachers, parents and carers
White Rose Maths was selected as the winner of this category for their commitment to supporting teachers, parents and carers in providing access to learning during lockdown. They responded to the imminent closure of schools in March 2020 with a series of free videos (totalling 640 over the closure period) and homework aligned directly with the National Curriculum. The team also delivered a 12-week summer term curriculum to consolidate learning and close the gap in skills caused by the pandemic.
We're delighted to share the success of each of winners listed above and commend every entry on our shortlists for their dedication to supporting the education community during such a challenging time. We believe that the above teams have taken part in reshaping the future of education through their innovative and resilient approach to overcoming barriers to learning.
Applications are now open for the 2022 Bett Awards. The Bett Advisory Board have refreshed many of the categories offering more opportunities for educators and innovators to enter. Click here to find out more and apply.