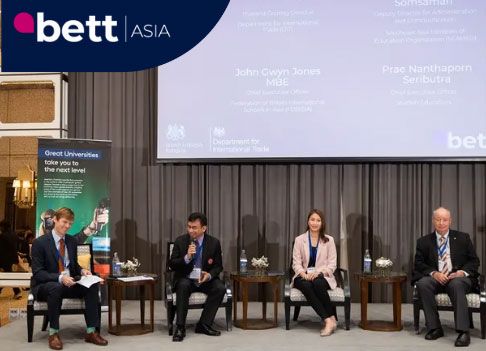 Bangkok, Wednesday 27 April 2022: Bett, the global community for education technology, held the Bett Asia Roadshow at The Athenee Hotel in Bangkok, Thailand.

After three years, Bett is proud to present the in-person return of Bett Asia. Following the tremendous success of the 2019 show, Bett Asia is now looking forward to its 2022 edition – moving from Kuala Lumpur to Bangkok for Bett Asia's first event in Thailand.

To celebrate their move to a new host country, Bett Asia held an exclusive, in-person half-day roadshow, gathering an inspiring and select audience of senior education leaders from Thailand and Bett Asia's key partners and sponsors to spark the conversation in the countdown to Bett Asia 2022.

Curated in collaboration with the UK Department for International Trade (DIT) and chaired by DIT Thailand Country Director Ben Morley, the roadshow event opened with keynote addresses from leading voices within Thailand and the region's education technology space, including: H.E. Ms. Treenuch Thienthong, Minister of Education from the Ministry of Education of Thailand (an official co-host for Bett Asia 2022), Mark Gooding OBE, Her Majesty's Ambassador to the Kingdom of Thailand, Dr. Kritsachai Somsaman, Deputy Director for Administration and Communication from Bett Asia partner the Southeast Asia Ministers of Education Organization (SEAMEO), and DIT Head of International Education Sarah Chidgey.

H.E Treenuch Thienthong, Minister of Education for the Kingdom of Thailand said 'it is the first time the Bett Asia community has come together in Bangkok and I strongly believe that all participants will be able to see opportunities for further cooperation in the technological development for education as well as to strengthen their network within the region.'

Serving as a launchpad for the overarching theme for Bett Asia 2022: 'Education as a catalyst for change', the roadshow played host to a cross-sector panel of institution leaders, policy-makers, and leading EdTech solution providers who explored how education technology is powering education recovery initiatives in Southeast Asia, sharing their vision on how education can develop the next generation of digital leaders and globally responsible citizens.

Ms Helga Stellmacher from British Council Thailand commented that 'We at the British Council in Thailand are delighted to have Bett Asia in Bangkok and in the British Council in general because we do a lot of work around Education Technology and particularly in our English work.'

Taking place on 11-12 October, the Bett Asia 2022 leadership summit and expo will gather K12 and Higher Education leaders, policy-makers, and educators from the Southeast Asia region for two full days of leadership-targeted content, solution discovery, and networking opportunities. Bett is excited to host Bett Asia 2022 in Thailand at a time when the country is reimagining the curriculum and skills development and is experiencing significant growth within the EdTech sector.

John Gwyn Jones MBE, Chief Executive Officer, Federation of British International Schools in Asia (FOBISIA) explained how Bett Asia 'is going to be a great opportunity for the community here in Thailand to come and integrate with the champions of technology.'

Inaugurated in 1985, Bett is the global meeting place for the education technology community, driving to create a better future by transforming education. It is through this mission that we have established Bett as the leading event of its kind, with our flagship show taking place in London and attracting over 23,000 government officials, institution leaders and educators (our visitors) alongside over 500 Edtech solution providers (our exhibitors). Our established international leadership events in Brazil and Asia are recognised as the foremost gathering of education leaders in their respective regions.

Register for Bett Asia here.