Bett announces 2022-2023 UK Advisory Board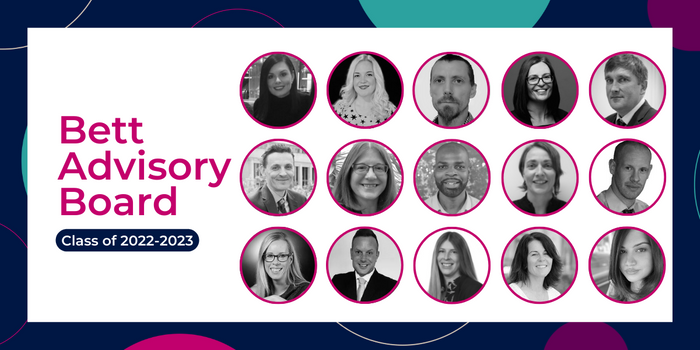 At Bett, we work in close partnership with our global community of educators, experts and thought leaders to inform our live and year-round digital content. Their guidance helps us to answer the core challenges faced by educators as we commit to fostering the innovation and ideas that will transform education across the world.
Who makes up our UK Advisory Board?
Our UK Advisory Board represents a cross-section of voices from across the national education ecosystem – from teachers to leaders across Primary, Secondary, Further and Higher Education – each bringing unique experience and focus areas to the group. Our class of 2022 has some familiar faces from last year, along with new additions, and we're very excited to introduce you to our esteemed members:
Alex Denley, Director of Innovation and Transformation, London South Bank University*
Amy Hollier, Director of Blended and Online Learning, Blended Learning Consortium, Heart of Worcestershire College
Bethan Ware, Head of KS2, Teacher, Pontyclun Primary School
Corinne Latham, Principal, Seaview Primary School*
Emma Darcy, Director of Technology for Learning, Denbigh High School and the Chiltern Learning Trust*
Fil McIntyre, Manager and Assistive Technology Lead, TechAbility/Natspec
Graeme Lawrie MBE, Director of Partnerships, ACS International Schools
James Garnett, Director of IT, United Learning
Katy Potts, Computing and e-safety Lead for Children's Series, Islington Council Laycock PDC*
Mark Martin MBE, Assistant Professor in Computer Science & Education Practice
Martin Bailey, Computing Subject Leader, Lanchester EP Primary School
Penny Rabiger, Education Consultant and Researcher
Priya Bhagrath , Deputy Headteacher & SENCO, Woodlands School
Rachel James, Assistant Principal Teaching and Learning, Barnsley College
Tuesday Humby, National Director of Teaching and Training, Ormiston Academies Trust
(* returning member)
Alongside this Board, Ahead by Bett – our sister event dedicated to Higher Education - has launched a specialist Advisory Board which will focus its attention on driving digital transformation for universities across the world.
What are the Board's priorities?
Our Advisory Board will be integral to the planning of next year's edition of Bett (29-31 March 2023), sharing their insights and recommendations on how we can support the education community as the sector continues to grow and evolve.
For the past two years, our Advisory Board has naturally focused on the impact of the pandemic: how this challenged traditional methods of teaching, and accelerated the rapid, wide-spread implementation of new EdTech tools.
As schools, colleges look to advance their digital strategies, we are excited to hear from our Board on the endless possibilities EdTech can offer to teachers and learners and implement these across Bett's programme. Within this, a core pillar for the group will be focusing on how Bett can become more inclusive, representative, accessible and sustainable, driving real and impactful progress towards the SDGs. Watch this space to see the new initiatives Bett and the Board create for 2023 and beyond!
Hear from our Advisory Board
"Having visited Bett for almost 20 years, I am incredibly excited to be joining the Bett Advisory Board and helping to shape the future of the event, so that others can both enjoy it and gain as much from it as I have over the past two decades."
Martin Bailey, Computing Subject Leader, Lanchester EP Primary School
"Technology enables access and inclusion for so many learners. I'm excited to join the Bett advisory board to play a part in helping educators maximise the opportunities technology can provide."
Fil McIntyre, Manager and Assistive Technology Lead, TechAbility/Natspec
"I am delighted to have been asked to join the Bett Advisory Board. Bett is such an important global community that is used to shape our current and future thinking and enables educators to accelerate change for good using technology. I'm really looking forward to getting more involved."
Amy Hollier, Director of Blended and Online Learning, Blended Learning Consortium, Heart of Worcestershire College
"I am really excited to be on the Bett Advisory Board as it gives me the opportunity to work with and share ideas with some extraordinary people as well as support the Bett show in helping schools move beyond remote learning and embed technology into everything they do; Improving outcome for all."
James Garnett, Director of IT, United Learning
"I'm delighted to be able to share my experience gained as a teacher, a leader in EdTech companies, a grassroots activist and education researcher - and to give and gain support and challenge in equal measures from such an esteemed group of colleagues."
Penny Rabiger, Education Consultant and Researcher
"Excited to be advising one the biggest edtech events in the world! I hope my contributions continues to raise the bar for the sector and endorse great tech tools that enhance the way we teach and learn."
Mark Martin MBE, Assistant Professor in Computer Science & Education Practice