What being an Inclusion Centre of Excellence means for F&B Infants' School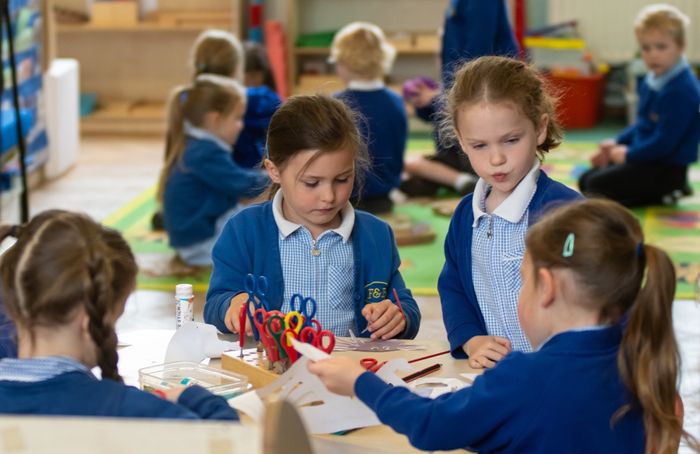 Around 240 schools in the UK have met the standard required to be an Inclusion Quality Mark (IQM) Centre of Excellence, including Fawbert & Barnard Infants' School in Sawbridgeworth, Hertfordshire. Here, F&B Headteacher Lee Wells and Inclusion Lead Aimee Jones talk with Bett's Head of Content Emma Vandore, whose daughter Grace attends the school.
IQM was established in 2004 to support state and independent schools in the UK to become inclusive. Centres of Excellence bring schools together to share their best practices, thereby advancing best inclusion practices nationally.
Can you describe your school and its inclusion profile?
Fawbert & Barnard Infants' School is a two-form entry school with a nursery. Our mission is to provide an exciting, ambitious and unique early education for all. We respect our pupils as individuals and along with our school community share high ambitions for them. One of our key objectives is to develop their perseverance so that they can continue to be their best self and develop their love of learning in spite of future obstacles.
Inclusivity is at the heart of all decisions and has become a trigger for practical action, reflecting the values that drive the whole-school community. Staff, governors, parents, and the pupils themselves respect the dignity of every person in the community so that inclusion is not just a dream for the future but exemplified in a tangible way every day.
Congratulations on winning this award. What does it mean to F&B?
When a school receives this award, it signifies that it has met rigorous standards and demonstrated outstanding practice in promoting inclusion, diversity, and equality within its community. The team at F&B have worked incredibly hard over the last two years to ensure that the systems in place work for the needs of every child. It is wonderful to have our hard work, dedication and passion recognised to such a high degree.
What is the key to your success?
Our inclusion systems do not act in isolation - they are the responsibility of all. All staff receive the same high level of CPD (certified professional development) regardless of role, meaning everyone adopts the same high aspirations, expectations and consistent approaches to supporting the needs of all children.
Supporting a child's personal development is not something that is dipped in and out of - it is ingrained throughout all parts of the school and modelled from the very top. Nothing is more important than how a child is feeling.
Why is inclusion important to F&B and education more broadly?
Inclusion shouldn't be a buzzword, nor need to be spoken about so much - it should just happen, becoming the golden thread that is woven into every part of our lives. Everyone, regardless of need, has the right to be included. We focus on F&B pupils developing their own 'toolbox' – strategies they can use in order to be successful at whatever they choose to do. Children know that, even if things become a little tricky, they have the tools required to overcome any barriers. These tools most importantly develop the children's sense of self, but also contribute to, and have an impact on, the community and the wider world. Respect for self, others and the community are woven into all aspects of school life, so that no one ever feels they are alone, and each individual is proud to share everything they have to offer the world.
Why is inclusion important to you personally?
Mr Wells: I am dyslexic and was not diagnosed until I was 18 years old. I had some incredible teachers throughout my schooling who supported me and ultimately enabled me to have the confidence to pursue a career in education. However, sadly the awareness, training and basic level of adaptation for all staff was very low. This experience drove my passion to ensure that any future educational setting I worked in and now lead would be one that was inclusive, adaptable and empowering. At Fawbert and Barnard we value the importance of respect, perseverance and ambition for all - no one is left behind.
What are your favourite EdTech tools for inclusion?
Widgit's inclusive symbols have been really important on our journey to ensuring all of our environments are communication friendly.
Voice to text tools, specifically for translating, have ensured that children joining us with limited English have still been able to communicate effectively with us, and helped us learn new things too!
Bouncy Balls is a great website to help pupils' understanding of classroom noise levels and support the development of 'listener friendly' classrooms.
On a more simplified level, platforms such as Teams and Zoom have allowed us to deliver such a wide range of parent workshops in the evenings, meeting the needs of all types of families, at a time that is suitable for them, so that everyone has the opportunity to be fully involved in their child's education.
What support would you like to help you to do even more in terms of inclusion?
We are interested in the telepresence robots that are being used more recently to support pupils with long term absences. Even at an Infants level these could have many benefits for pupils who can't always access their classroom specific environment - for example allowing a child who is overstimulated in a whole class setting to still have a lesson delivered by the class teacher, but from an alternative safe space in the school.
This article was written by Bett's Head of Content, Emma Vandore. For more insights from Bett, check out our Community Hub here!