An unsuspecting catalyst for much needed change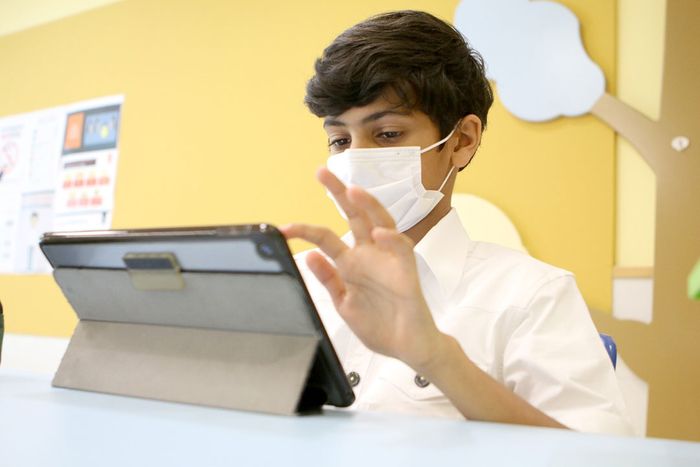 Michelle Thomas from SRS explores how her school ensured that digital technology is a central consideration in all areas of curriculum and assessment delivery.
The School of Research Science (SRS) is a large British National Curriculum school based in Dubai with over 3,600 students from foundation stage to Year 13, spread over two sites. We believe that to be able to live, learn, and work successfully in our information rich society, students must have access to technology and be able to use it effectively. We want to develop students' capacity to learn so that they become more and more independent as they progress through our school. Indeed, such a trait is embedded in our name (The School of Research Science) and reflects the type of student we aspire to nurture.
Bringing in new ways of working is no easy task with a school of this size and nature of our learners. We have a high percentage of children for whom English is an additional language. Many of these children do not speak English at home and their attainment can be affected by their English language proficiency. We wanted to look at ways to overcome this and find a sustainable solution in the unique context of our school
So our digital learning strategy was born. We knew that students who understand how they learn and are engaged by curriculum subjects, achieve high levels of success. Digital learning is one answer that we kept coming back to. Digital learning can offer students a chance to be at the very heart of learning, to be heard, to share their skills, to take responsibility for learning schedules, to encourage others, and to give meaningful feedback both to themselves and others. The ownership of learning is then transferred from teachers to students, and the students can choose themselves where, when and how to study.
Our digital strategy was remarkably simple. We wanted to offer- EXPERIENCE, INNOVATION and EXTENSION.
EXPERIENCE- by digitally enhancing our on-campus experience;
INNOVATION- to develop thought provoking and impactful learning and teaching technologies with our teachers;
EXTENSION- through a provision of digital learning which was open and accessible beyond the walls of our school buildings.
Sounds easy, right? Well that is what we thought, so in September 2019 we introduced a 1:1 deployment of IPads into our Secondary section from Years 7-10. This was a natural progression from the primary section where a very successful shared model of IPad usage had been in operation for three years.
We planned CPD for our secondary staff, we trained them and handed out the IPad. The reaction amongst staff was mixed and the students too were not seeing the benefit. We were doing all the right things, apparently - starting with a key group of teachers to trial a digital workflow that we knew would reduce teacher workload, giving space for teachers to trial. To our surprise however, it wasn't the golden nugget that we thought it would be. Teachers asked for visualisers, students left IPads in their school bags- it was increasingly obvious we had made a mistake somewhere.
Looking back now it is easy to see why- when adding something new you need to take something away! A simple rule of successful implementation had been inadvertently overlooked. We hadn't identified what would go for the digital workflow to come into play. We thought we could just seamlessly integrate technology into our pedagogy. That cannot happen unless you see WHERE it can fit and most importantly WHY it would fit there. Put another way, we crafted the 'how' but failed to start with the 'why'.
Then like a rocket from nowhere, March 2020 came and our whole day to day life in the classroom was turned upside down. IPad became the essential teaching tool for all and our pedagogy developed as months went on into the blended model we use today. Showbie and MS Teams are now key elements of our chosen workflow and digital integration goes hand in hand for all our teachers. Workload is reduced and speaking to our teachers now, not one of them would willingly hand their IPad back. In fact, one Head of Department said to me (the department that had told me at the beginning of the IPad journey that it 'wouldn't work for them') not to buy any copybooks as they really don't need all these bits of paper. I smiled.
COVID-19 came like a rocket and transformed our pedagogical landscape. It established a new normal by ensuring that digital technology is a central consideration in all areas of our curriculum and assessment delivery.
Staff at SRS now incorporate a wide range of learning techniques into their teaching and undertake regular training to ensure they consistently deliver a high quality curriculum. Extensive use of new technologies is used to enhance learning with students using their iPad devices as a normal component of lessons. Most importantly, the strengthening of relationships between students and staff allows everyone to succeed in their learning.
While no one asked for COVID-19 to happen, it has made us all radically rethink what we do and how we do it in schools. Going forward, the ability for us all to keep adapting and innovating will be crucial if we are to survive in an uncertain world. I for one feel privileged to be part of the incredible journey we are on, reshaping the educational experience.
This article was written by Michelle Thomas, Director of Education, SRS