AI in the classroom: opportunities and challenges of AI for educators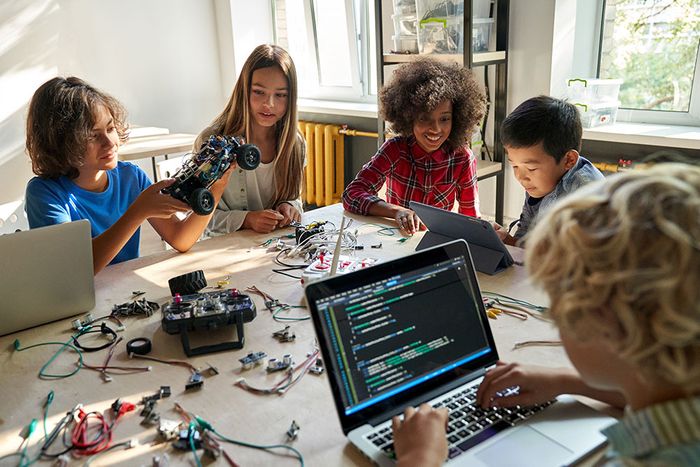 When the world changes, it's important new generations are ready to face it head-on. So, it is imperative education keeps pace.
Not so long ago, chalk and blackboard gave way to marker and whiteboard, followed swiftly by interactive stylus and smartboard. Pens and paper have morphed into laptops and tablets. Then came the abrupt handbrake turn into the online classroom during the world's pandemic lockdowns. Now, the global market for AI in education is set to be worth £2.88 billion by 2023, according to a recent report by MarketsandMarkets.
Educators are nothing if not adaptable. Those anticipating the migration to an AI-powered classroom should consider the following opportunities and challenges to make sure they get the most out of the technology.
The opportunities
Teachers are stretched. A US study in 2022 revealed a 54-hour average working week - with less than half of that time spent directly teaching their students. And the picture is consistent across the globe.
AI has the power to change this. EdTech's growing range of AI teaching packages currently lists the following benefits:
Step-by-step tutoring which moves at the student's pace
Instant feedback, allowing students to identify mistakes immediately and then correct their work as part of the learning process
Personalised lesson plans and learning pathways built around each student's strengths and weaknesses
Ongoing AI observation which tracks learning habits and levels of attention and engagement
Gamification, embedding learning into fun online challenges that help students to stay engaged and retain learning
Repetitive task management promises automated grading for assignments or AI-conjured quizzes linked to the curriculum, leaving the teacher with extra time for creative lesson planning and student interaction
These are assistive, complementary programmes designed to take much of the heavy lifting away from teachers, rather than replace them. But this doesn't mean they will be unequivocally adopted and hailed a breakthrough. For many reasons.
The challenges
The cost. Many schools will simply not have the resources for wholesale investment in AI learning.
The skills gap. Partnering with AI will require exponential learning and some seriously critical thinking from educators.
Access. In 2023 63% of the world is connected to the internet – which means more than a third is not. Many students won't be able to fully connect to AI-assisted education.
Safeguarding and privacy. Collecting personal data, interpreting it and disseminating it among teachers and family, brings with it a whole new consideration of boundaries.
Bias. AI, still in its infancy, is already showing worrying indications of bias. Rigorous effort needs to be applied to keep it inclusive - especially in a learning environment where diversity is so critical.
Plagiarism. Students will be as tempted as teachers to ease their workload. Screening AI is increasing in sophistication, which offers hope of a reasoned solution.
The empathy gap. AI won't intuit from subtle cues. Students need the human touch.
The UK Government is currently running a survey on AI in Education and its findings will no doubt offer more guidance soon.
But whether the pros or the cons weigh more heavily for you, AI is out of the genie's bottle and won't be going back in.
Embracing what AI can offer, while taking measures to guard against misuse, must be the goal of every future-savvy educator.