Ahead by Bett 2023: Insights from our Advisory Board

We had an absolute blast at Ahead by Bett 2023!'A truly global meeting place for Higher Education, our show in March attracted over 4,200 educators, policymakers, and industry changemakers, with over 75 EdTechs, 70+ speakers and 50 content sessions. In this article, we take a closer look at the perspectives of the Ahead by Bett Advisory Board members on the 2023 show. We'll explore their reflections on the latest trends and technologies showcased, as well as the key takeaways and highlights from the event. From the impact of AI and machine learning to the power of immersive technology in the classroom, we'll uncover the insights and perspectives of the leading minds in education technology at the Ahead by Bett 2023 show.
Alex Denley,'Director of Innovation and Transformation, London South Bank University'
'I had the pleasure of attending Ahead by Bett'2023, and I was impressed by the quality of the speakers and the content presented. The event was well organised and informative, and I came away with a wealth of new ideas and insights. I was able to connect with other leaders from across the sector, learn about the latest EdTech trends, and explore how technology can be used to improve student outcomes. I was particularly impressed by the thought-provoking keynotes and the engaging workshops. I would highly recommend Ahead by Bett'to any Higher Education leader who is looking to stay ahead of the curve in the rapidly changing world of education.
Here are some specific things that I liked about Ahead by Bett'2023:
The focus on innovation. Ahead by Bett'was a great place to learn about the latest EdTech trends and innovations. I was particularly impressed by the number of startups and small businesses that were exhibiting at the show.
The high-quality content. The conference program was packed with high-quality presentations and workshops. I learned a lot about how to use technology to improve student outcomes.
The networking opportunities. I was able to connect with other Higher Education leaders from across the sector at Ahead by Bett. This was a great opportunity to share ideas and learn from each other.
The overall atmosphere. Ahead by Bett'was a positive and inspiring event. I left feeling energised and excited about the future of education.
Some of the standout sessions for me included Dr Carmen Miles talk on 'Driving digital learning strategy through change management' and Professor Fridolin Wild' take on 'Learning with Augmented Reality'.'
If you are a Higher Education leader who is looking to stay ahead of the curve in the rapidly changing world of education, I highly recommend attending Ahead by Bett'2024. It is an event that you will not want to miss.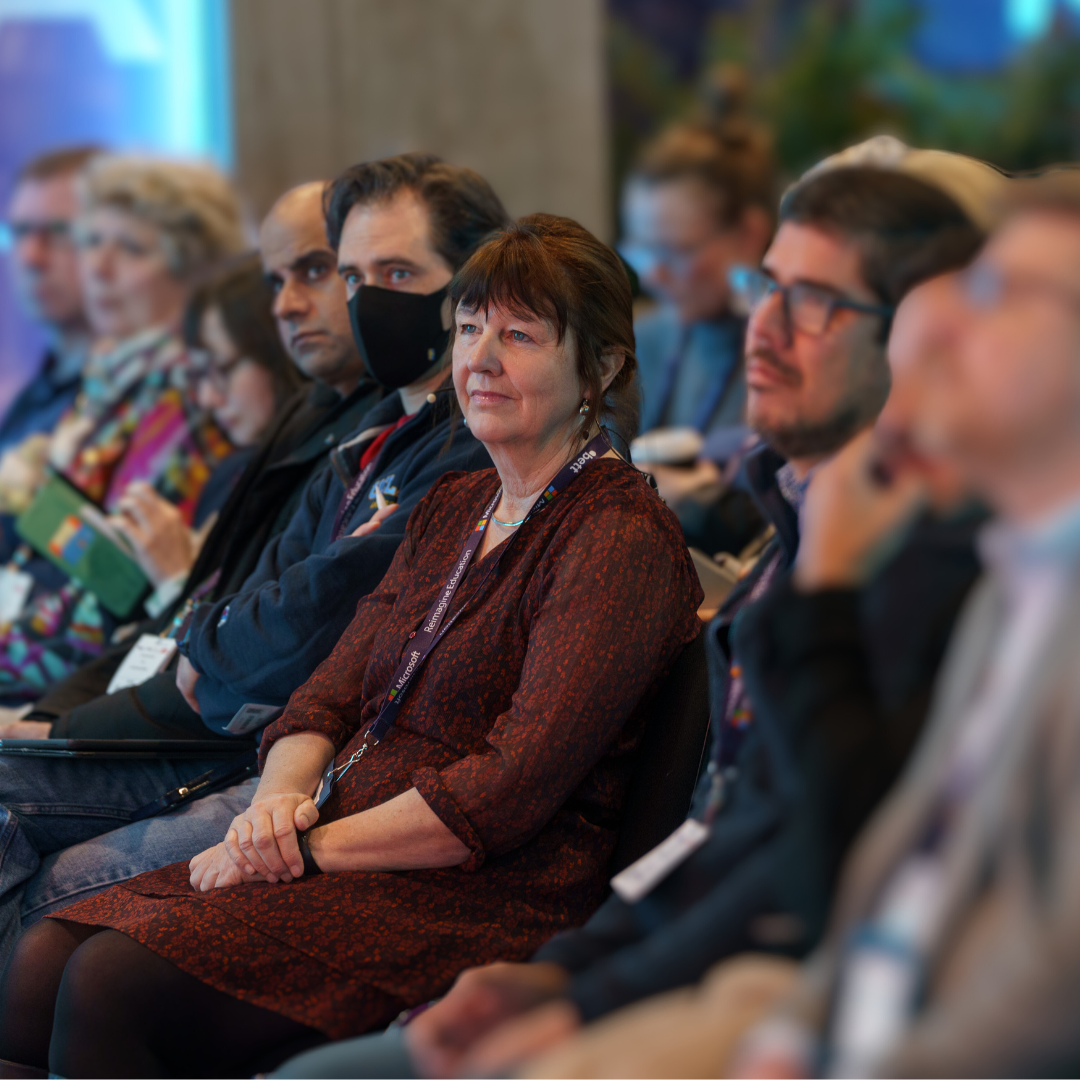 Dr Gill Ferrell,'Program Director 1EdTech Europe; Relationship Manager EUNIS, 1EdTech/EUNIS
'This was my first visit to Bett but it won't be my last. I was worried the scale of it might be a bit overwhelming but the advance information really helped me plan what I wanted to do and who I wanted to meet so that I made the most of my time. In terms of sessions, I focused on the Ahead by Bett strand. I really liked Rens van der Vorst's take on technophilosopy and I found Paul Leblanc's talk inspiring and thought-provoking. Paul's examples really brought home to me how changing our approach to assessment and recognising skills via microcredentials can support equity and widening participation. I enjoyed exploring the global showcase area with the different national delegations. Not only was it a great opportunity for small suppliers to showcase but it also gave a strong sense of how suppliers can collaborate to create an edtech ecosystem. I had some great conversations about how open standards support the growth of a vibrant and healthy ecosystem for the benefit of learners and I'm looking forward to continuing these discussions next year.'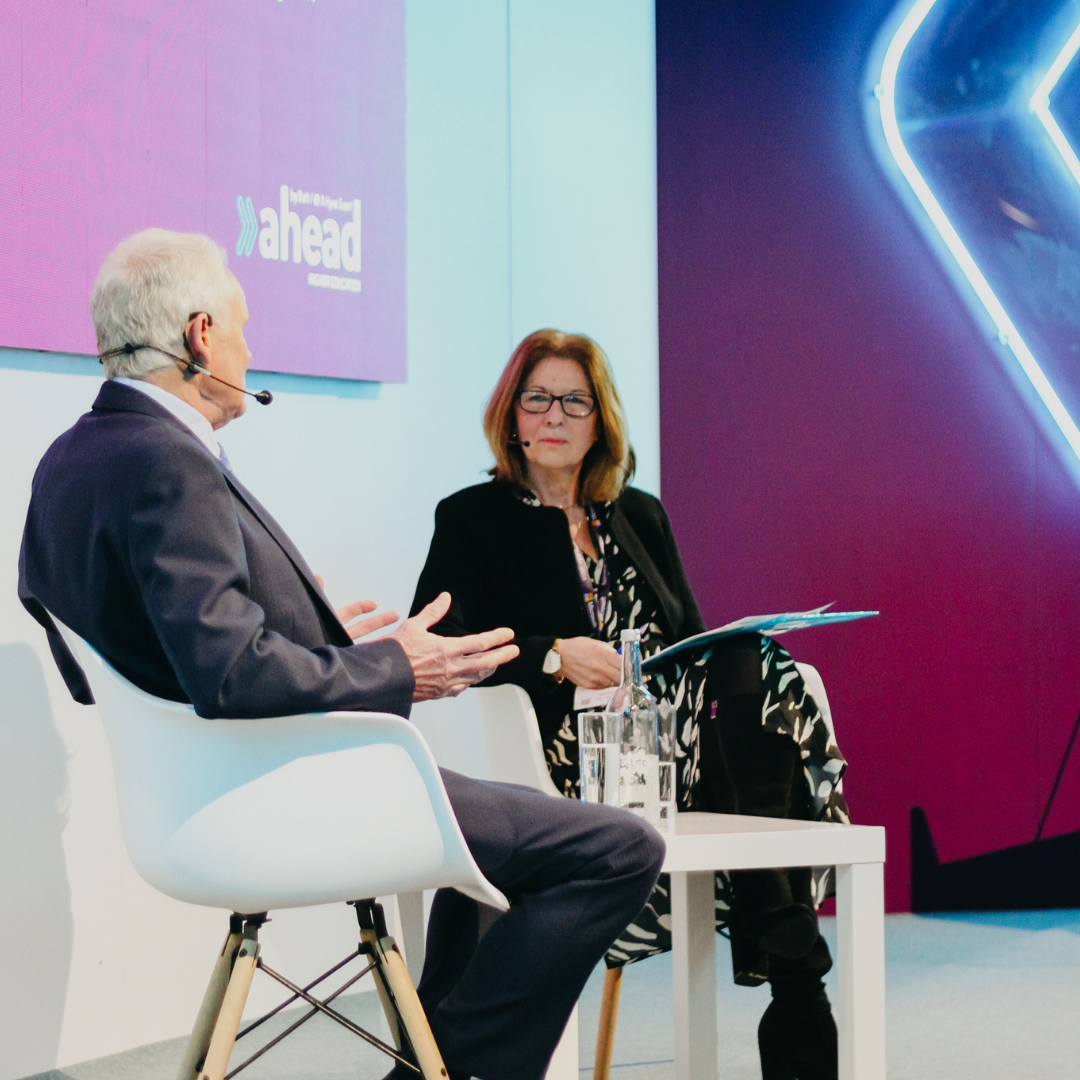 Julie Stone, Consultant, Former Associate Pro Vice Chancellor ' External Affairs, University of Derby
'It has been great to be a member of the Advisory Board for the Ahead by Bett aspect of the Bett Show over the last couple of years, and to watch first-hand the growing success of both. I feel there was a real 'step change' this year with the layout and organisation of the Ahead by Bett event.
The quality of the speakers was excellent, experts in their field, and it was fantastic to see the range of speakers involved, many from outside of the UK, providing a truly global exchange of ideas. This international flavour also extended to attendees and exhibitors at the event creating a real international buzz and fusion of shared ideas and perspectives. The Auditorium on the Wednesday, was extremely well attended with many sessions filling the space we had and with standing room only for some. '
The show provides a unique space for dialogue between key stakeholders to learn more about Ed Tech and I am sure the world of education both in the UK and beyond will have impact as a result. Keep up the great work.'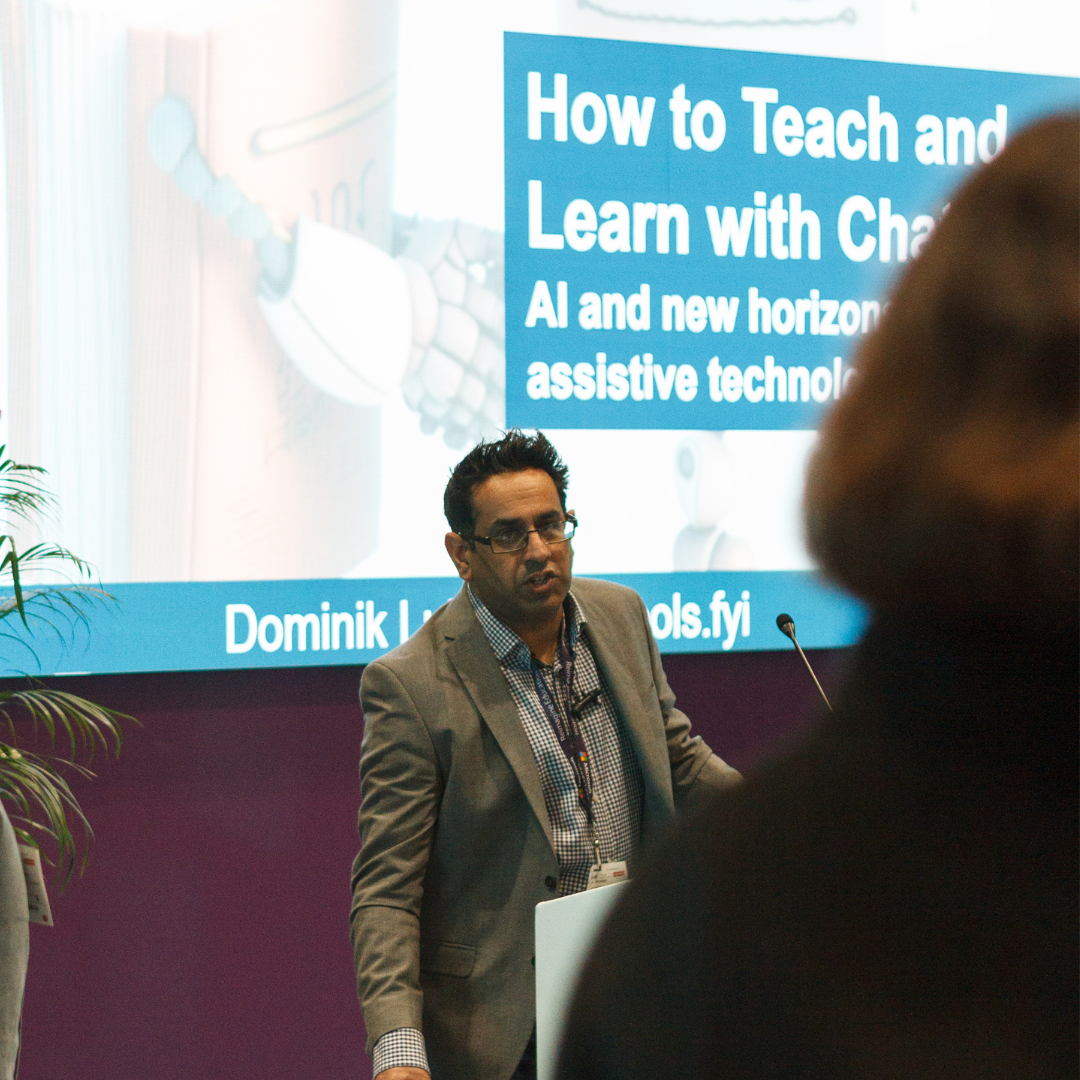 Mel Gomes,'Head of IT Commercial Management and Contracts, Royal Holloway, University of London
'I'm Mel and 2023 was my third in person Bett. I found the content to be both interesting and wide ranging, delivering in-person added value to the year round online content Bett produces. An example of this was the Damian Hughes session in the main arena which complemented the interview broadcast on the Ahead by Bett hub earlier in the year. Ahead by Bett itself continues to develop, filling a space that was notably absent for the Higher Education sector when I first attended Bett in January 2020. Ahead has introduced a relevant mix of strategic thinking, commercial learnings and insight in to the tech market, all of which I know there is a demand for in the sector. With the change in date next year, which will mean there is no back-to-back clash with the UCISA leadership conference, I would expect demand to grow for Ahead by Bett, particularly with targeted marketing. The open space of the Sandbox encourages people to join crowds and listen into sessions, and it was notable how busy the final session of the three days there became, on Chat GPT, considering it was a Friday afternoon. I look forward to Ahead by Bett 2024 and more contemporary sessions on commercial and strategic thought leadership, which really adds value to the HE tech community.'
Prof Perry Hobson,'Director, Breda University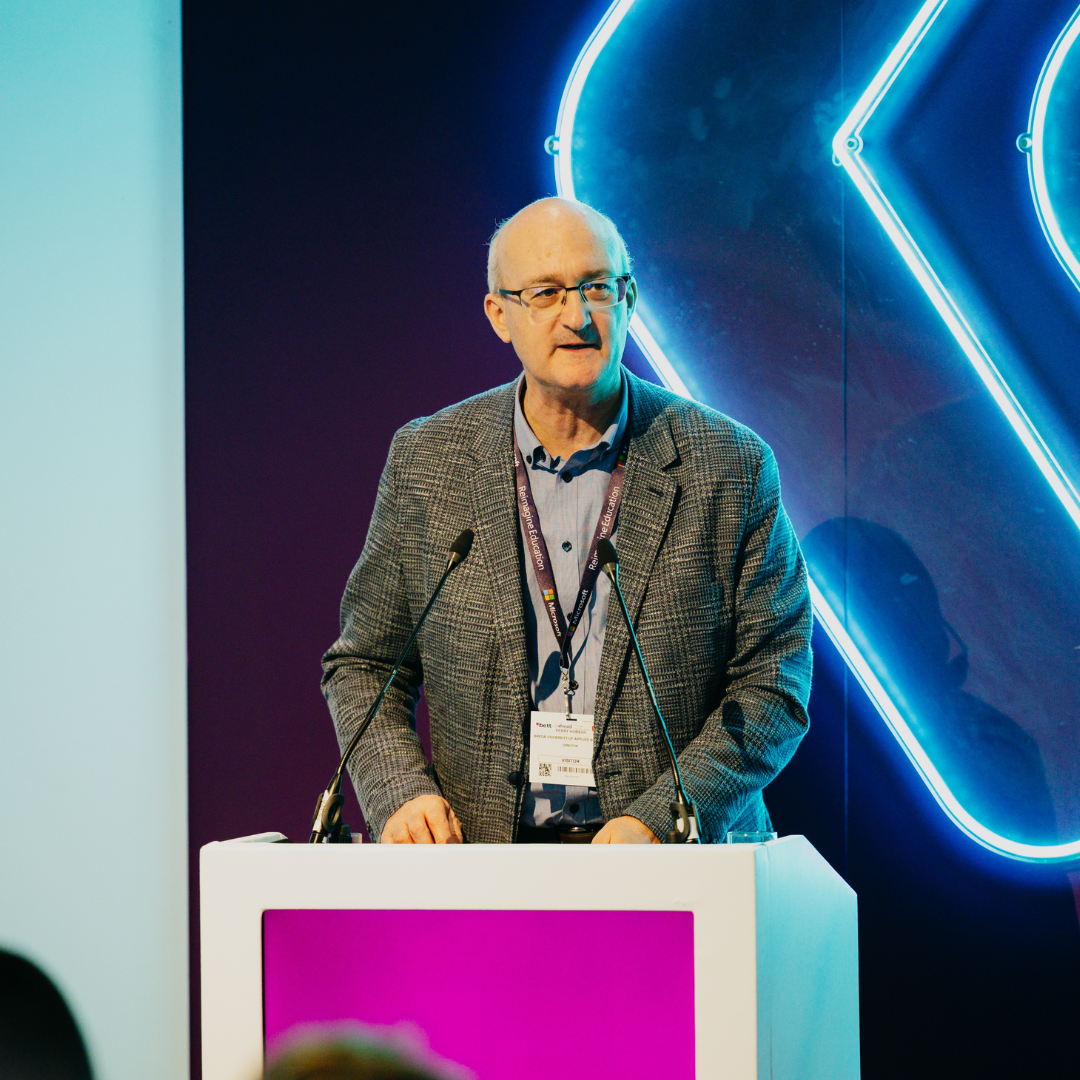 'While Ahead by Bett'is still the 'new kid on the block' compared to the main Bett exhibition, it has already come a long way in a very short period of time. After only 2-years it's already attracting several thousand registrations with a wide range of interests across the spectrum on how edutech can be used and the way in which is rapidly changing higher education. It's insightful to be able to listen to not only the leadership of universities talking about their transformations , but also to those companies who proving to be the movers and shakers in this space, as well as to individual academic innovators and also to students about how technology is transforming their education experiences.
I was so impressed with my first Ahead by Bett'in 2022, that I brought over seven of my colleagues from Breda University in The Netherlands to London in 2023. They were simply 'wowed' by the range of ideas and technology across the whole Bett exhibition within the ExCel Centre. More specifically, they were impressed at the insights that they gained from the various presentations, panel sessions and workshops that were given in the Auditorium, Sandbox and the Collaboration Space that are an integral part of the Ahead by Bett'section of the exhibition'.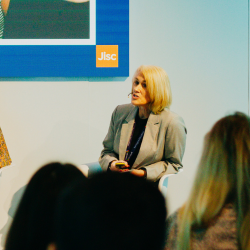 Sarah Knight,'Head of learning and teaching transformation, Jisc
'It has been a privilege being part of the Ahead by Bett'Advisory group this year and being able to work with the team on planning and designing such an excellent and engaging programme for this year's event. I have attended many Betts over the years and participated in 2022 Ahead by Bett and this year's event surpassed all expectations.
I was delighted to see the range of organisations attending as well as the variety of roles and this shows how digital transformation is such a high'priority. The sessions offered insights from a wide range of perspectives and a highlight for me was ''included hearing Paul LeBlanc discussing the future of higher education. We were delighted with the participation in the collaboration space where we ran our workshop on the framework for digital transformation, as well as the panel session on the international students' digital experience.
With planning for next year already underway, we can't wait to get started on the next steps for the 2024 Ahead by Bett!'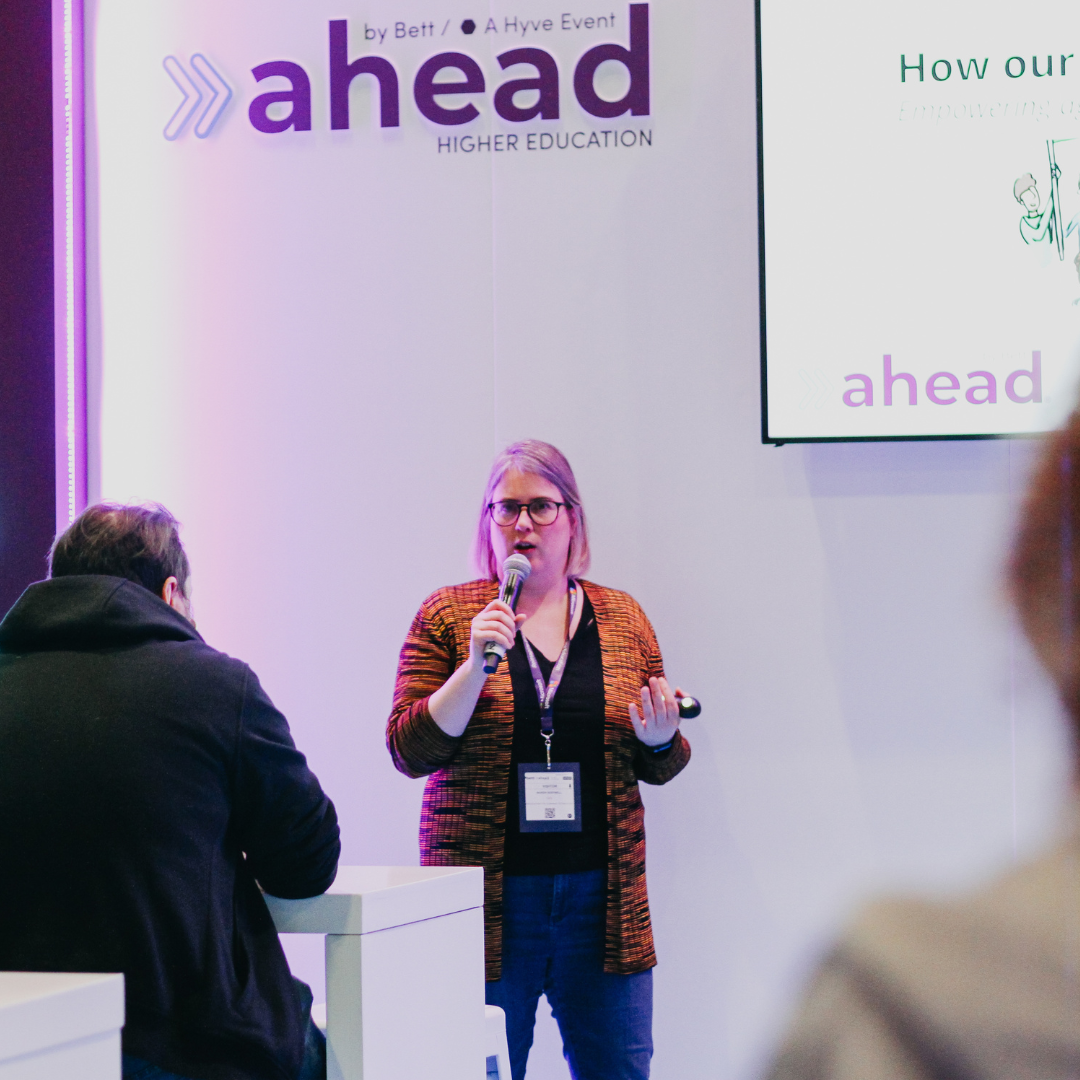 Dr Maren Deepwell,'Chief Executive, Association for Learning Technology
'I'm Maren and this was the first time since 2019 that I was able to attend Bett in person again! As CEO of ALT I found the show very interesting and it was great to be able to see innovation and new technologies in practice.
Our session at Ahead by Bett was very busy, and generated an active discussion in the collaboration space, with contributions from sector leaders based in the UK as well as international delegates. In response to new findings from our Uk survey, we discussed key issues in the relationship between technology and learning, the role of teachers and our vision for digital leadership.'
'
'
'
Ahead by Bett's journey has only just begun, and for January 2024 here's a few ways we'll be improving:
Optimising the Connect @ Bett meetings programme, rolling out opportunities for more meetings and group discussions for EVERYONE at Bett
Helping educators upskill with professional development opportunities to become brilliant buyers and users of the right EdTech for their institution
More thrilling keynotes and thought leadership from practising educators and changemakers
A greater focus on inclusive education with more on neurodiversity and special education needs and disability (SEND)
What's most exciting, is that we are going to'triple the size of Ahead by Bett in 2024. We'll take a deeper dive into the impact of AI, diversify and internationalise our audience further to make it an even more dynamic, diverse'and transformative'event.
We can't wait to see you next year. Thank you for making Ahead by Bett 2023 part of the #BestBettEver!
' ' ' ' ' ' ' ' ' ' ' ' ' ' ' ' 'Register your interest for Ahead by Bett 2024