5-a-day Fitness
Stand: G61
Curriculum Improvement
Not New
Australia
Europe
Middle East
North America
Exporting
Classroom Services
IT Services
Primary
Great British Trail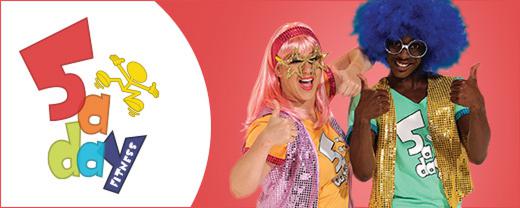 5-a-day Fitness is the ultimate fun fitness resource for primary schools. Increase daily physical activity in your classroom with our online 5-minute exercise routines and language learning resources, designed specifically for projection onto whiteboards. There's no teacher preparation required. Simply watch, join in, have fun, get fit and learn!
Address
5-a-day Fitness
Office 101, Access Hosue
Cray Avenue
Oprington
Kent
BR5 3QB
United Kingdom
Time-2-Chill is a collection of 2-minute routines concentrating on relaxation, imagination, co-ordination and mindfulness. Ideal for refocusing a class after break or lunchtime or even midway through a lesson.

Our fun fitness resources are also available with Modern Foreign Language voice-overs and on-screen translations, making 5-a-day TV a great cross-curricular PE and MFL resource. Many of the videos are available in French, Spanish and Welsh. Our language videos are differentiated, meaning you can choose whether or not to display English or target language translations on screen, thereby improving language listening skills. Now with just just a touch of a button, your class can have fun, get fit, and learn a language!

Our fitness channel is a collection of 5-minute fun fitness routines with an array of different themes, from Pirates to Superheros, and Pop to Bollywood. These videos are aimed at getting pupils up, active and ready for learning. Resources can be used at any time during the school day to increase physical activity levels, such as first thing in the morning as a wake up activity, as an energy or brain breaks, to re-motivate after break or lunchtime, or as part of a warm up during a PE lesson. Our routines are differentiated through complexity and speed which is indicated by our star rating system.
3 Results
Library couldn't be loaded. It might not be active.
5-a-day Fitness exports to:
Australia

Europe

Middle East

North America