New Media Learning Ltd
Stand: NJ61
Leadership & Management
Europe
Management Solutions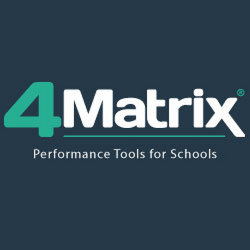 The innovative 4Matrix platform provides a powerful combination of tools to support both schools and their Trusts in obtaining the maximum value from their performance data.
Together, 4Matrix Desktop, Infinity and Fusion provide over 40 tools for analysis, forecasting, comparing, researching and reporting.
Address
Brentwood
United Kingdom
4Matrix Fusion is the new ground-breaking, web-based collaboration system specifically designed for Multi-Academy Trusts and their schools. It provides top-level analysis of school performance data, r ...

4Matrix Infinity is the free web-based add-on to compliment the Desktop application, granting access to key features online, from anywhere, on any device.