18 Jan 2021
TrilbyTV - Using Signage Software to Reopen School Safely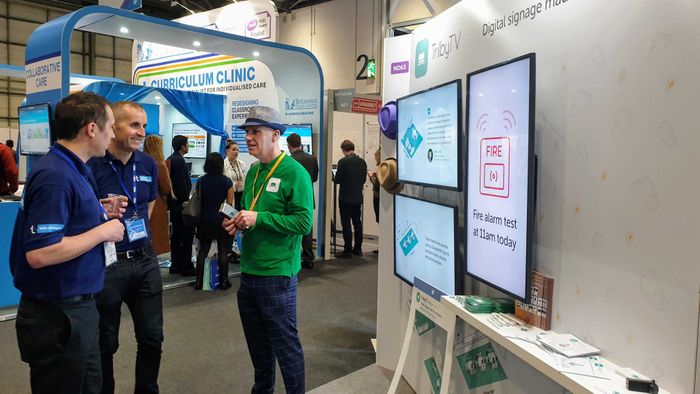 Over the past year TrilbyTV has been helping schools and colleges across the UK grow their whole school communication at a time when information needs to be updated almost instantly. Where building strong communities and celebrating success can help us navigate these difficult and different times.
"It has been a critical part of our COVID-19 planning and has not only kept everyone informed as to where they need to be, but also been a morale boosting way to share and celebrate the positive things happening in our school community". Simon Pile - Deputy Head Teacher Anson Primary School
For BettFest 2021 we are offering helpful 1-2-1 sessions which will give you the opportunity to see the app in action, discover our latest feature updates and how your institution can benefit from having an effective digital signage solution in place.
Those booking a session will also get a copy of our free guide to effective digital signage in education!
Whether you are new to digital signage, wanting to create further impact with your current set up or looking for hardware options, we will be happy to help and advise.
These sessions will be taking place between Wednesday 20th and Friday 22nd January and can be booked via the BETTFest Festivities at www.bettshow.com
TrilbyTV is the number one digital signage platform for education. Our mission is to build whole school communication, boost community cohesion and enhance parental engagement. With over 30 years of experience within education technology, we've created an easy, cost effective way for you to grow your digital signage estate and #SwitchOnYourSignage.
You can share whatever you wish on your screens and we don't believe in locking you down to a specific piece of hardware for digital signage playback. Instead, we've created TrilbyTV Player apps for the popular platforms our customers use. Pretty much any device can become a digital signage player, grab our app from the relevant store and switch on your signage.
We offer a free 30 day trial (no credit card details required) to allow you to explore what the platform offers. You can check out our full range of content options for digital signage including video, slideshows, Twitter feeds and web content. We also have a fantastic content catalogue, full of education-focused ready to use content from well known and trusted organisations.