14 Jun 2018
VR to become a widespread reality in the classroom?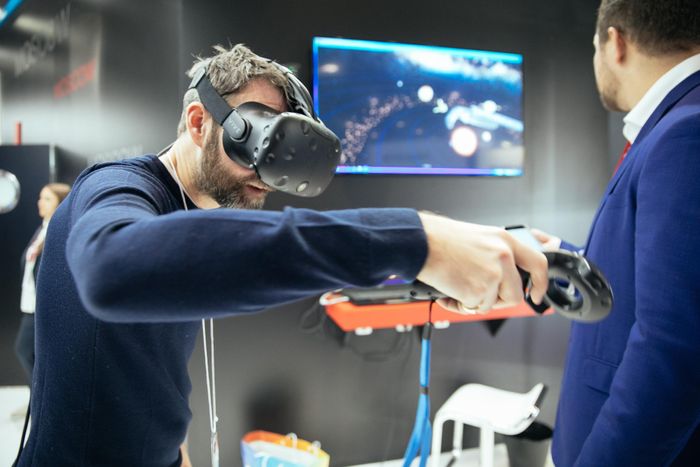 The Innovation Index survey, carried out by an independent party, conducted extensive research into the UK and EU education market from over 1,700 educators, and has revealed there is a strong consensus on the benefits of education technology among 87% of the educators surveyed.
The findings show they agreed that tech improves the quality of learning and achievement, and nods to the fact that virtual reality, augmented reality and mixed reality technologies are set to become the 'next-big-thing' in the classroom.
All evidence points to the evolution of the old days of reading, writing and arithmetic with more and more classrooms augmenting traditional teaching techniques with digital methods - with VR and AR on the horizon.
There are signs that advanced tech and hardware are gradually making their way into the classroom: virtual reality headsets are being considered by nearly a quarter of institutions.
Fergal Kilroy, Bett, says: "Our lives are in a state of change right now, for young people this transformation is even starker, they live in a world of tech augmentation, reality, and intelligence. It's a trend that will only continue apace and it's the responsibility of schools and institutions to adapt to this new high-tech world as an absolute priority so they can help young people to master this world. Our research shows there is a broad agreement on the benefits of education technology, but those benefits are at risk of slipping through the net. There is even greater enthusiasm for education technology across the EU – so UK institutions must seriously consider their investment priorities if they are to compete in future."
The rise of VR and AR closes the gap between metholodical teaching innovations and physical tech in schools and educators are now looking to adopt cutting-edge tech, despite the current budgetary constraints - if it delivers the right outcomes for learners. 24% of educators are ready to adopt VR/AR/MR technology, with early years (35%) and primary school (29%) institutions leading the way.
So rising interest in these areas demonstrate that innovative teachers are not solely focused on cost when looking at future innovation.
Adaptive learning technologies, which tailor lesson content to individuals, saw 22% of respondents ready to adopt, with mobile learning coming in at 20%. Those surveyed are pushing for VR/AR/MR adoption which may soon see it overtaking established technologies like bring-your-own-device (BYOD), mobile and open resources.
To discover more of our findings and the impact for your institution, read our full report here.
---
About Bett
Bett is the first industry show of the year in the education technology landscape, bringing together 800+ leading companies, 103 exciting new edtech start ups and over 34,000 attendees from the global education community.
Location & Opening times:
ExCeL London, Royal Victoria Dock, 1 Western Gateway, London E16 1XL, United Kingdom.
Wed 22nd January, 10:00 - 18:00
Thu 23rd January, 10:00 - 18:00
Fri 24th January, 10:00 - 18:00
Sat 25th January, 10:00 - 15:00