23 Jan 2017
Training to succeed: enhancing your CPD provision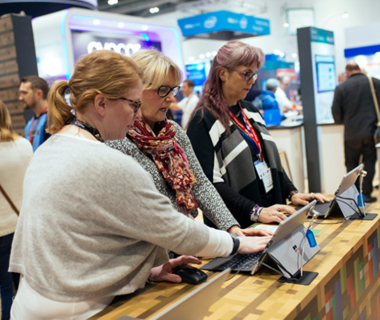 Schools are under constant pressure to perform well and demonstrate that all staff members are working towards improvement for student outcomes and the school as a whole. Here, Damien Roberts, business development director at SchooliP by Derventio Education, discusses the importance of choosing the right continuing professional development (CPD) for your staff and how to manage it effectively.
What is your school trying to achieve? Are you looking to improve your students' general attainment, adapt to new classroom technologies, or develop more effective methods of assessment? Perhaps it's something else entirely. Most likely, you'll have a list of priorities in mind for school improvement, a great many of which will require or benefit from CPD opportunities for your staff. But while it may seem like a simple "ticking the box" exercise, ensuring that you find the most appropriate and effective CPD activities can make the difference between short-term impact and long-term systemic change within your school.
This is achieved through stringent research and evaluation, not just of the courses on offer, but of the school as a whole. Through self-evaluation, schools can really drill down into their strengths and clarify areas for improvement and the specifics of their development plans.
When considering CPD courses, the crucial factor is the desired outcome for the individual member of staff involved, and how this fits into their overall priorities. This can be achieved through a consistent, but unobtrusive performance management process. Often, review meetings are held perhaps once a year, or maybe termly, but the needs of a teacher are always changing, so establishing a platform where discussions can take place digitally can be of a huge benefit. Teachers can share evidence of their practice and request help where necessary, and their line managers are able to see if there are any areas for improvement in which they can offer support, whether internally or through CPD.
Once a development plan has been established and agreed, appropriate training courses can then be selected based on the criteria required. An important thing to encourage amongst your staff is a culture of reviewing the impact of their CPD activities. This way, more informed decisions can be made about the benefits of certain types of CPD. For example, your staff members may find that lecture-type courses are of little use to their personal development plans and the whole-school improvement goals, requiring a more hands-on form of training. Not only this, but reviewing the effects of the course six months down the line can evaluate long-term impact in the classroom.
By incorporating staff goals, school priorities and Ofsted requirements, training can be selected on a cost-efficiency basis, ensuring that the school is making best use of both finances and teachers' time.
When considering your next CPD course, make sure to think of the following:
Establish your outcome – what is it you want to achieve?
Consider your budget and whether you could use internal resources. Do you have a teacher who excels in something that another struggles with? Can they provide peer support instead?
Research potential CPD thoroughly – can training be done on-site or does it require travel? Is continuing support included after the initial course?
Don't forget that one of the most effective ways of finding the right CPD is to ask others about their recommendations and experiences. Having a way to compile, store and share feedback will save time, and improve efficiencies within the school. This will allow teachers and leaders to select relevant training to suit their needs, and be reassured that it will be of value to them and their students.