19 Sep 2019
The Top Ten Challenges Facing Education Right Now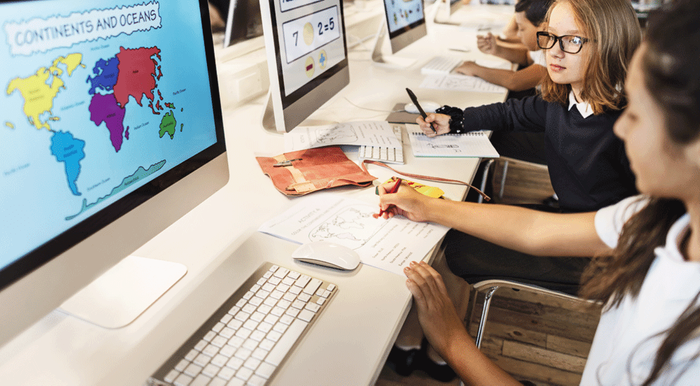 Education in the modern world is in an interesting place. On one hand, more children, teenagers, and adults are receiving a quality education in the United Kingdom than ever before; on the other, government policy shifts, worldwide EdTech trends, and a variety of other factors mean there remains many education challenges to overcome.
The issues facing educators vary between sectors. The priorities of a lecturer at a higher learning institute will differ from those of primary school teachers, will differ from a secondary school teacher's.
So where does Education Technology (EdTech) fit into all this? Humankind has been using technology to its advantage for millennia, and teaching and learning has been no exception. EdTech has been a great boon for education establishments at all levels.
With that in mind, this whitepaper focuses on the big challenges currently facing educators in the UK – and how EdTech can help to overcome them.
Before we begin however, please bear in mind that educators and students are at the heart of education. Technology is not the be all and end all. It can help users achieve great things, but its effectiveness is reliant on how teachers, students, and education leaders interact with it.
Contents
EDTECH AND NEW EDUCATION REALITIES
BUDGETS: PLANNING & USE OF AVAILABLE RESOURCES
IMPROVING STUDENT WELLBEING IN HIGHER & FURTHER EDUCATION
STAFF WELLBEING & RETENTION
INTEGRATING & COLLABORATING WITH INDUSTRY
PUPIL WELLBEING
UPSKILLING AND DEVELOPING EDUCATORS & STAFF
INTERPRETING THE NEW OFSTED FRAMEWORK
EVOLUTION OF LEARNING MODELS
CREATING A DIGITAL STRATEGY
DELIVERING VALUE FOR MONEY
---
About Bett
Bett is the first industry show of the year in the education technology landscape, bringing together 800+ leading companies, 103 exciting new edtech start ups and over 34,000 attendees from the global education community.
Location & Opening times:
ExCeL London, Royal Victoria Dock, 1 Western Gateway, London E16 1XL, United Kingdom.
Wed 22nd January, 10:00 - 18:00
Thu 23rd January, 10:00 - 18:00
Fri 24th January, 10:00 - 18:00
Sat 25th January, 10:00 - 15:00