27 Jun 2017
The power of partnerships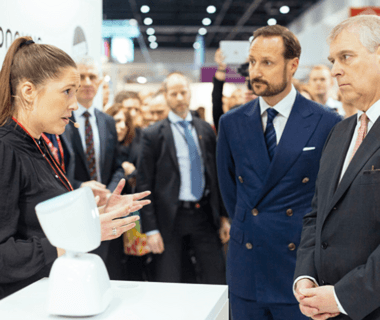 Over the last 2 months we've been busy with our #BettOnTheRoad tour travelling up and down the country from Manchester to Northampton and many places in between! So far, we've been to 11 events, from small schools to larger events such as EdTechX, and have more planned for the summer and autumn.
Over the course of our visits I noticed a recurring trend of how schools, colleges and universities are using partnerships in increasingly interesting ways. This, of course, is nothing new but has really taken off over the last few years. While some people are still hesitant about the idea of their school teaming up with a corporation, there are others who are reaping the benefits already. Is this the future of education?
One lovely afternoon earlier this month Computing@islington hosted an event around the new Kings Cross development. The 67 acre plot was recently restored by Argent Property Developers who, rather unusually, are now on the board of Kings Cross Academy. Emyr Fairburn showed us proudly around his amazing new primary school and spoke to us about how 50% of lessons take place out in Argent's Kings Cross development. This includes cooking classes in Waitrose, video presentations the kids have made at the cosy 30-seater Everyman Cinema, and ecology lessons in a skip garden (made using leftover materials of the development). Other partners of the school include Nike, Google, Guardian, House of Illustrations and Central Saint Martins. What an exciting prospect that children can be out and about in their local community getting stuck into projects that have been carefully tailored around their curriculum!
Another trip took us to Simon de Senlis Primary School in Northampton which is one of the six Microsoft Show Case Schools in the UK. Tom Rees and his team gave us a glimpse into what this means for them by showing us some of the amazing things the school is doing. As a start they're using the free Office 365 suite to plan all their lessons collaboratively on OneNote and getting the kids to do projects and presentations on Sway. Classes work in the cloud which allows them to have tablets that are cheaper and lighter as they don't need to have so much storage. The staff get regular training on how to use new features and are in direct contact with the Microsoft team. The school IT Technician said that feedback he had about one of the features went on to become an update for that piece of software.
Meanwhile within HE, it's a similar story with universities teaming up with nearby companies to co-create courses for their staff. Bedfordshire University will be working with Tesco to provide a higher level apprenticeship for Tesco staff members. The course is a two-year Associate Project Management apprenticeship done at the university's Business School.
Airbnb meanwhile have started their own "Data University" to train their staff in data science. This arose from a need which is common to many of the companies emerging from the tech boom; there is a big gap for 21st century skills (data science, computer programming and other STEM skills) and too many students are leaving university not ready for the working world. As Richard Riley famously said "We are currently preparing students for jobs that don't yet exist using technologies that haven't yet been invented in order to solve problems we don't even know are problems yet". One possible solution for the skills gap is for universities to work more and more closely with employers to co-create flexible courses which can be done at the university, at work and online.
Understandably many institutions are still sceptical about the concept of partnerships within education. What are the hidden costs? Are you signing your school away? Will you lose control over key decisions to be made for the university? What happens if you come to depend on the partnership and then it ends? Companies looking to partner with schools, colleges and institutions need to address these fears head on in order to change mind sets. That said, there'll be plenty to gain for many of the institutions that do take the plunge to harness the power of partnerships.
What's your view? Tweet us @bett_show using #partnershippower or #bettontheroad.