30 May 2017
STEAM insights from Pi-Top, Raspberry Pi and IntoUniversity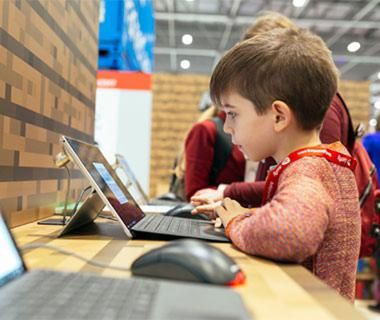 STEAM has been rising through the ranks of the education agenda over the last five years, and over the next year Bett will be partnering with Pi-Top on the agenda. Once a quarter we'll catch up with some of the leading lights in the sector to help explore how, and why, you can engage with the topic to improve outcomes in your schools and classrooms.
We start with our first dive into the topic by asking Jesse Lozano from Pi-Top, Philip Colligan from Raspberry Pi and Zoe Cox from IntoUniversity for their thoughts.
1. What does the term STEAM mean to you and why should people care about it?
Phillip: STEAM education is about giving every young person the mindset and confidence to be creative with technology. In a world that is increasingly mediated by digital technologies, we need young people that are able to use them to create not just consume.
Jesse: I have found the best way to describe STEAM in an academic setting is a 'curriculum aligned set of learning' that focuses on computer science and physical computing that is 'wrapped' in biology, chemistry and physics learning.
This links into why people should care about STEAM. We have a serious shortage of graduates going into the working market without a background in highly sought after science based, academic subjects. By including project-led STEAM learning, in say the computer science classroom, we can inject engaging content into the curricula and give young students the opportunity to get inspired by the wider world of science learning. By showing our students how creative they can be in a science based learning path we are more likely to increase the rate at which students go on to study STEAM based degrees at university.
2. The STEAM 'train' has been picking up speed over the last 5 years, why does this approach increasingly resonate with educators, students and employers?
Zoe: At IntoUniversity, we believe that from an early age, a child's prospects and outcomes can be too easily defined by their social situation and our programmes provide a range of opportunities to children, from university mentors to enrichment and work experience placements along with a focus on learning in an interactive and inclusive way. The main problem we are trying to solve in this area is access to a range of resources and fairness for all students, not just those that can afford it. For us, it's not necessarily about having the best piece of kit, but more about having access to the basics for our young people. As a charity, cost and shelf-life is an important factor for us and most of all we want to provide resources to our young people that are going to have a practical purpose and a long-term effect on their learning and understanding of the world around them.
Phillip: We've seen huge interest in digital making from educators, students, and parents. Tools like Raspberry Pi and open source software mean that price is no longer a barrier, and there is widespread recognition that making is one of the best ways to learn about computing.
Jesse: STEAM allows for educators to really show how fun and interesting sciences can be. A big issue for students is the inability to link what they are learning in traditional science subjects to real world application. Through project lead physical computing and engaging science content linked to real world application, students are finding it more interesting to learn the truly creative skills that are waiting to be accessed inside the STEAM umbrella of academia.
At its heart STEAM learning has an incredible impact on the real world skills of students going into the workforce and this makes them all the more employable when looking for a career.
3. Has bringing the A into STEM helped, or hindered its adoption within school and education systems?
Jesse: I believe Art has always played a part in STEM, it is inherently linked with the skills needed for engineering, web development and a whole host of 'STEM' based careers. However the express inclusion of the A does bring to the forefront something that can be lost in the thoughts of 'STEM' learning and that is the massively creative nature of these roles in the workforce. There has been a renaissance in the focus of art and how important it is in the STEM field at higher levels of education. Ultimately I think this will only serve to better include all types of learners and passions into an important umbrella of academic STEAM subjects.
Zoe: For IntoUniversity, the move from STEM to STEAM makes perfect sense as we have always found new and innovative ways to inspire learning and a big part of that has been bringing the curriculum to life through arts-based activities and resources.
4. How can STEAM engender systemic change at a national and school level?
Jesse: I believe STEAM learning is a great equaliser for social mobility. I personally graduated into the economic recession with a Law degree from Kings College London. In any other economic climate I would have found it easy to start a career but that just wasn't the case in 2009 in the Law profession. I quickly realised that the only skill I could learn that didn't require a degree was becoming a Software Developer. This new path showed me how creative the world of engineering can be and ultimately allowed me to have the skills to co-found pi-top with my friend who was an Engineering graduate from Oxford University.
Anyone with the skills can gain an incredibly rewarding career in STEAM based work and this can engender systematic change at national and school levels by giving those who are less advantaged or less likely to aspire due to their socio-economic surroundings, a serious and real opportunity to lead a life with no barriers. It is one of the things I hold dearest in my own passion for STEAM learning, it can be the tool for someone like myself to completely alter the course of their life for the better.