22 Oct 2019
Starting out on the right foot: Start-up success at Bett UK with Scientific Literacy Tool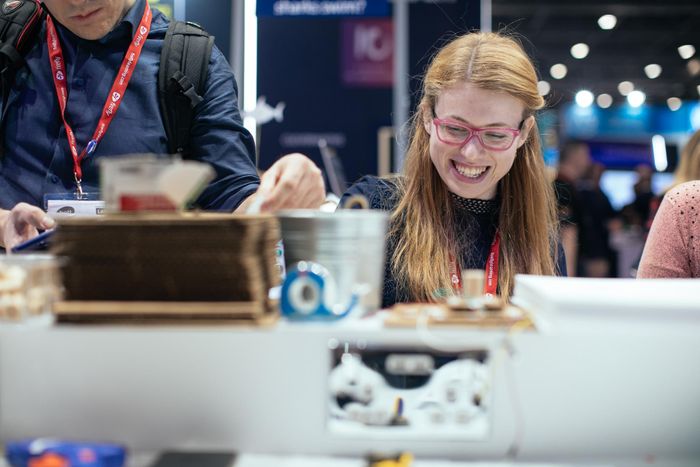 Scientific Literacy Tool is an educational web platform that helps the public discover, understand and explore hundreds of different scientific topics.
Making its Bett UK debut in 2017, the company is well placed to offer some big tips to first timers at the UK's top EdTech event. Scientific Literacy Tool Founder and CEO Keren Limor-Waisberg fills us in.
How did you first hear about Bett? Was it something you'd heard of before?
Scientific Literacy Tool is a social enterprise that looks at lowering the barriers to scientific knowledge for people.
We were invited to take part in Bett 2017 as part of the Science Track and the Start Up Track.
I investigated quite a lot before taking part to see how I could really make the best of my time there. We really had very, very good feedback, and made lots of connections. I'd be very happy to share my experience with start-ups to make the most of their time there.
We saw many starts ups there that weren't ready, which is a shame because when you have such an opportunity, it pays to be well prepared. It's great to have decent exposure, to get feedback, to make new connections at this early stage from people you wouldn't even consider.
After conducting your research, what were your first impressions of the show?
At the stage I was at, every offer was great. I just said yes to everything!
But I had no idea that Bett was so big… I did my own research to have a look at the pictures to see what it's like and it was like "wow! This is a big event! We should really prepare well!"
We had to really think about how we could maximise our impact.
I think with a very, very low budget, we managed to attract a lot of attention. At one point they were filming, and saw we had lots and lots of people. Even the film crew was like "What is happening here?" so they stopped and filmed us. Other start-ups our size were asking "What are you doing here?"
We managed to be different. You can achieve that with good planning and make that impact with a low budget.
What is that you did with your limited budget that made you stand out so much?
We went with a DIY approach.
We are about science literacy, so instead of using a design company to make the space beautiful, we went and took science articles, cut them out, and covered our space with them as the background.
On top, we put lots of short, colourful messages, which was really different, because a lot of the design companies, especially for lower budgets, they really offer people something that is bit of a one-size fits all approach. They might change some colours or fonts, but really a lot of it looks the same.
Because so many people are coming through Bett, if you go with a low-budget looking design, you won't make the impact you need. You really have to stand out! You have to innovate to bring your message across.
We really thought about how are we going to use the space? How are we going to design it? How are we going to make people welcome? Thinking about all of this really makes a difference.
If start-ups don't take the time to think about those things, you won't be noticed and miss your opportunities. Visitors are just going to pass you by and that's a shame.
We also had a survey on the stand, so visitors could feedback on thoughts and ideas that we'd had, so it was interactive, and really got their ideas. Lots of things like this are really great at this stage with this audience.
So, while start-ups think they can't do much with low budgets, they can do a lot!
Did you lay out any event objectives beforehand?
Yes! When we saw how big it was, we considered who we wanted to attract, and thought about what we could do differently on our stand. Was it a survey? Was it a movie? Is it connections with high-profile VIPs? Who would we like to attract?
Every segment of the audience has to be considered. It's a different interaction every time. They need different content and approaches, even a different person on the stand, like "This guy is coming, so you have to speak to them" – all of this is super important!
I'm sure lots of big companies know how this do, but lots of start-ups don't.
Some conferences are so small, that you can just have your poster, and you stand there and smile with your one-minute pitch. But Bett is so big, with so many people approaching you, it's important to know how content differs from group to group. With the right planning and approach, the experience can be enhanced.
Before Bett started, did you run any social media campaigns?
Yes, but we actually started quite late! This was actually a missed opportunity. We could have done better with social.
Just getting back to your onsite experience, what kind of people were coming to your stand?
It was a great mixture! There were enterprises that could work with us on collaborations, there were academics that were interested in communicating science to the public, and there were people who were just like "Wow this is so interesting!" from a mixture of backgrounds, like students, or people who had other professional interests.
All kinds of interactions.
What was your stand location like?
We were more at the side, but it was actually opposite one of the event's resting places, which was actually very helpful.
It was good! We didn't feel marginalised. It was a great location.
If you could sum up your advice for a new start up, what would you say?
Plan at least 4 months in advance if you can
Think about the different messages to communicate to different visitor groups
Think about how to attract people to your stand
Present yourself well, say hello and smile – sometimes that's all that is needed. Don't overwhelm people, they want you to tell them the information you need
Have fun!
From exhibiting at Bett, did that lead into new business for you?
Yes! It totally changed our approach to our tool as well from the feedback we received at Bett UK. We had excellent return on our time.
What was your experience like working with the Bett team?
Very helpful. Every question I had was answered straight away. It was a very smooth experience.
I think the Bett team has a great enthusiastic vibe. On our stands, it even had a bit of a party atmosphere.
Many people were also directed to us from your team.
All the information I asked for I received.