09 Oct 2019
Matt O'Grady shares primary school headteacher priorities for 2019 and where EdTech fits in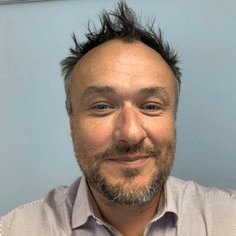 In this position as headteacher of West Horndon Primary School, Essex, Matt is passionate about preparing his young charges with the tools they need to succeed in a digital world that doesn't exist yet.
Matt has been tackling the unique challenges small primary schools throw up. At West Horndon, he is also helping pupils with speech and language difficulties reach their potential too.
We sat down with Matt to find out his upcoming priorities for the coming school year, and where EdTech can help.
Education priorities for the 2019/2020 school year
What are your top priorities for the coming school year or semester?
There's a few! They include prioritising quality CPD for staff which is linked to ensuring that learning means a genuine change to long term memory. We also want to continue to develop pupils character and positive contribution they are able to make to the life of the school. This is in addition to reversing any downward data trends and ensuring that new staff are properly inducted. Slightly leftfield – but I also want to reduce our use of single use plastic and start saving the oceans too!
How did you identify these as top priorities? What factors go into choosing which areas of education to focus on?
Ongoing dialogue and monitoring with half an eye on changes to inspection framework and policy. With specific regard to tech - It's an ongoing process of identifying how tech can help both pupils and staff. Feedback from staff indicated that they really want to embed current initiatives and make the most of what we have.
Being aware that we have new members of our team also means that we want to be sure that everyone is up to speed. The main factor that has guided our strategy is a clear understanding of what drives our curriculum, the latest research around learning and feedback from teachers and pupils.
What's your strategy for dealing with these in coming school year? How will you approach these?
Step one is to make sure that everyone knows what they are – that's the key. We'll then try a drip drip approach and not try to do too much at once!
Do you find you have enough relevant information or support to make these changes for your educational institution?
Pretty much yes! I read a lot and keep myself aware of the implications of the latest research and understanding of how we learn. I ensure that my own understanding is current by attending quality training too. I try to keep myself informed of what's going on in the world of education and tech. I've been fortunate to find some good people to work with and learn from either face to face or through twitter etc.
Will you be using any EdTech to help meet your priorities this year?
Yes, it plays a big part in my plans. We recently purchased 'Learning by Questions', our radio station kit is getting an update and I'm in the market for some iPads. We also have class VR which was a significant investment that we are still embedding.
Are you looking at buying any new EdTech solutions to help? Will you be relying on legacy systems?
Top of the shop is to make the most of what we have! We've invested heavily in tech and I want to ensure that all of my staff, including the newbies, have a good understanding of how it can help their pupils learn and engage and also reduce their workload! I also want to ensure that tech has a genuine impact on learning – I'm particularly interested to see how it can help us implement regular retrieval practice into the classroom.
How do you integrate EdTech into learning/classrooms/school systems?
I try to keep things flowing so each school year is not a complete reboot! I will approach any changes by attempting to plan in advance a time scale for any purchasing, training and implementation. It's all about bite size chunks and timing so I take people with me!
What do you look for when searching for new EdTech suppliers? How do you find them?
Obviously, price is a major factor as is transparency of the quotation and cost. I get put off by 'limited time offers'! I tend to buy into people – I look for someone who I can work with and who seems genuinely interested in my vision and the needs of the school. We also use JOSKOS our support providers to suggest potential providers.
Does Bett play a role in helping you choose which suppliers/EdTech you choose to purchase?
Bett plays a major role in helping me select suppliers and tech. We're fortunate that the school is less than an hour away from BETT which makes it easy to visit. I usually visit on two days, one to get an overview and another to go back with a tighter focus. I do like to meet people face to face and it's a great chance to do that.
Our best tech investments have been those where we have had an ongoing relationship with the people behind the product. I also like to take pupils and staff along to the show if we can it identify potential EdTech of interest to us. This stops it being top down and means people are more invested in making it work.
What do you think of the new Department for Education EdTech Strategy? How do you think your institution will be affected? How are you preparing for the new strategy?
If I'm honest the release of this passed me by in the mayhem of the summer term! I'll give it a read, I guess I'm a bit of a maverick and I tend to be an 'early adopter' in the tech world and so I like to think that we're one step ahead!
Why is it important for an education leader to attend EdTech events? What value do they hold for your institution?
I think it's essential to stay up to date! Its good networking too. The discriminative use of tech is going to be a part of our pupils lives forever, so I think it is essential that we ensure we expose them to it and help them to see how it can be used.
---
About Bett
Bett is the first industry show of the year in the education technology landscape, bringing together 800+ leading companies, 103 exciting new edtech start ups and over 34,000 attendees from the global education community.
Location & Opening times:
ExCeL London, Royal Victoria Dock, 1 Western Gateway, London E16 1XL, United Kingdom.
Wed 22nd January, 10:00 - 18:00
Thu 23rd January, 10:00 - 18:00
Fri 24th January, 10:00 - 18:00
Sat 25th January, 10:00 - 15:00