11 Jan 2016
Making STEM and computing come alive in the classroom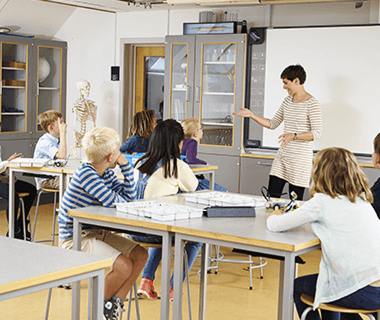 by: Simon Davenport from LEGO® Education
The working world is continuously evolving; if we compare what it looks like now to how it was 50 years ago, it has changed quite dramatically. Jobs in the 21st Century reflect the flourishing and innovative technology available today, creating opportunities that once existed only in science fiction. And this is only set to advance further; it's estimated that around 65 per cent of this generation of children will have jobs that are yet to be invented.
This highlights the importance of preparing and inspiring pupils for their future with transferable and diverse skillsets. As part of this, we need to ensure subjects including science, technology, engineering and mathematics (STEM) and computing are engaging, creative and allow pupils to understand exactly how these subjects fit into a real world context. Therefore, it has to be about more than just note-taking and learning from textbooks.
98 per cent of children are deemed creative geniuses at the age of five, but that number radically decreases to only 2 per cent of adults by the time they reach the age of 25. Therefore, there is a real need for teachers to bring creativity back into the classroom; there's no denying that when children are having fun in their lessons, they learn more and they learn better.
From a young age, we are naturally inquisitive explorers, and STEM subjects lend themselves to this type of discovery. Therefore, what we need to do is quite literally, put learning into students' hands.
Although creativity may be deemed a 'soft' skill, it does in fact play a significant role in the working world and our economy. We should be encouraging pupils to think outside the box, and allow them to realise that there isn't necessarily one right answer when it comes to problem-solving. Rather than giving a pupil a set task, teachers are increasingly taking a step back and becoming mediators, rather than instructors, encouraging pupils to use their imagination and creativity to solve a given problem.
Computing lessons encompass a range of tasks that require logic, trial and error, perseverance and collaboration, allowing pupils to work together in order to devise an effective solution.
The ability to fail shouldn't be perceived as a negative factor either; pupils need to be taught that it is ok to take risks and consequently fail. In the working world not all inventions or processes will be a success first time round, so we need to foster an encouraging environment that allows pupils to try and try again, until they find the answer.
An engaged classroom exudes curiosity, encourages confidence and generates discussion and can be best achieved through kinaesthetic learning. Giving pupils the opportunity to get hands-on and place learning in their hands will increase engagement and allow them to develop an understanding of the real-life implications. For example, rather than pupils studying lines of text on the screen in a computing lesson, ask them to build a robot which can be programmed to move around objects representing space, allowing them to comprehend how NASA commands rovers remotely to explore planets.
Using robotics and physical computing resources helps pupils develop a better sense of understanding of programming and coding. Another example of this could be a task relating to a specific topic - for example how floodgates operate – where pupils are asked to design and build a device that is then programmed to open and close when nearby objects approach, or create a sound when it reaches a specific point.
Enthusiasm and passion stems from the top down, therefore it's just as important for the teacher to feel inspired than it is for the pupils. While teaching resources and physical activities are effective ways to engage pupils, it's the training and confidence around using these resources that help bring lessons to life and inspire ideas to take flight.
With the UK's STEM sector requiring a number of talented, skilled professionals, it is our responsibility as adults to equip our children with the right skills, talents and expertise to become a valuable part of the future workforce.
LEGO Education will be on stand E150 showcasing its hands-on STEM and computing resources for primary and secondary students. Teachers also have the opportunity to partake in workshops focusing on curriculum-aligned resources that demonstrate how topics can be applied to real-world concepts. You can book your slot at the LEGO Education stand by visiting: https://education.lego.com/en-gb/workshops/workshops-bett