23 Dec 2019
Listen up: NetSupport Radio at Bett 2020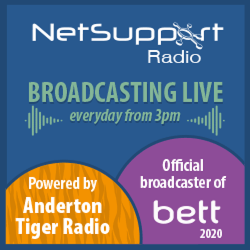 As part of the hugely exciting educational offering at Bett in 2020, NetSupport Radio will be broadcasting over the course of the four-day event. From 22 to 25 January, NetSupport Radio will provide an interactive forum with a mix of interviews, analysis and debate on the biggest issues facing the education landscape.
Powered by Anderton Tiger and hosted by radio broadcaster Russell Prue, the radio show will broadcast daily at Bett 2020. Visitors can listen live via the NetSupport Radio app, and also access pre-Bett podcasts and regular features throughout the year.
Listen in for these leading voices
We are thrilled to announce the educators, leaders and EdTech pioneers who will be among those featuring on NetSupport Radio for Bett 2020. They include:
Nicole Ponsford, award-winning digital educator and found of the Gender Equality Charter
Dr Sue Black OBE, award-winning computer scientist, technology evangelist and digital skills expert
Al Kingsley, Managing Director of NetSupport, chair of a multi-academy trust and trusted expert in EdTech impact and digital strategy
Dr Ger Graus OBE, Global Director of Education at KidZania.
"Bett is an amazing opportunity for educators and industry to listen, learn and discuss the role technology has in supporting schools to deliver positive impact," says Al Kingsley. "We are thrilled to be the official broadcaster of Bett 2020, ensuring there is a channel for delegates to reflect, respond and have their voice heard throughout the show."
Have your voice heard
Not only with the NetSupport Radio broadcast give you access to the opinions of thought leaders within the industry, but it will also be a chance to weigh in yourself. As a visitor, you can get involved by sharing your 'best of Bett' thoughts via Twitter using the hashtag #NetSupportRadio throughout the four-day show.
Student takeover
During Bett 2020, the radio show will also host a student takeover with children from Westwood with Iford school running the station so they can truly be a part of the conversation around EdTech and the future of education.
"The students are really excited to be back again on NetSupport Radio," says Headteacher Ian Rockey. "Giving students the chance to attend and comment on the show's highlights is a unique opportunity to engage them in building classrooms of the future and support student voices."
Remember to keep checking into Bett for more information on how we'll be bringing together so many leaders within the EdTech space under one roof for Bett 2020.
---
About Bett
Bett is the first industry show of the year in the education technology landscape, bringing together 800+ leading companies, 103 exciting new edtech start ups and over 34,000 attendees from the global education community.
Location & Opening times:
ExCeL London, Royal Victoria Dock, 1 Western Gateway, London E16 1XL, United Kingdom.
Wed 22nd January, 10:00 - 18:00
Thu 23rd January, 10:00 - 18:00
Fri 24th January, 10:00 - 18:00
Sat 25th January, 10:00 - 15:00