15 Dec 2016
Kidoland: Screen time is learning time!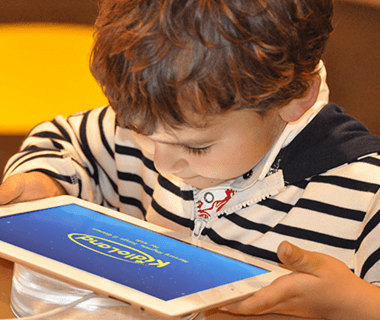 Technology has progressed immensely and gadgets are literally right at our fingertips. Smartphones, tablets, laptops and computers are not only highly addictive but also easily accessible to every member of the family. Even our inquisitive little children have their hands on these shiny gadgets. In fact, a survey on American children by Common Sense Media revealed that 75 per cent of all children in the US have access to mobile devices and the usage of these devices by children has nearly doubled since 2011. A recent update by the American Academy of Pediatrics (AAP) advises that screen time for children younger than 2 should be limited and only be done in the presence of an adult.
In addition to limiting the time spent in front of screens, the content your children are viewing also needs to be of high quality, extremely useful and age-appropriate. Educational apps where children can learn information which assists their cognitive growth is highly preferred and helps enhance the child's intelligence.
There's no shying away from the fact that parenting is exhausting and a parent deserves some time to unwind too. That's where beneficial screen time comes in handy and becomes a win-win situation for both parents and children. This leads us to the debate of 'screen time for kids' – should you allow your toddler or pre-schooler to have some screen time or should you completely avoid it? Here's what we think…
Benefits of fruitful screen time
The right kind of screen time can be very useful to your child. Songs and rhymes which encourage children to dance, sing or repeat after them can be a great start for toddlers and early learners. Children will emulate what they see, and what they do see should be informative and fun. Games and activities which encourage children to play, solve simple problems and learn about different things are ideal for pre-schoolers.
Here are five ways screen time can be used as learning time:
Helps language and speech
Reading aloud to your child is an important part of early language learning. Similarly, quality content which narrates simple stories is a great way for your child to learn new things and develop
their early literacy skills. You can also join your child's learning process by asking them simple
questions about the stories they've just read on an app.
Fuels imagination, creativity and fine motor skills
Art is an important part of every child's growth and overall development. It enables children to express their thought and feelings, and allows their creative juices to flow. Interactive and eye-
catching animation can considerably fuel your child's imagination and strengthen their
fine motor skills. Mom blogger Dawnene, a mother of two young daughters, says that adorable and engaging animation can be perfect for kids to learn and absorb new things in a fun way.
Develops vocabulary and communication
Encourage your child to repeat the words that they hear on the app and applaud them when they get it right! Enunciate every word, motivate your children to make short and simple sentences and keep adding new words to their vocabulary. Apart from enhancing hand-eye co-ordination and fine motor skills, fruitful screen time can also boost your little one's communication skills. Talking to your child about the cute characters you see and the funny stories you read can shape their understanding of language.
Hones intellectual abilities
Content which makes your children think is beneficial for honing their intellectual abilities. Puzzles, riddles, sorting objects and so on are just a few of the activities that can build a good foundation for your child's critical thinking and problem-solving skills from a young age. Bre, a mum of two, says that 'she'd much rather have her son interact with an educational app than stare blankly at a movie' – and we agree!
Strengthens memory
Find games and apps which stimulate your child's brain and help them visualise things easily. Asking your child questions like 'what is this object called?' or 'what is this animal called?' can be
useful. Develop a fun routine with your children whereby you encourage them to remember, recall and memorise!
Technology can enhance your child's learning experience to a great degree, but make sure your child also gets enough physical exercise and social interaction with their peers. Limiting screen time to ensure that your child's eyesight, hearing and attention span is not affected by excessive exposure is important. Maintaining a healthy balance between virtual and real-world learning can be exceptionally useful for your bundle of joy! Have a safe, useful and educational use of screen time!