15 Dec 2016
Janice Prandstatter, Teaching and Learning Consultant, Promethean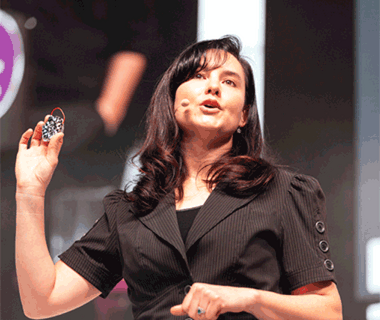 No crystal ball required
With all of the changes that have beset UK education in recent times, we can be forgiven for expecting 2017 to be yet another year of uncertainty when it comes to curriculum, assessment and agendas. However, one thing that remains constant in the education calendar is Bett. And as we're all preparing for what 2017 might have in store for us, here at Promethean we've taken matters into our own hands – so no crystal ball is required. After speaking directly to the UK teaching population and keeping a close eye on what's been happening over the last 12 months, we've identified three education trends that we can be sure of next year:
1. Flexible classrooms
A concept originally borne out of the now defunct BSF days, flexible and open learning environments have proven their worth in the education space and continue to make positive impacts by aligning the creative use of space with teaching approaches. Conceptualised by us as the 'Modern Classroom' (where technology, pedagogy and environment meet to support learning productivity and student motivation) – this is a trend that is here to stay. Quite simply because when done well, it works even better.
At Bett 2017, we'll be looking at how classroom environments have evolved over time, in line with emerging theorist principles and the evolving of how students (and teachers) engage with lesson content.
2. Assessment
The dust has still yet to settle following the removal of levels last year, which makes assessment an ongoing concern for us all. From the formative to the summative, to the home-grown tools to the advanced computer programmes…assessment might still feel like a bit of a minefield to navigate but there is a light at the end of the tunnel. Technology really comes into its own with assessment, giving teachers the ability to collect valuable data as a by-product of teaching activity. The same data that can then be used by school leaders to produce detailed Ofsted ready reports at the click of a button.
So if you can leave Bett 2017 with just a few new ideas on how to use technology to support assessment, it will have been well worth the trip.
3. EdTech
Since the introduction of the VHS and OHP to the classroom many moons ago, technology has steadily made its way to becoming a mainstay in UK schools (in fact, technology consistently wins out over Blutac and Post-it notes when it comes to what UK teachers can't live without in the classroom). So why does EdTech appear to be a divisive topic? Possibly because educators are showing a willingness to use tech in the classroom, but misinterpretation continues to arise over what this actually involves.
So in preparation for Bett 2017, we've attempted to lift the lid on this very topic by taking a closer look at the state of the UK's EdTech industry. Visit us on Stand B98 to register for your free copy.