29 Jun 2018
In conversation with Jenny Watson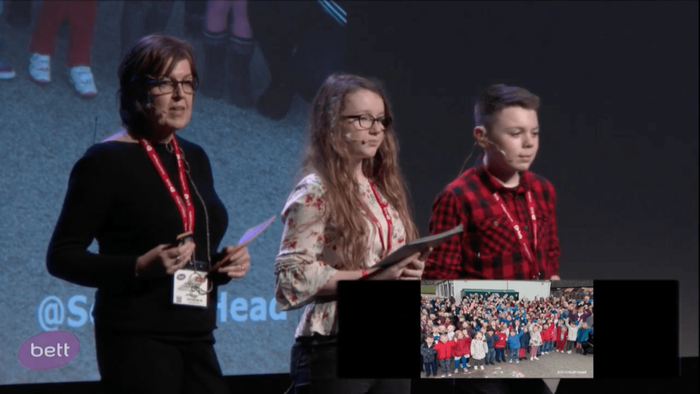 Jenny Watson, Headteacher at Middleton Park School believes that technology is at the heart of their award-winning curriculum. Sarah Hardiman, Content Manager at Bett, caught up with Jenny and two of her P7 leaders, Mia Swinton and Taylor Scott, to discuss how speaking at Bett has given them the platform to share their story and success the school has achieved.
What inspired you to apply to talk at Bett?
JW: We wanted to share our story about our 'Live Learning Programme' which is now embedded in our school. This has been a very focused use of limited technology that has had a major impact on the attainment and achievement within our school.
How did you decide on your story, and what issues you would cover?
JW: It's important to us to share with other schools our best practice, top tips and spread our unique way using 'limited technology' and working smartly with technology.
How did your colleagues, senior leadership team, pupils and parents react when they heard you had been selected to speak on the Arena stage, the home of the inspirational talks and big stories and developments in technology in education?
JW: All our colleagues were delighted and very proud.
TS: My mum was excited and proud for me when she found out that I was going to Bett with a good friend!
MS: My mum screamed with excitement when she heard that I was going to be talking at Bett. I was excited because it was my first time in London and at Bett.
Can you explain the process of selecting your co-presenters, and the work that was involved in the lead up?
MS & TS: We spent a lot of time putting together the presentation and choosing the films that we wanted to showcase. Once we had our talk finalised, we practised and practised and practised – both at home and at school. We have had a run through at the airport and during the flight!
How did the Bett content team support and guide you through the process from applying to speak at Bett, to the moment you walked on the stage.
MS & TS: The Skype session was helpful. We practised our talk and got some great feedback from the content team. The team were helpful and encouraging. They were like our cheer leaders in London.
Tell us about your experience speaking on the Bett Arena, how did you feel?
MS: It was a really good experience because all the people were friendly and it was cool to see other people's ideas. There were people from all over the world sharing their ideas for developing technology. To present on the Bett Arena in front of lots of people was a really good experience. It shows that children can present just as well as adults! Maybe even better.
TS: I was nervous backstage. When I walked into the Bett Arena, my legs and arms were shaking and I almost dropped my presentation. Once I got started, it was fine. The 45 minutes went quickly. Suddenly the screen told us we had 5 minutes to go and to start rapping it up! We had to think quickly to shorten our final slides but we managed to do that. It was a brilliant, amazing and fabulous experience and I would do it again in a heartbeat!
What impact did the experience have on Mia and Taylor?
TS: The experience has given me more confidence. It was my first big presentation and I really enjoyed it. People think we are a small school on the outside, but in the inside, we have huge possibilities.
MS: It was exciting to travel to London from Aberdeen. It was my first visit to London. It inspired me more that even though we are only children, we can still make a big impression on adults! Because we are a small school, it almost makes us bigger because we all work hard together and do so much shared learning.
What advice would you give to someone who wants to speak at Bett 2019?
MS: Don't worry about presenting because everyone watching you is there to support you and hear your ideas about modern technology and how it can improve education. It was a bit daunting because there were so many people there but once you are out there and start, you forget about the people there until they clapped!
TS: It's OK to be nervous, you don't have to worry about anything. Everyone there will really support you.
Do you think Bett is the best place for educators in the tech industry to speak at? If so - why?
JW: Definitely! It is great to have an international audience – it's an inspiring place to be.
How did you promote your talk on beforehand, perhaps on social media?
JW: We shared our talk on twitter.
Did the opportunity help you to network with like-minded educators in the edtech industry?
JW: Since the talk, we have had contact from several British and International colleagues asking us more about the 'Live Learning Programme'.
The Bett content programme is where the world's education community come together to drive progress within the sector. This is your opportunity to stories and to inspire.
The speaker entries are now closed.
---
About Bett
Bett is the first industry show of the year in the education technology landscape, bringing together 800+ leading companies, 103 exciting new edtech start ups and over 34,000 attendees from the global education community.
Location & Opening times:
ExCeL London, Royal Victoria Dock, 1 Western Gateway, London E16 1XL, United Kingdom.
Wed 22nd January, 10:00 - 18:00
Thu 23rd January, 10:00 - 18:00
Fri 24th January, 10:00 - 18:00
Sat 25th January, 10:00 - 15:00